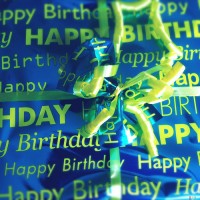 When I was a kid, my favorite part of birthdays was getting presents. I loved ripping the crisp paper, crumbling it into a ball, and tossing it over my shoulder as I gazed at the wondrous gift before me. I liked to hold up the revealed present for a brief moment and savor it before diving into the next. Once present-opening time was finished, I would sit and revel in all my new stuff.
As I've grown older, getting gifts has become less exciting. I'm still appreciative. I still enjoy getting new things, but the zeal for tearing open a present to unveil hidden contents has faded. What excites me now is seeing how other people respond to what I've given them. I love giving thoughtful presents. It gives me great joy to see someone elated by something I've picked out for them.
The change from enjoying getting to savoring giving brings to mind the old proverb, "It is better to give than to receive." I think it goes beyond just exchanges of presents, and applies directly to our writing process.
Read More