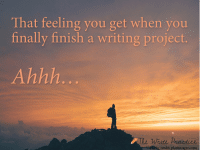 I just finished a very important writing project, a proposal for a new book project I'm ghostwriting. It was a tough project, one that took a month longer than expected, and included a journey around the world, dozens of hours of research, a few exhausting back-and-forths with my client, and over 10,000 words of writing.
Yesterday, I read through my finished proposal and then sent it off to my agent.
Man, it feels so good.