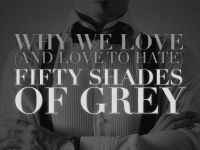 In January 2009, a British TV producer and mother-of-two began writing under the pseudonym "Snowqueen's Icedragon" after being inspired by the Twilight saga (which, if you're a regular, you know we have mixed feelings about).
She published her first novel, Master of the Universe, online, which was loosely based on the Twilight characters. In 2011 she decided to self-publish the series, which soon built up enough buzz to be talked about by Fox News and other networks.
In 2012, Random House picked up the series. Since then, the series, now titled Fifty Shades of Grey, has sold over 100 million copies, making it one of the bestselling of all time.