What if you could step into your identity as a writer today?
It Begins with a Challenge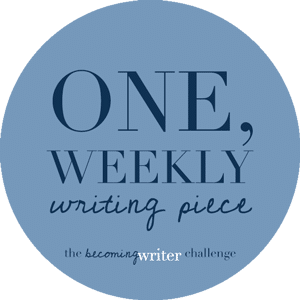 I want to challenge you to stop dreaming, stop aspiring, and start developing the habits that will enable you to finally become a writer. It's called the Becoming Writer Challenge.
Here's how it works:
You join a writing community that can turn your passion into a writing lifestyle. This community will become what the Inklings were for J.R.R. Tolkien and C.S. Lewis, what the expats in Paris were for Hemingway, what the Bloomsbury group was for Woolf.
You share your writing with our community of encouraging and committed fellow writers to get feedback. You also give feedback in return, helping you develop your own eye as a writer and editor.
You write ONE, WEEKLY Writing Piece. Get the accountability you need to write. You can write anything from a short story to a blog post to a poem to the chapter in a book.
"I always wanted to write from when I was a child."
Finally, I've taken the plunge. This community is one of the single best decisions I ever made.  Even if it is just cathartic for myself as an outlet.  Hopefully, it will grow to be more.
—Wendy Pearson

"One of the striking things to me is the way everyone is accepted no matter what their experience or skill level."
—Roy
What Becoming Writer Can Do For You
Finally Finish Your Writing Pieces
All writers need deadlines, and the accountability and encouragement Becoming Writer members receive give them the motivation to finally finish the writing pieces that they've been putting off.
Get Published
We want to help your writing get the exposure it deserves. That's why we work with literary magazines like Short Fiction Break and Wordhaus who want to publish Becoming Writer members.
Experience Rapid Growth
To grow rapidly at any skill you need to practice deliberately, and deliberate practice requires feedback. Becoming Writer is a community full of writers who want to help you grow (and want your help in return!).