Welcome to Becoming Writer, !
My name is Joe Bunting, and I'm so glad you're here (I really am).
A few years ago, I did something that changed my life. I started writing. In fact, I finished one writing piece every day.
I had certainly written before. I had even started a few novels (that I soon abandoned).
However, when I started finishing one writing piece per day, something happened to me. I started to think of myself as a writer. A real writer. That led to getting small jobs as a writer. Eventually, I was able to quit my job and support myself and my family full-time through my writing. Pretty amazing, right?
It all started started by finishing ONE writing piece per day.
This is the Becoming Writer Challenge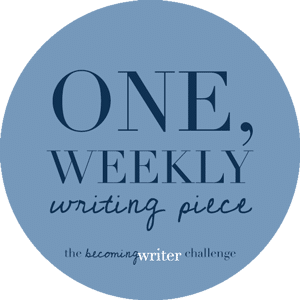 Becoming Writer is about claiming your identity as a writer.
You might ask, "What does that really mean? How do I claim my identity as a writer?"
It's pretty simple. I can explain it to you in two words: you write.
If you want to be a writer, then write. That's why the Becoming Writer Challenge is to write ONE writing piece per WEEK, due each FRIDAY. That's it! You don't have to be a genius and you don't have to quit your day job to be a writer. Instead, just write your ONE, WEEKLY Writing Piece and share it with us on Friday.
If you do that, if you write small, finished pieces regularly, what you'll find is that you'll soon go from being an aspiring writer to becoming a daily writer.
To Be a Writer, You'll Have to Give Up Some Things
This isn't going to be easy.
If you want to be a writer, you'll have to make changes to your lifestyle. Writers work long hours. They often get up early in the morning or stay up late at night to write. Writers turn down invitations from friends and family to make time for their craft. Writers, even professional writers, don't work normal 9-5 jobs. It's more like 9 AM to 8:59 AM the following morning.
I say this to set your expectations. Don't expect to make breakthroughs in your writing if you're not willing to change. With that in mind, here are three questions to ask yourself before you do anything else:
As you join this community, what changes are you going to make to your lifestyle?
What are you going to say "no" to?
How are you going to make time for your writing? When will you write and for how long?
Before you take on your first Becoming Writer assignment, think hard about how your life is going to look differently now that you're officially a writer.
No One Becomes a Writer Alone
I want to say one last thing before we get started.
We think of great writers as silent, brooding geniuses, but the truth is no one becomes a writer on their own. It takes a team, a community, to sustain the passion, creativity, and sheer willpower to become a writer.
Here's a secret about Becoming Writer: the best part of this program isn't me, and it's certainly not the premium material I'm going to send you from time to time.
No the best part about Becoming Writer is the community, the other writers who are on this journey with you. Ernest Hemingway had F. Scott Fitzgerald and Gertrude Stein. Jack Kerouac had William Burroughs and the Beats. J.R.R. Tolkien had C.S. Lewis and the Inklings.
My hope for you is that this community will become a writing group of your own, a community to share your best pieces with, a community to learn from and grow with, and community that you can help support just as it supports you.
Introduce Yourself
With that in mind, INTRODUCE YOURSELF! Using the link below, start a new topic in our community forum with a title like "New Writer: Joe Bunting of thewritepractice.com" and tell your story, answering the following questions:
What's your name?
Where are you from?
What kind of writing do you do? (bonus points if you can share why you do it)
Why did you join Becoming Writer?
Where else can we find you online? (e.g. blog, twitter, facebook, etc.)
By the way, don't be afraid to share the hard parts of your story here, too: what your nervous about, what you're struggling with. Help us get to know the whole you, not just the good parts.
How to Post Your Story to the Workshop
Ready to post your story? Here's how to do it:
Navigate to the community workshop.
Click "Add Topic" (see screenshot below)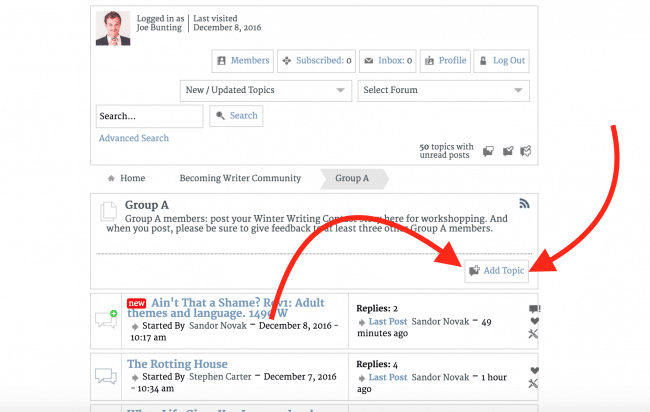 Enter the title to your story in the "Topic Name" form.
Copy and paste your story into the editor box. Most of the formatting should come over from your document fine, but double check your story for spacing issues.
When you're ready, click "Submit Topic" to post.
Congratulations! You just submitted your story to the workshop!
Now, go give feedback on at least 3 other stories. By the way, here's a guide to critiquing.
Don't forget to give feedback to at least three other stories!