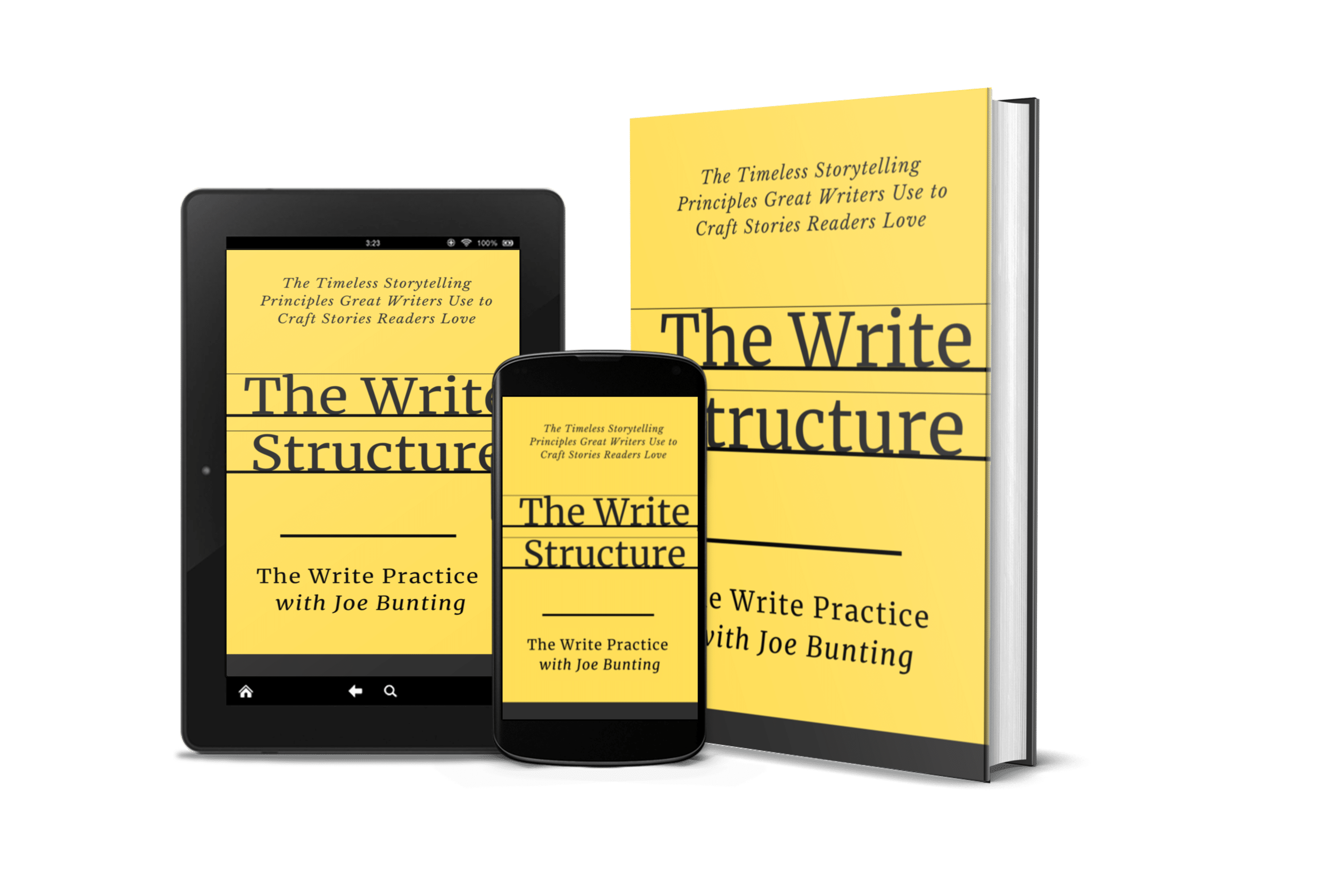 A New Book to Help You Structure a Best-Selling Story
Get a step-by-step GUIDE to
write A BEST-SELLING STORY.
Learn timeless story principles.
What if you knew that your story idea had what it takes to become a best-seller before you write it? Imagine knowing exactly how to take your idea and transform it into a finished book?
My name is Joe Bunting. I'm an author, have written fifteen books (several of which are best-sellers, including one which hit Wall Street Journal best-seller's list), and the founder of The Write Practice, which is read by 5,000,000 writers every year.
I've also helped thousands of writers like you publish their books.
With my new book, The Write Structure, I'm sharing the process I personally use to write best-selling books and that I've taught to thousands of other writers.
Your story deserves the best chance of making it in the world. Let me help you make it better with The Write Structure.
"No longer confused!" —D. Ashby
★★★★★
Find Out Why Your Book Isn't Working
When you read The Write Structure, you will:
Learn the one hidden element that will make sure every scene you write works
Identify your plot type, and then find out how to make your plot better
Get a simple, step-by-step process to every phase of writing a book
Learn the six story arcs, and be able to identify which one your book fits
Break down any story ever written into pieces so that you can learn from the writers who have gone before you
And more!

Upgrade to the Write Structure Course
nt to go further in your writing? Structure your book the write way in The Write Structure Course. Here's what you'll get
26-lessons to help you master the principles of writing best-selling, award-winning stories
4-hours of multimedia content to fully explore the principles of best-selling stories using a simple, step-by-step process
The Write Structure Worksheet to map out your story from start to finish using the same process that has worked for thousands of writers
The Write Structure eBook, the #1 Amazon best-selling book so you can go even deeper into the story structure process
BONUS: First, get a 3-part book outlining case study. You'll see exactly how a professional editor and author work through the structure of a novel using The Write Structure process. 
BONUS: private Ask Me Anything recording, where you'll get more context on story structure.

BONUS: step-by-step worksheet to structure your book using The Write Structure method, including creating a simple 18-sentence outline that will give you all the preparation you need to finish your book.
Ready to write a great story? Here's the next step:
Buy The Write Structure below.
Learn the simple principles of best-selling stories
Structure your story using the process outlined in the book.
Write your best novel, screenplay, or memoir and realize your dream of becoming a writer.
eBook
The Write Structure 218-page eBook

Paperback version

4-Hour Online Course

The Write Plan daily planner
Paperback
The Write Structure 218-page paperback book

eBook version

4-Hour Online Course

The Write Plan daily planner
The Write Structure eBook

25-Lesson Online Course to Master Story Structure

4-hours of multi-media content

Course Bonuses ($35 value)

Upgrade to professional critique($300 value)
"I really can't overstate how useful this book has been to me: I read The Write Structure in January and in five minutes I'd spotted one big problem with a stalled novel I'd parked for ages…. Four months on and I'm nearly finished the first draft." —Reader 
★★★★★
Still not sure? Read a preview.
Maybe you're not sure this book is for you. I get it. Check out a free sample of the book.
Click preview in the image below and see if The Write Structure can help you finish your best-selling book.
Then, when you're ready, you can purchase The Write Structure here.
"Page after page of useful information." —Serena C.
★★★★★