I am currently in talks with a small press about publishing my novel, and they finally gave me a book publishing contract!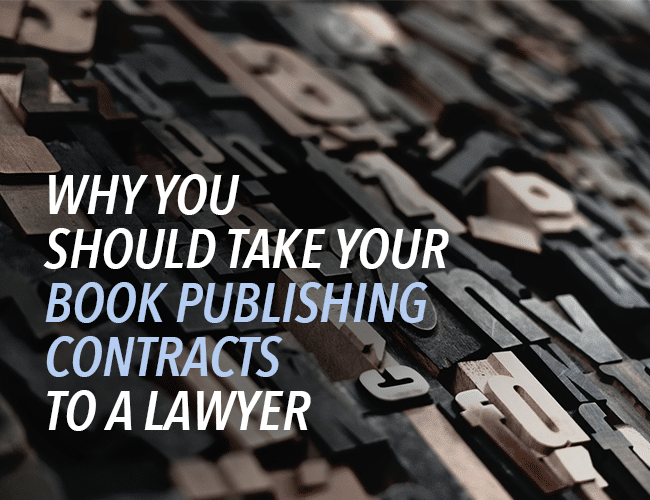 While I'm a writer by night, by day, I work as a lawyer, and so I draft and review agreements for a living.
When I received my book publishing contract, part of me really wanted to save some money and just review it myself.
But I didn't.
Instead, I sucked it up and paid $200 an hour for an attorney who specializes in book publishing contracts (it took her about two hours to review mine). That's a typical price for a lawyer, but there are also other options like Volunteer Lawyers for the Arts, which provides pro bono legal representation.
Book Publishing Contracts: Why You Need a Lawyer
For me it was a good move to hire a lawyer to look over my book publishing contract, for these two reasons*:
1. Lawyers Have Expertise
The attorney I hired specialized in reviewing publishing contracts and it showed.  I knew she would have a better idea about the royalty rates, for example, but she had useful comments about nearly every single provision in the contract.
The reality is, my prospective publisher—like all publishers—drafted the agreement with an eye toward minimizing the publisher's risk, as it should.
But, as writers, we need someone to review that document with an eye toward minimizing our risk and getting us what we want (not to mention anticipating the things we may not even know that we want).
Agents (assuming they are not also attorneys) have experience but not necessarily expertise. They know what they have seen before, what's typical, and what's not. An attorney will have the depth of knowledge to really explain to you what you're signing and serve as your advocate.
2. Lawyers Have an Ethical Obligation Not to Screw You Over
All attorneys must adhere to certain ethical standards, or else they risk being sanctioned, disbarred, or maybe worse!
There are extensive sets of rules in every state that require attorneys to be competent, honest, and diligent in the legal advice they provide and how they handle your money.
Lawyers are required to take a class on this in law school, are tested on it during most bars, and have to pass an additional test dedicated specifically to their ethical obligations.  Ethics are taken very seriously in this field, and that's good for you!
*FYI, these are tips based on my personal experiences as a writer. This is not legal advice!
What are other ways writers can protect themselves? Let us know what you think in the comments.
PRACTICE
Since we're talking about the law, take fifteen minutes to write a scene that includes a lawyer.  When your time is up, share in the comments section! And if you post, please be sure to give feedback to your fellow writers.
Happy writing!