One would-be writer asked me recently, "How do you stick with your writing plans for more than a week?" It's a great question, and one that I asked myself for about a decade as I slowly made my way from wannabe writer to full-time writer.
How do you create a consistent writing habit? Even when you're busy? Even when you lose your motivation to write?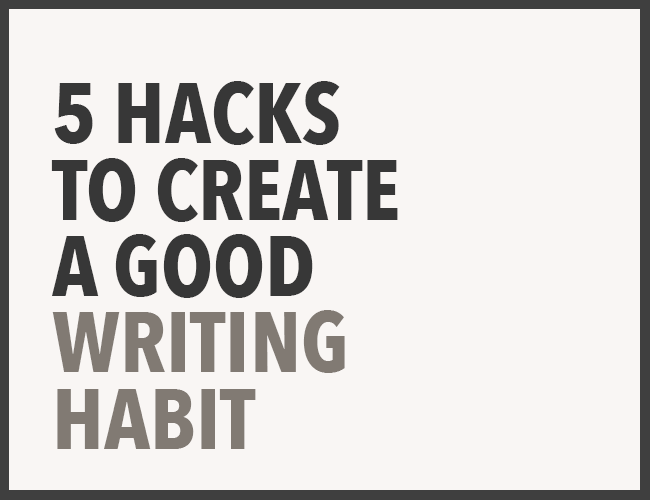 So many people struggle with this, not just writers but everyone trying to do creative work, whether it's painting, acting, songwriting, or writing novels.
However, this question is also incredibly important because your ability to make your passion a habit is the most important key to your success in that field.
How do you make writing a habit?
Are You Too Busy to Write?
Developing a consistent writing habit is even harder because if you're like me, you're busy. Very busy.
Most of the aspiring writers I talk to claim that they're just too busy to write, or at least too busy to write consistently. Sound familiar?
While you know you should be writing there are so many other SHOULDs:
You should spend more time exercising
You should drink more water
You should spend more time doing schoolwork
You should spend more time with your family
You should be putting more hours in at your job
You should floss and brush your teeth longer
You should learn a second language
You should call your mother more often
And a thousand more shoulds.
That doesn't leave much room for writing. How, then, do you make room for your writing in the midst of all these other important things you should be doing?
Are You Too Overwhelmed to Write?
Dan Blank says this, which I think is brilliant:
No Focus = Overwhelm
If you aren't clear about focusing on your top goals, you will easily become overwhelmed.
There will always be too many shoulds. If you're not very careful about choosing the goals that are most important to you, you will be overwhelmed by all the things you feel like you should be doing.
Ask yourself, What do I really want?
Is writing every day really one of those things your top goals?
It's okay if it's not. Perhaps writing only ranks tenth on your list, behind family, schoolwork, your health, and work.
But if writing consistently is toward the top of your list, you need decide what else can be let go.
Get clear on your focus, say no to the things that are less important, and then follow through.
Ready to start your daily writing habit? Read on!
5 Hacks to Create Your Writing Habit
How do you create a writing habit? Here are five more tips, many of which I learned from Dan Blank (learn more this subject and about the class he's teaching exclusively for Write Practice members).
1. Write for Just Fifteen Minutes
I've found that professional writers rarely write for more than five or so hours a day. Why? Because writing is mentally exhausting!
However, this also means you can get a surprisingly amount done in a short amount of time.
To keep yourself focused as you write, consider writing with a timer.
Could you start your writing habit with one fifteen-minute story per day?
2. Stop checking email!
Too many of us use email as a to do list instead of using a to do list as a to do list. This leaves us reacting to life rather than living it according to goals.
Reaction is the opposite of creating. That's why it's so difficult to write when you're checking email every five minutes.
I'm not saying you shouldn't check email. Just don't do it during your daily writing time.
3. Lower Your Expectations (for Now)
It takes practice, a lot of time, and some luck, to write a great story. Settle for a story (for now).
When you sit down to write your first story, it might not be very good. But later, you'll rewrite. Then perhaps you'll rewrite it again after that. Maybe you'll rewrite it one more time, and afterward the story will be remarkably better than it was on your first, quick draft.
4. Make It Social
Humans are social creatures, and, as Dan Blank says, by making writing a social experience you'll find more enjoyment in it and will be more likely to keep it up.
How do you make writing social? Here are a few ideas:
Make friends with other writers, whether through this community, by taking a writing class, or joining a local critique group
Publish your writing, whether that means printing out a story and giving it to a friend, posting it on your blog, or self-publishing your book
Throw a party for your fellow writers. Who doesn't love a great soirée with interesting people?
Go to a writing conference to learn more about the craft and connect with other writers
Don't buy into the myth that writers are solitary creatures who lock themselves in the attic to slave on their masterpiece. Every great writer I've ever studied has had a close network of other writers and creative people who would inspire, encourage, and support them.
5. Celebrate Progress
Too many of my friends—people who have written books, gotten published, even made the bestseller's list—stop celebrating how far they've come.
These were people who struggled with the same problems you struggle with: not enough time to write, not being able to make writing a habit, feeling overwhelmed by all the other things they SHOULD be doing. They came so far, and yet they're often too eager to move on to the next goal to celebrate their progress enough.
If you write today, you should feel proud and celebrate your progress.
If you've written every day for the last five years, you should feel proud and celebrate.
If you want to cement writing as a habit in your life, reward yourself each time you do it, celebrating the fact you are making progress, the fact that you are creating, celebrate that you are writing.
Do You Dream of Doing More Creative Work?
Most of us want to live more creative, more meaningful lives, but actually finding time to do creative work often seems like an impossible challenge.
That's why yesterday we opened a writing class in partnership with Dan Blank to help you find more time to do the creative work that matters most to you.

The class is called Fearless Work, and it's perfect for anyone interested in writing more and making their writing a bigger priority in their life. I highly recommend it.
Also, if you sign up for Fearless Work you'll get an exclusive lesson with me about how I found time for my writing when I was getting started.
Hope to see you in the class!
Do you struggle creating a consistent writing habit? What hacks have you used to make writing a habit? Let me know in the comments section.