How do you become a writer of a beautiful, award-winning book?
In a word: Practice.
That's why, since 2011, The Write Practice has helped over 10 million aspiring writers practice writing, develop their craft, and start publishing beautiful books that grab the attention of influencers and critics.
But practicing on your own is never easy.
Practicing on your own can be confusing, leaving you to guess if you're on the right path.
Writing on your own can be frustrating, too. Without accurate feedback, you can't really know if your writing is on-track to thrill your readers. How many words have you written, only to let them gather dust because you don't know if they're "good?"
Without community, all you can do is guess.
So if you're ready to practice your writing in a supportive community and tell stories of award-winning quality, then The Write Practice Pro is for you.
The Write Practice Pro is a premium community of writers who practice writing together, give feedback together, and publish award-worthy writing together.
Let me tell you how it works.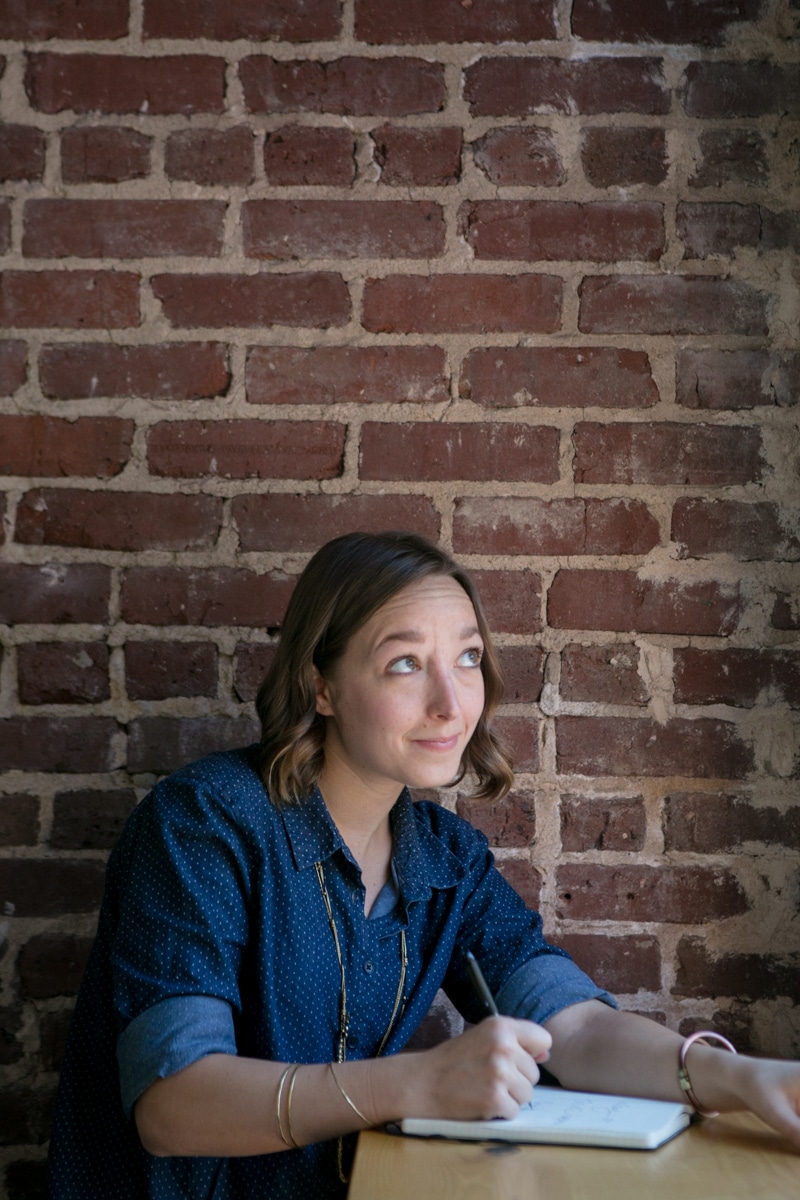 What does membership in The Write Practice Pro get me?
As a member of The Write Practice Pro, here's everything you are entitled to:
Publishing Opportunities
We partner with Short Fiction Break literary magazine to help you get published. 

Accountability
Most writers need deadlines to stay focused and keep practicing (I know I do). We'll teach you the accountability you need to turn your passion into award-worthy finished stories, every week.

Feedback
Want to know if your book or short story is ready for publication or not? Post it in our secure writing workshop to get feedback! Our community of writers will offer you feedback that will transform your writing. PLUS, any Workshop piece can be upgraded to a Pro Critique, where a trained Story Grid Editor will read your story and leave in-depth feedback proven to help writers tell stories that win accolades and thrill masses of loyal readers.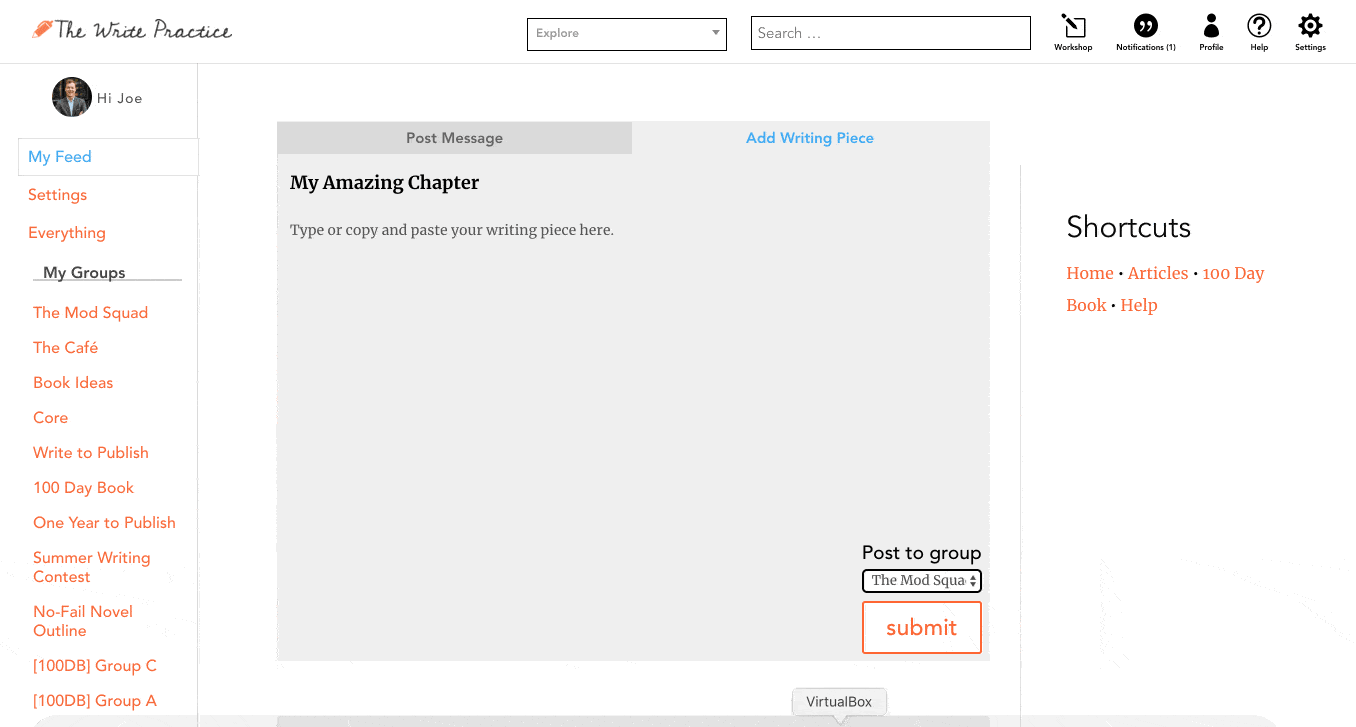 And more…
Networking
Through the exchange of feedback, and discussion in our Cafe forum, our members quickly form lasting relationships that evolve into a powerful book-selling network!
Discounts. As part of The Write Practice's exclusive inner circle, you'll get early access and special discounts to new courses, invitiation-only groups, writers' retreats, and other exciting events!
Contests. Members receive free entry into seasonal writing contests. Each contest includes publication, cash prizes, and more.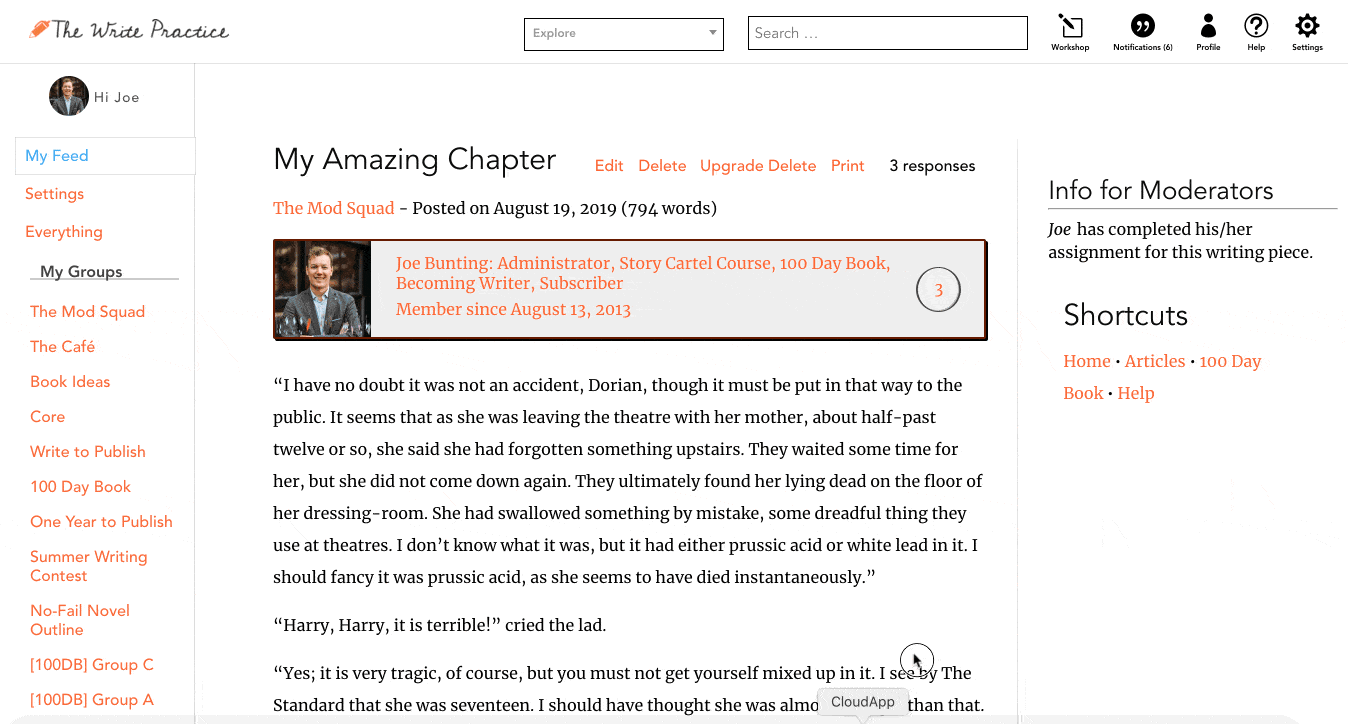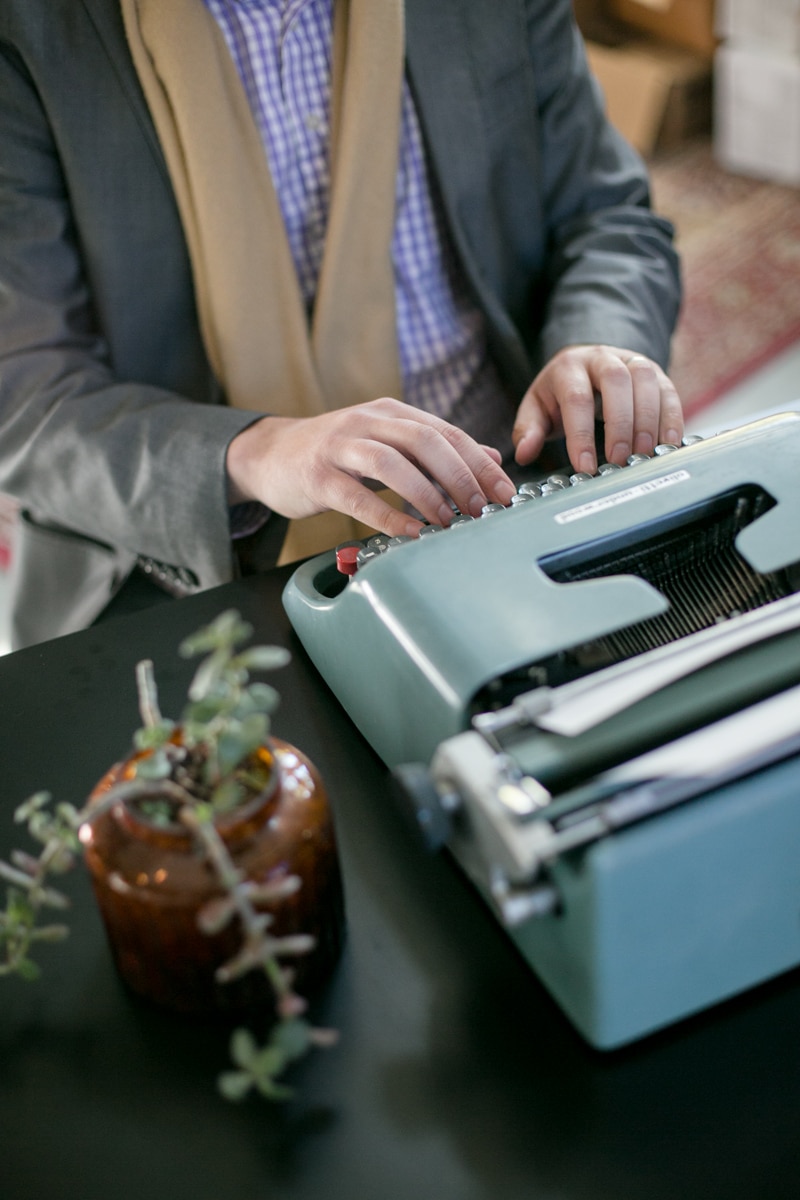 Who we are
We believe that anyone can become a great writer through deliberate practice.
Deliberate practice produces the qualities of a writer that you need to become a successful professional who produces beautiful, award-winning writing:
Discipline 
Without the ability to commit to a writing schedule and minimize distracitons, you'll never become the talented, professional writer you long to be. The Write Practice Pro provides you with a community culture that encourages and teaches discipline in a way that won't feel like a burden or chore.
Feedback 
In The Write Practice Pro, we teach each member to give detailed, insightful feedback. We also teach members how to receive constructive criticism and use it to make their writing much better. No one writes alone, and The Write Practice Pro is where growing award-winning professionals come to give and receive feedback. 
Generosity 
You may be wondering, "Doesn't that feedback take time?" It does, and it's all a part of developing a spirit of generosity. Only by reaching out and helping others can we grow into true professionals, and giving feedback is a great way to build this essential muscle. (Remember, other members will be leaving feedback on your writing, so the generosity flows both ways!)
Vulnerability
The Write Practice Pro isn't all-work and no-play. Our community members celebrate, laugh, and cry with each other. They admit their fears and encourage their fearful neighbors. And they will be overjoyed

to welcome you and help you start your journey toward becoming a professional writer.
Join today and get these awesome bonuses
Included with this program are $135 worth of bonuses to help you write your book and become a professional writer:
Book Writing Roadmap, a checklist and guide to show you each step to write your book.
7 Story Archetypes, an in-depth resource on the seven types of stories, complete with the most common elements in each type.
Book Writing Accountability Contract. All writers need accountability. This contract empowers your friends and family to hold you accountable to finishing your book. Careful though. This is an incredibly powerful resource.
Let's Write a Short Story, our #1 bestselling book 

($15 value)

.

15 Days to Write and Submit a Short Story. The companion workbook to Let's Write a Short Story 

($15 value).

.

Plus,our new book

How to Win a Writing Contest 

($15 value).
You'll also get 10 Steps to Becoming a Writer, our guide on how to become a writer.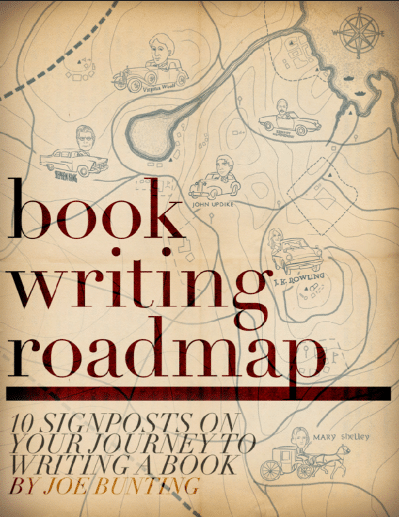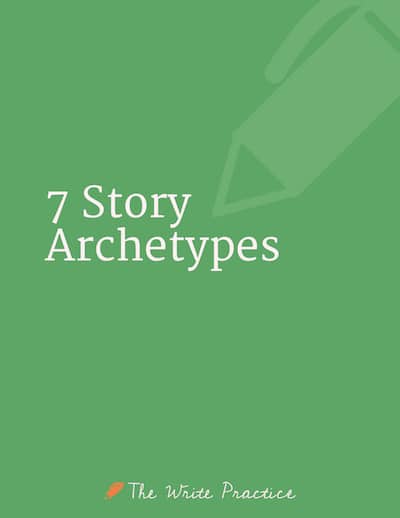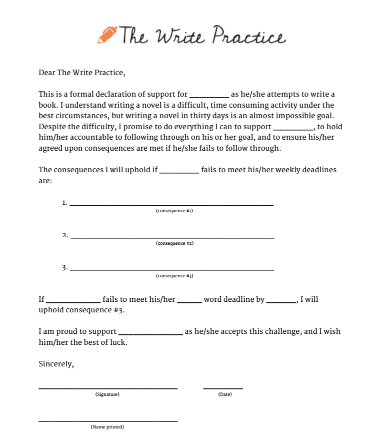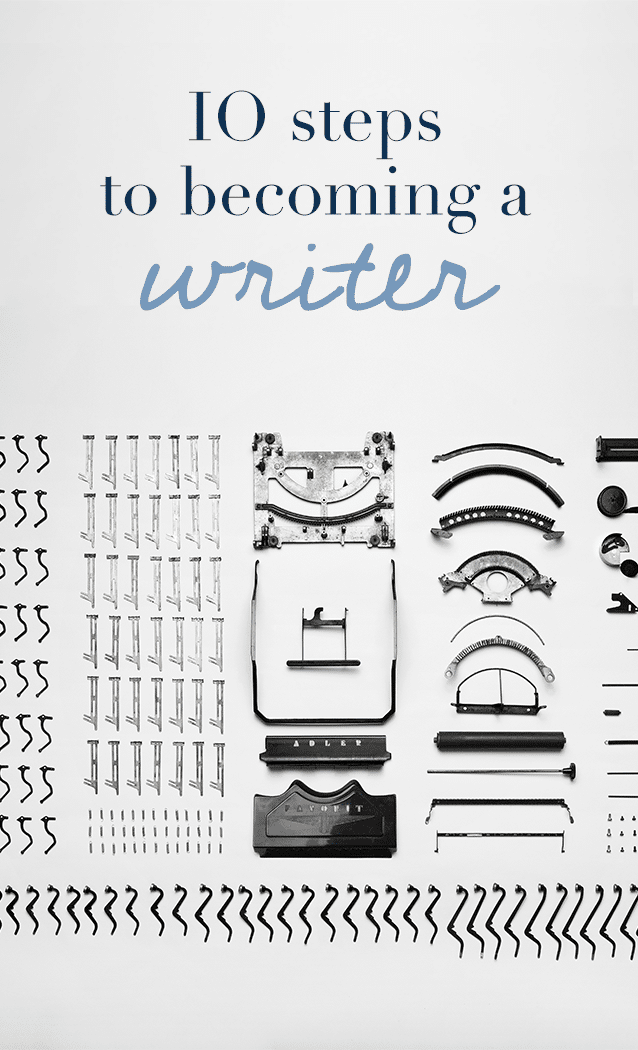 Are you ready to become an award-winning writer?
The Write Practice Pro turns aspiring writers into disciplined, successful professional writers.
Plans and Pricing
Sign up for one of our affordable monthly payment options below! Also, save by signing up for the annual membership! 
Basic
Best for short stories and articles
Share unlimited writing pieces up to 3,500 words long in the community
Get the feedback you need to make your writing better
Publish your writing on Short Fiction Break literary magazine
Connect with a community of writers
$135 in Bonuses (includingBook Plan Scrivener Templates)
2 months free if you pay yearly
Premium
Best for novels and books
Share unlimited writing pieces up to 5,500 words long in the community
Get the feedback you need to make your writing better
Publish your writing on Short Fiction Break literary magazine
Connect with a community of writers
$135 in Bonuses (includingBook Plan Scrivener Templates)
2 months free if you pay yearly
What Our Members Are Saying
Don't just take it from us. Let our members do the talking!
I wouldn't be a published author without Joe Bunting. Not only did he teach me how to take an idea and turn it into a story, he showed me how to collaborate with other authors to make my writing the best it could be, which gave me the courage to share it with the world.
Seeing that I was able to accomplish something that seemed so daunting gave me the confidence to pursue even more in my writing and personal life. The most effective part of the class for me was the accountability and community.
Working with Joe Bunting gave me the tools I needed to create a plan, execute in a timely manner, and accomplish my goal of writing my first draft of my book. Without the planning on the front end, the accountability of Joe's coaching and my writing community, this would never have been possible.
THIS PROCESS WORKS. CHECK OUT SOME OF THE BOOKS PUBLISHED BY WRITERS IN OUR COMMUNITY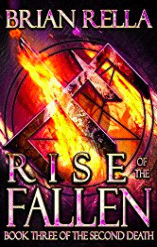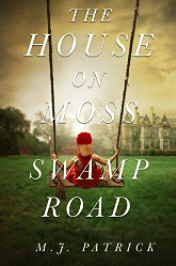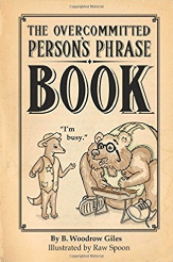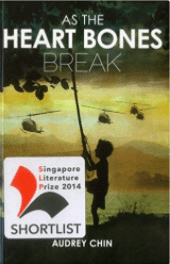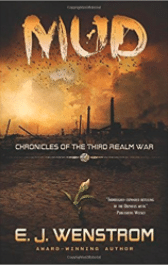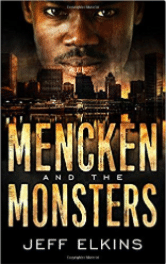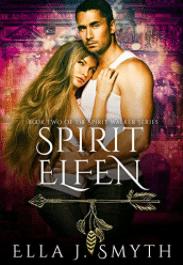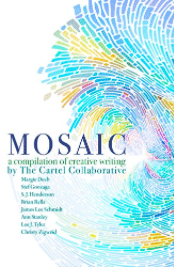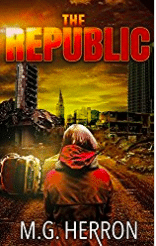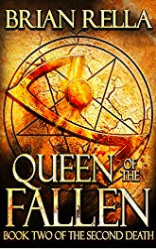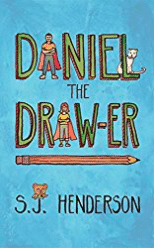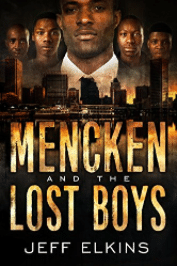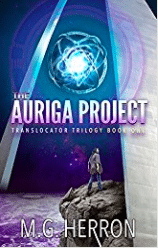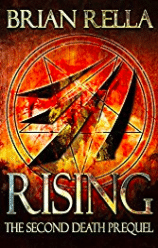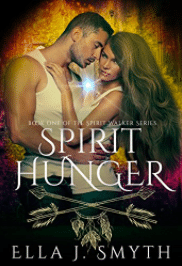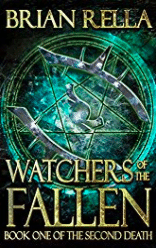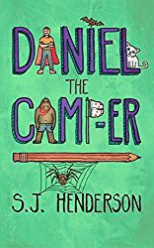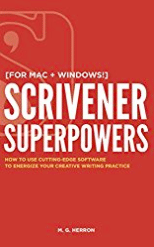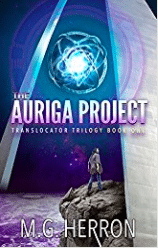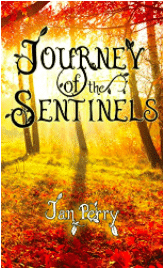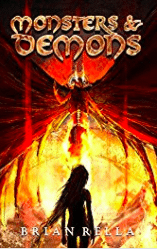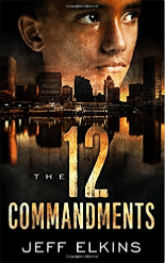 Frequently Asked Questions
I have a book in progress. Would this community be a good place for me?
YES! If you've been working on a book for a while and are ready to finally finish it, then you are the perfect person to join this program and get the focus and accountability you need to finish.
What if I write nonfiction?
This community is open to both fiction AND nonfiction writers. We've helped thousands of authors of both fiction and nonfiction finish their books. We would love to help you too!
What if don't live in the United States
This community is open to all authors and aspiring authors who are willing to give and receive professional feedback, whether in the United States, Europe, Australia, India, or elsewhere. We have members from the U.K., Singapore, Australia, Mongolia, Canada, France, and more. If you want to become a professional writer, this community is for you.
What are you waiting for?
Become a more focused, confident, skillful, and professional writer today. Get started for just 42¢ a day.
For $15 a month or $150 if you pay annually, you get full access to the community, publishing opportunities, writing contests, support and accountability, full Workshop privileges, instant access to premium books and articles, and much more.