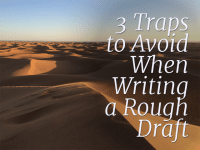 I've started a new novel, as in a blank page 1 in need of 275 – 400 more pages written to be complete. I'm lucky, because this book is second in a series, so I already have the plot and framework in mind (sort of ). I just require about 70,000+ more words to fill in the blanks.
It's so simple, but difficult to do.
Fortunately, I've completed four other novels and will publish book #4 later this year. I'm trying to apply what I've learned in the past to remain more sane this go-round. Let's discuss three pitfalls I've learned with first drafts.