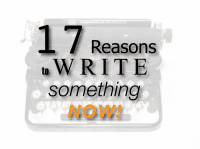 I get it. You're busy. You have other commitments: work, school, the kids, your friends. I understand.
I know writing a short story or a novel or a blog post is scary. What if someone reads it? And yes, it's true. You might fail. People might not like what you write. Worse, they might ignore your writing altogether.
However, if you've ever wanted to be a writer, now is the time to start. If you don't believe me, here are seventeen reasons to write right now.