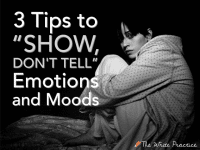 If you're like me, one of the main reasons you read is to receive an emotional transference from the author. You love books that don't just make you think, that don't just entertain, but that make you feel something.
It's the magic of reading: that an author can arrange a series of letters in a certain order and that these letters can affect our emotions.
As a writer, how do you develop mood in a short story or in the chapter of your novel without telling? Is it possible to build up emotional language without saying what the emotion is? In other words, can you make people feel something without writing like Stefenie Meyer or E.L. James?