As a writer, a good proofreading software is the Robin to your Batman. How else will you know when you've used a semicolon in the right spot?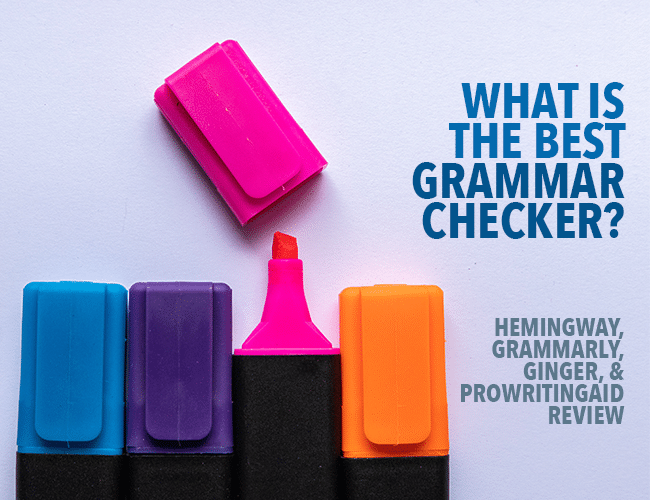 Pin
There are so many options out there for proofreading tools, it can be hard to keep track of what you should use. Sure, there are some free options available and they pick up the basics, but if they were good enough for writers, the premium options wouldn't exist.
In this article, you will learn:
The pros and cons of the biggest proofreading apps.
Which spell-checking app has the best free version.
Which grammar checker is best for you.
Before we get started, I want to be fully transparent and let you know that some of the links in this article are affiliate links. That helps me keep the coffee flowing so I can keep writing and sharing what I learn with you. Of course, it didn't impact my decisions; I'm laying out my honest opinions of the good and the bad.
Now, let's get started.
Hemingway Review
The first tool we're going to look at is Hemingway. The reason we started with this app is that it offers something slightly different compared to competitors. Rather than offering spelling and grammar suggestions, the Hemmingway app improves your work by reducing adverbs and catching wordy, hard-to-read sentences and phrases.
The goal is to make your work as easy to read as possible.
Pin
Unlike the alternatives in this article, Hemmingway doesn't offer any direct suggestions to improve your writing. Instead, it alerts you to possible errors in your writing for you to fix. It does this by highlighting sentences in the following ways:
Yellow Highlights: Yellow highlights are "hard to read" sentences.
Red Highlights: Red highlights are classified as "very hard to read," so if you have red highlights, you'll need to look at shortening sentences.
Purple Highlights: Here you'll be told to either omit or change a complex word.
Blue Highlights: When a word is highlighted in blue, it is considered "weak phrasing." For example, replacing "could" with "must."
Green Highlights: These indicate the use of passive voice.
As you can see, the edits the Hemmingway app offers will make you a better writer. However, it isn't a tool that'll automatically turn you into . . . well . . . Hemmingway.
Plus, its style feedback can be very helpful—as long as it's the style you're looking for. While Hemingway's feedback on clarifying writing is great for blog posts meant for wide audiences, it might frustrate you more than it helps you if you're writing a lengthy tome of literary fiction.
Hemingway Pros
Helps you strengthen your writing style with big picture feedback.
The desktop app is available at an affordable cost.
Hemingway Cons
Does not offer any spelling or grammar suggestions.
There are no extensions, so you'll have to use the web app (or the desktop app).
Hemingway Pricing
Hemmingway is cost-effective with a one-time $19.99 payment.
Grammarly Review
Out of all the tools in this article, Grammarly is probably the most popular, with over ten million users. It's one of the big players in the game and is one of the best spell-checking programs on the market.
Grammarly is constantly adding new features. In the last year or so they've added a plagiarism checker along with a goal-setting tool. When you open a new document, you'll be prompted to set goals, like what type of audience you're writing to, and Grammarly will tailor suggestions to suit.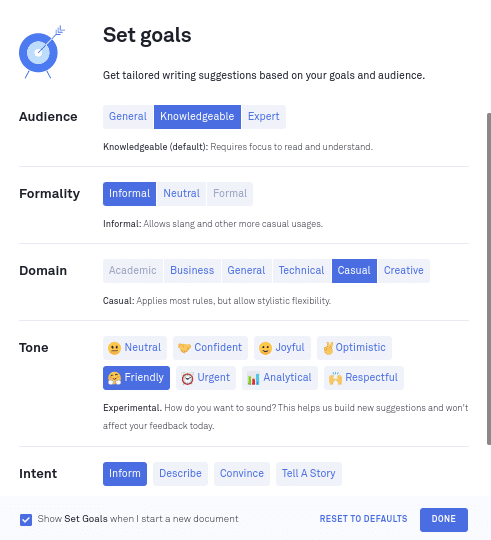 Pin
Perfect for almost any type of writing, Grammarly has a range of cool integrations and add-ons, like:
A web app that connects with Facebook, Gmail, WordPress and more.
Browser extensions for the main browsers.
A cool mobile app and mobile keyboard.
That said, one add-on that's somewhat lacking is Google Docs. Grammarly's Google Docs add-on is very basic at this stage and does nothing more than note basic spelling mistakes. As you can see, it's still only in BETA mode, so it could improve soon.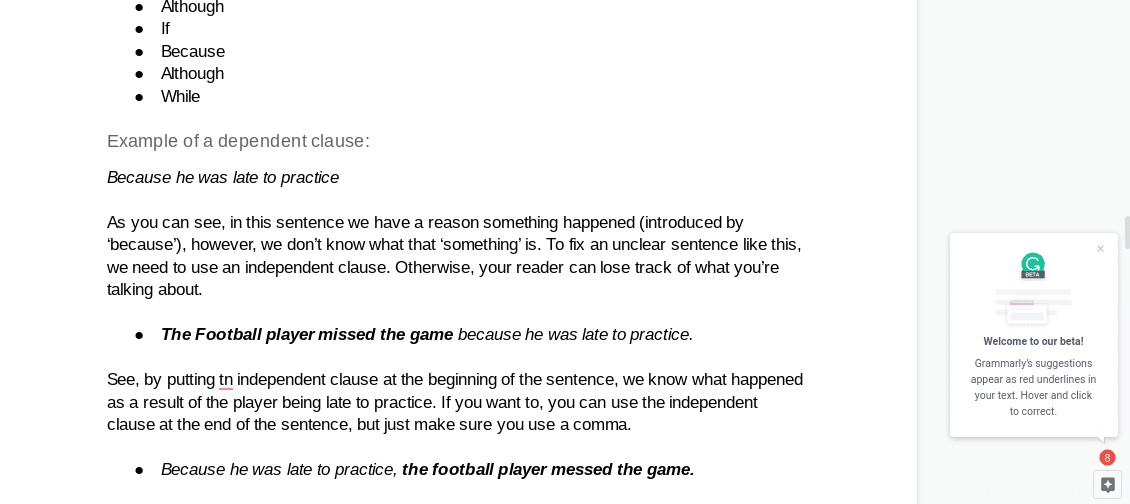 Pin
Grammarly has a free version that is better than a lot of other competitors' paid choices. I used Grammarly's free version for years before deciding to switch across to the paid plan, and it wasn't because I was actively avoiding the price. For a long time, I found that the free version was enough for what I was doing.
Grammarly Pros
As far as design and usability go, Grammarly is the market leader.
It has a great free version.
You can set goals that tailor your writing suggestions.
Grammarly Cons
Their Google Docs add-on is only in BETA (and pretty average), which is a huge letdown for Google Docs users.
Grammarly offers little in regards to "big picture" edits and feedback.
It's expensive compared to the other options.
Grammarly Pricing
When it comes to pricing, Grammarly is the most expensive option on this list. They offer three pricing plans:
Monthly – $29.95 per month
Quarterly – $19.98 per month
Annually – $11.66 per month
Ginger Review
When I first looked into spell-checking apps, I assumed Grammarly was the best. However, Ginger has been around for over ten years, and a recent facelift has made it a viable option.
Ginger offers a lot of the same functionality that Grammarly does, but, in my opinion, at a slightly lower standard.
After some time using both tools, I've found that Ginger offers fewer suggestions than Grammarly does. However, you'll find that both tools will catch most mistakes. Like Grammarly, Ginger has a range of add-ons and integrations. One of my favorites is a browser app that makes writing blog posts incredibly easy as it works straight with WordPress.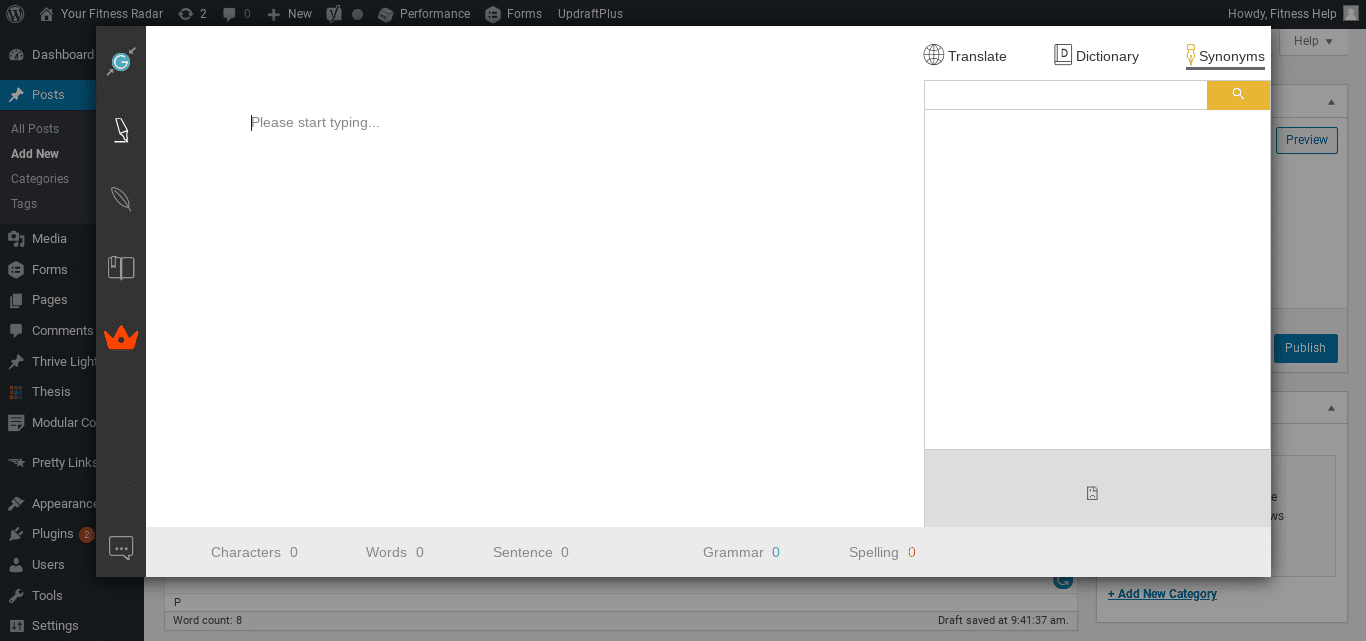 Pin
Ginger does offer other features that are unique. My favorite feature is the text-reader. Ginger's text reader will read your work out loud, no matter if it's on MS Word, PowerPoint, Chrome, Firefox or Internet Explorer.
The text reader is ideal for editing your own work, as it can be useful to hear your work read back to you. It's also a great way to listen to a blog post while you're on the go.
Ginger Pros
A "read aloud" function that's great for self-editing.
A handy free version.
Great for catching your basic spelling and grammar errors.
Ginger Cons
A lot of the other added features like translators aren't useful for most users. The translator is no better than Google Translate.
Doesn't offer much big-picture feedback on writing.
Ginger Pricing
As you can see, there was a special on at the time this article was published. Usually, however, Ginger's prices are around about the same as Grammarly's. This leads me to believe that Grammarly is still the better option.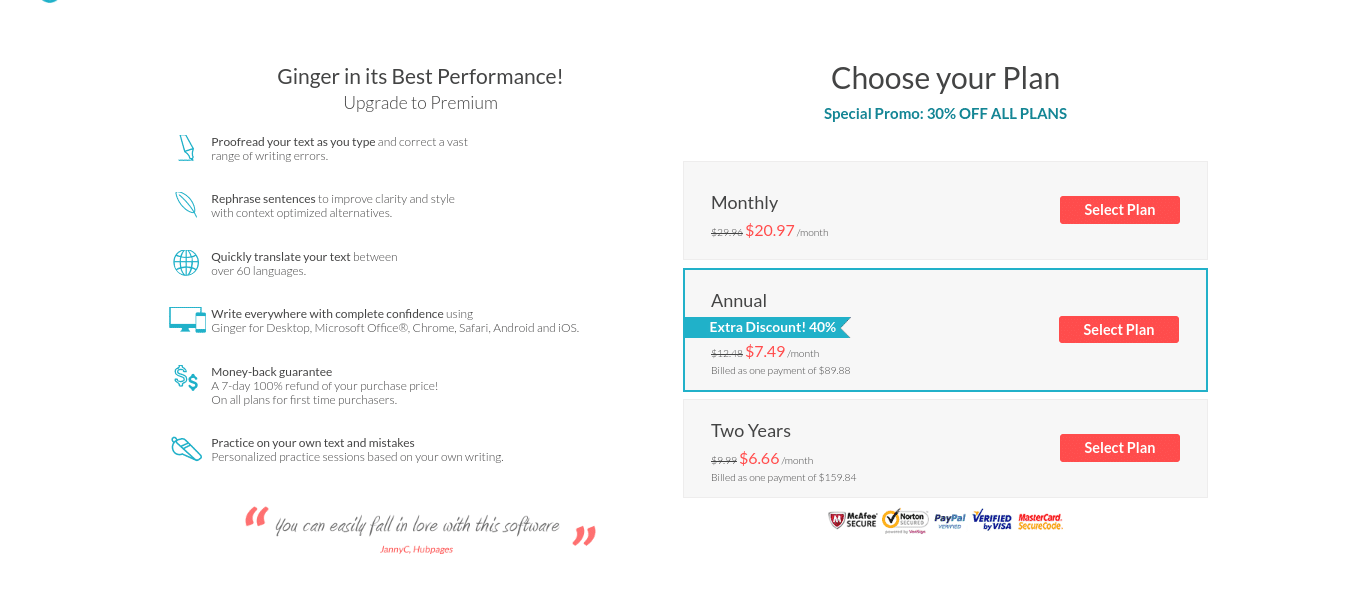 Pin
ProWritingAid Review
Okay, so it looks like you've got a decision to make. Do you go with a tool like Hemmingway that offers a "big-picture" check focused on readability, or a tool like Ginger or Grammarly that offers spelling and grammar checks?
Pin
This is where ProWritingAid comes in. In a lot of ways, ProWritingAid offers a total solution for writers.
I'm a paying customer of ProWritingAid and to me, it's the best option out there. The depth of feedback you get is well worth the cost. Just check out the first draft of another article I'm writing . . . yikes!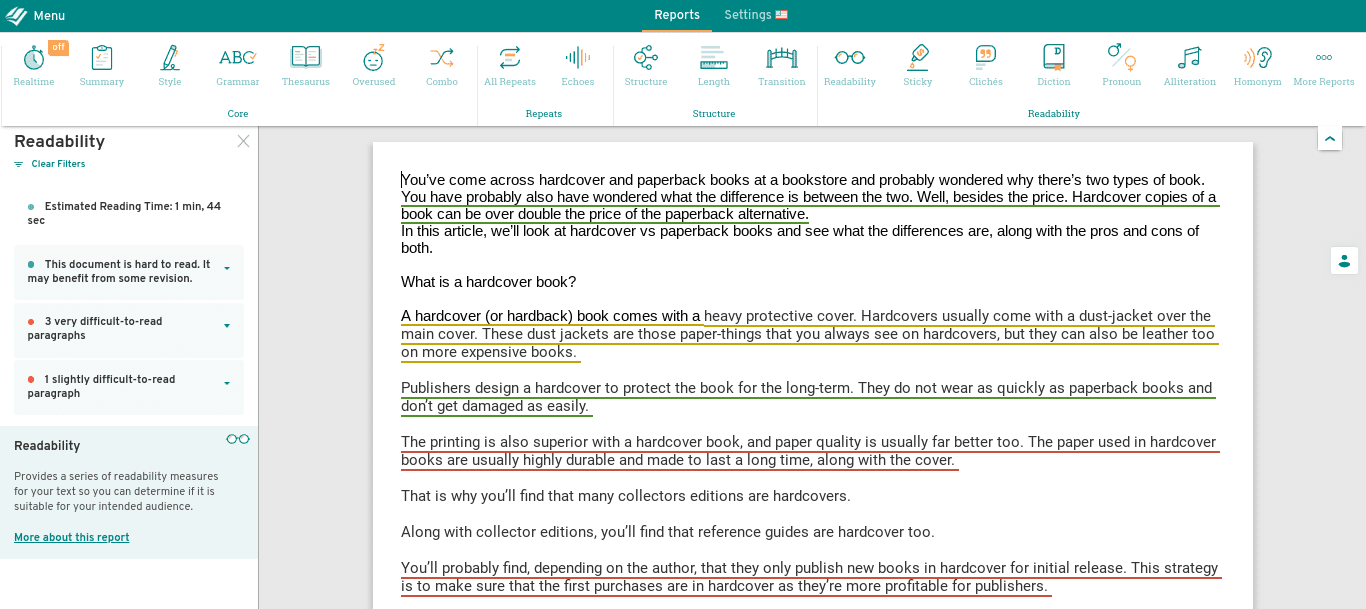 Pin
ProWritingAid also comes with a fully functional Google Doc add-on as well. I have found that the add-on is buggy at times.
Along with Google Docs, ProWritingAid lends itself to authors with a desktop app that connects with Scrivener and Microsoft Office. That's a huge plus for me, as I love, love, love Scrivener.
If you're writing long-form pieces like longer blog posts or books, then ProWritingAid is the winner.
ProWritingAid Pros
Great for macro and micro edits and feedback.
Compatible with Scrivener.
Perfect for authors.
Offers a one-time-pay option.
ProWritingAid Cons
Only a browser extension for Chrome.
The Google Doc add-on can be buggy at times.
More complex than the other tools.
Harder to use than Grammarly and Ginger.
ProWritingAid Pricing
ProWritingAid has a bunch of great options for pricing, including a lifetime plan for $240, which is my favorite offer out of all the tools I've compared here.
To read a more extensive breakdown, check out our ProWritingAid Review.
Self-publishing can be expensive, and I'll take a good deal wherever I can find one.
So, Which Is the Best?
When you're looking for the best grammar checker, a lot depends on what you need to use it for.
If you're just writing the occasional blog post and using a tool for emails and social media, then Grammarly is a great option. It can be useful for longer-form content like books, but it wouldn't be my first choice.
The same goes for Ginger—simple enough to use every day and it also has a few added features.
You could even use one of these tools with Hemmingway to get the best of both worlds.
On the other hand, if you're an author looking at writing long-form pieces, then ProWritingAid is the ideal option. It mixes spelling and grammar with high-level feedback on readability that will make your writing better.
With the added features and lifetime price tag, ProWritingAid wins this one for me. Luckily, you can try out these services' free trials and see what's right for you.
Have you tried any of these grammar checkers? What do you think of them? Let us know in the comments.