One thing I love about writing as a craft is that you're never "done." No matter how good you get, there's always something to learn. I've been writing for a while now, but I'm always on the lookout for another way to improve my craft.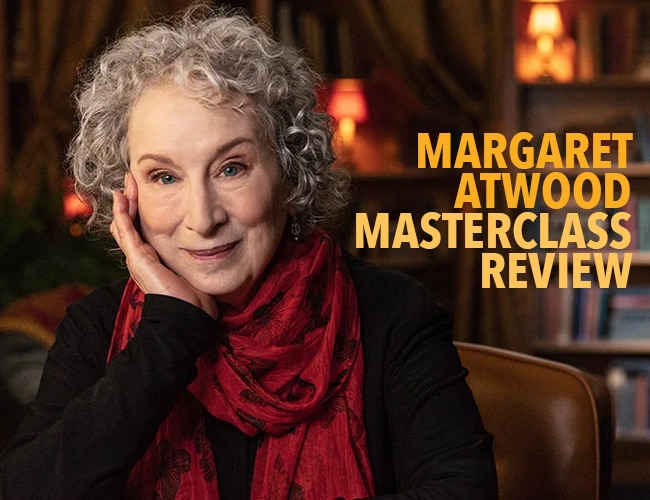 One such tool out there is Masterclass. You may have heard of Masterclass or seen one of their ads online. I first heard of Masterclass when I saw an ad saying that one of my writing heroes, Malcolm Gladwell, was teaching a writing class. But it isn't just Gladwell that teaches on the platform. There's a bunch of industry leaders from a range of fields.
In this article, we'll specifically look at Margaret Atwood's MasterClass. But first, let's go over what MasterClass is.
What Is MasterClass and How Much Does It Cost?
MasterClass is an online learning platform unlike any other. While other online learning platforms are great for business owners to create online courses with, MasterClass only has courses from the very best in their field.
And I mean the very best. We're talking Serena Williams teaching tennis, Steph Curry teaching basketball, and Gordon Ramsay teaching cooking—and thankfully not how to insult people.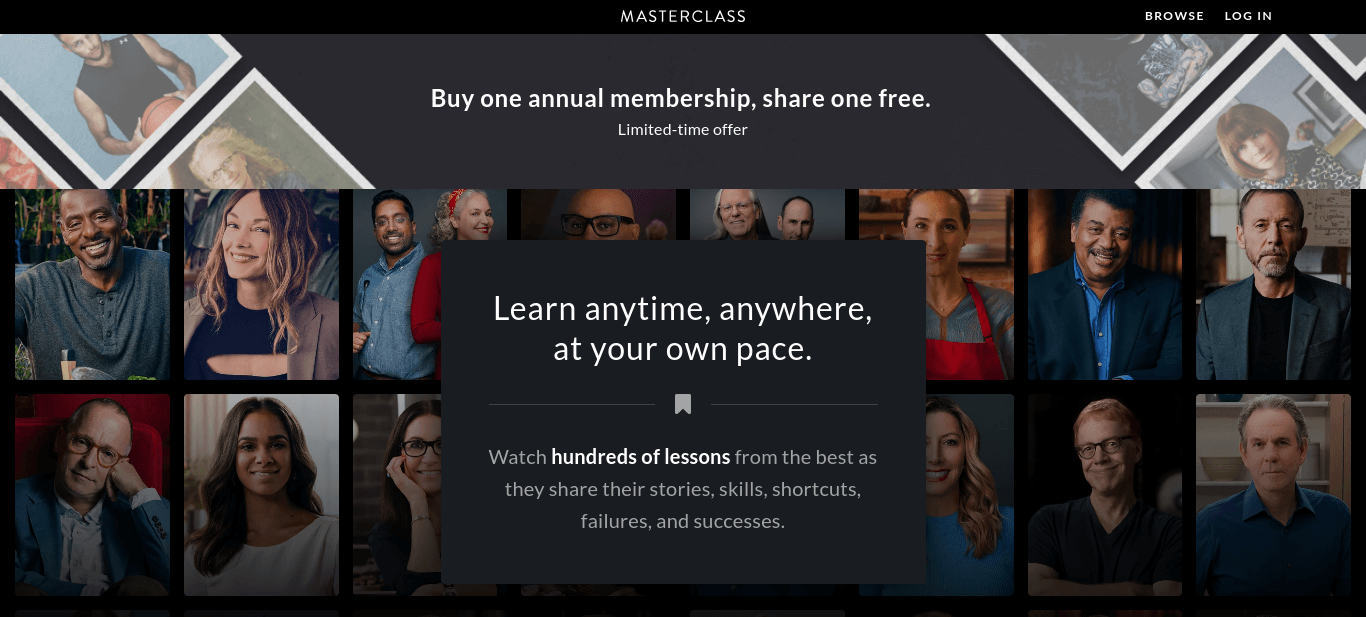 Every MasterClass course has a unique curriculum designed by the instructor that usually focuses on a specific part of their craft. For example, Steph Curry teaches ball handling and shooting, as opposed to teaching basketball in general.
Each course is around two to five hours in total length and can be watched on your own time.
Other features include:
MasterClasses are broken down into a range of smaller lessons.
Each has PDF lesson plans so you can go over the material as many times as you like.
There's a cool discussion board for both the students and instructors (and yes, sometimes the instructor will reply to messages!).
How much does it cost? You can grab an all-access pass that gives you access to all courses for a year for $180.
There's quite the range of writing courses on MasterClass, with around a dozen different options for learning more about writing. One of them is the creative writing course from Margaret Atwood, who is most famous for The Handmaid's Tale.
Who Is Margaret Atwood?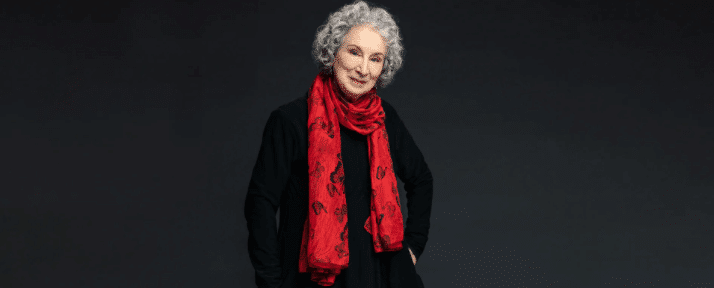 Margaret Atwood is a popular Canadian writer who has written a vast selection of acclaimed poetry, short stories, and novels. Atwood's most famous works include The Circle Game (1966), The Handmaid's Tale (1985), The Blind Assassin (2000), Oryx and Crake (2003), and The Tent (2006).
Through the years, Atwood's books have been translated into several languages and have been sold all over the world. Atwood's work picked up a second life in the mainstream when The Handmaid's Tale was adapted into a hyper-successful TV series in 2017.
Will You Benefit From the Course?
If you're writing fiction, or short stories for that matter, you'll benefit from taking this class. Margaret Atwood has an awesome amount of experience, and thus, knowledge to share. The fact that she provides so much detailed writing advice is super exciting.
That said, let's take a look at what's being offered before we give our final verdict.
Want to skip ahead and see what's inside each lesson for yourself?
Click here.
My Review of Margaret Atwood's MasterClass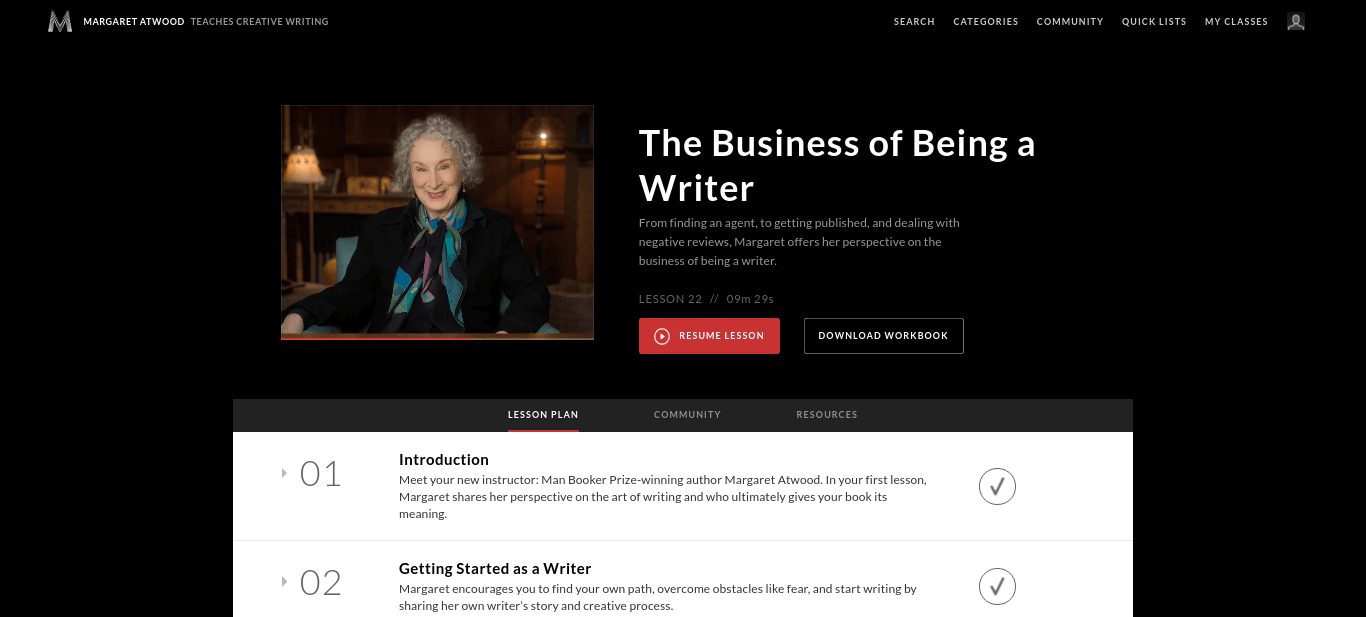 In Margaret Atwood's MasterClass, you'll find:
Over 20 inspiring lessons, including ones that focus on getting started as a writer, creating characters, writing from different points of view, layered narratives, crafting dialogue, making sure you write a great hook in the first pages of your book, and writing speculative fiction (with a special focus on The Handmaid's Tale as a case study).
Access to a downloadable class workbook that has over ninety pages of notes and activities.
Excerpts from a range of books mentioned in the classes that you can either read along with the video or revisit in your own time.
Access to a dedicated community of other learners who comment and have conversations about their writing.
There's a lot to take in with this MasterClass, and Atwood covers a range of topics authors will find interesting. She presents like you're having a one-on-one conversation with her, and I dare say she'd charge more than $180 for a three-hour writing workshop. So it's definitely worth the admission fee, in my opinion.
What I Loved About Margaret Atwood's MasterClass
Before we get too far into the weeds, I want to say that the first thing I loved about the MasterClass was Margaret Atwood's bookshelf-wall!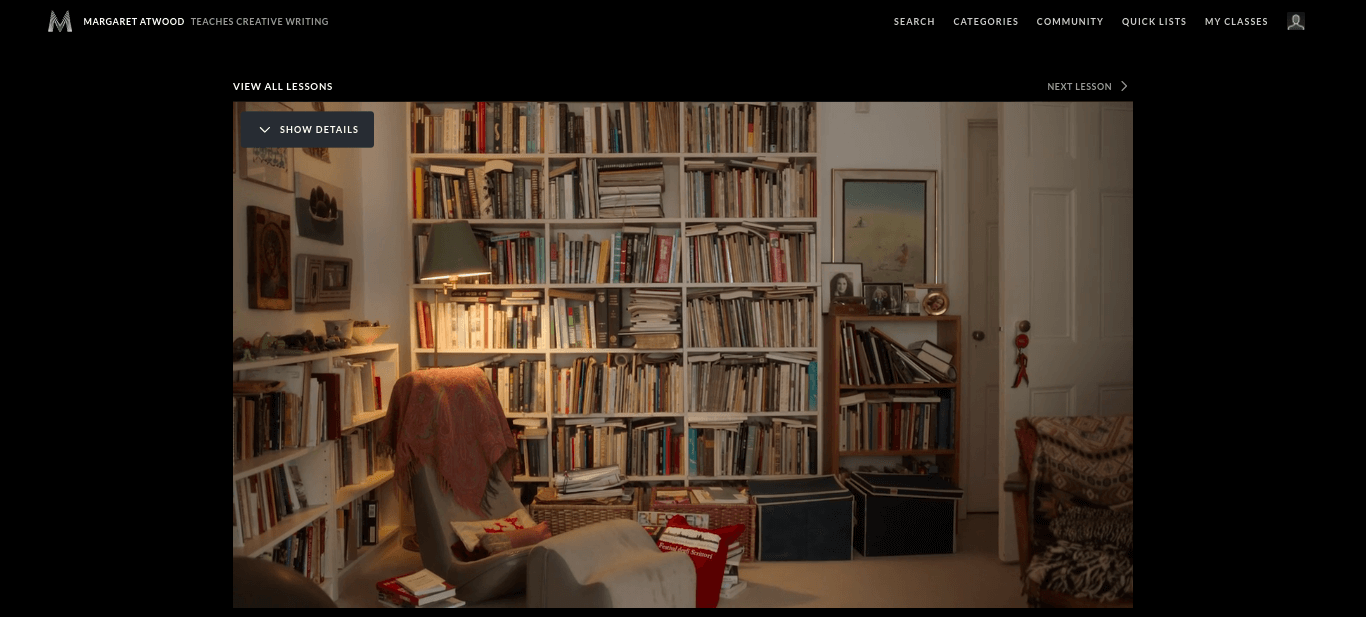 Okay, now on to the actual class. There's a lot to love about Margaret Atwood's MasterClass. Some standouts are:
Detailed Writing Advice. There's a lot going on in these classes. What initially stands out through the lessons is the amount of great advice Atwood gives. I took so many notes during the lessons, and I will re-visit these notes as I'm writing.
The Speculative Fiction Case Study using The Handmaid's Tale. The standout lesson is the case study on speculative fiction, which represents, as Atwood calls it, books that explore real possibilities in our society that haven't been discovered. Atwood uses The Handmaid's Tale as a case study showing speculative fiction in action. Atwood took inspiration from events that have happened in real life to create the world of the book, which makes the story hauntingly believable. If you want to hear more about speculative fiction, Atwood gave a great talk on the topic at the New Yorker Festival.
The Character Lessons. Character development is key to any writer, and this MasterClass gives great insight into ways you can build your characters. I particularly like when she makes the point that a character, even the protagonist, doesn't have to be likable. Sure, it's something you'd want in a roommate, but not necessarily in a character.
"The Trashcan Is Your Friend." A great throughline in the MasterClass is the reminder that "the trashcan is your friend." If you try something that doesn't work out, you can simply start again. In fact, Atwood talks about a few of her novels that were unreleased, not edited, or even entirely thrown out when she realized she was 2,000 words in and hadn't started the story yet. It's always good to know that even the best writers in the world produce work they're not happy with.

Exploring Structure and Technique. Several of the lessons focus on the impact the structure of your work—what the characters know, what the reader knows, and more importantly, what they don't know. She uses the example of Dracula, where the reader knows more than some characters, which creates a prolonged feeling of suspense throughout. Sure, you know about Dracula, but when will they find out? Atwood explores how playing around with the tense, the narrative point of view, and other techniques will give your novel a new flavor.
Margaret Atwood as a Presenter. Atwood is incredibly engaging throughout her MasterClass. She's funny, she's charming, and she has the ability to make the lessons feel as though she's talking directly to you.
Overall, most writers will be very happy with this course, and everyone should pick up at least a few new ideas.
What I Didn't Love
As you can probably tell, I loved a lot about the Margaret Atwood MasterClass. However, there are a few things I didn't like.
For starters, if you're a complete beginner, this MasterClass isn't for you. In lesson four, for example, Atwood goes straight in and talks about layered narratives and other advanced writing techniques.
If you're a newbie, you'll probably look at that and think, "Woah, I haven't written one narrative yet, let alone layers of them!"
While there are some takeaways for novice authors, it's definitely more aimed toward a writer with at least a little experience. While this isn't exactly a "negative" of the course, it is very important to recognize if you're a new writer looking to get started. On the other hand, at around three hours in length, it's short enough that you can watch it multiple times throughout your writing career and pick up different things each time.
Also, if you've taken a few online courses before, you're probably used to a course that takes you from a designated A to B. That could be learning how to structure a book, how to run Facebook ads, etc. In these lessons, you get the ins and outs of creative writing—as the title suggests—but you don't get a structured sequence of things you need to do to get from A to B.
These are only minor issues though. On the whole, I thoroughly enjoyed the course.
My Verdict: Is Margaret Atwood's MasterClass Right for You?
Let's be honest here, Margaret Atwood has probably forgotten more about writing than most of us will ever learn. As you'd imagine, her MasterClass is chock-full of great information for authors and other creative writers.
When you consider the price of the course, Margaret Atwood's MasterClass is a sound investment. And remember, you're not just getting Atwood's course—there's a huge range of other courses about writing on MasterClass, which makes the subscription incredibly reasonable.
Who are the writers you love to learn from? Share in the comments.
Ready to take Margaret Atwood's MasterClass and transform your writing? Click to sign up
PRACTICE
Today, let's try out Atwood's advice that a character doesn't have to be likable. Set the timer for 15 minutes. Write about a character who sees a child (who clearly needs help) chasing down a dog through the park where they are walking. What will the character do? Will they ignore the scene unfolding (and if so, why?) or will they attempt to help in an obnoxious way?
When you finish, Write Practice Pro members can post in the practice workshop here.
Not a member yet? Check out how to join here. There's even a free option! We'd love to have you join our community of practicing writers.