You want to become a writer, and you might even have some extra time now to make it happen. But you're not sure how to stay disciplined. Maybe you're overwhelmed and stressed. Or you're discovering it's really hard to build your own habits and routines into your day.
Still, you're ready to commit and focus on your writing (or refocus). Where do you start?
Well, that's where our 7 Day Creative Writing Challenge comes in!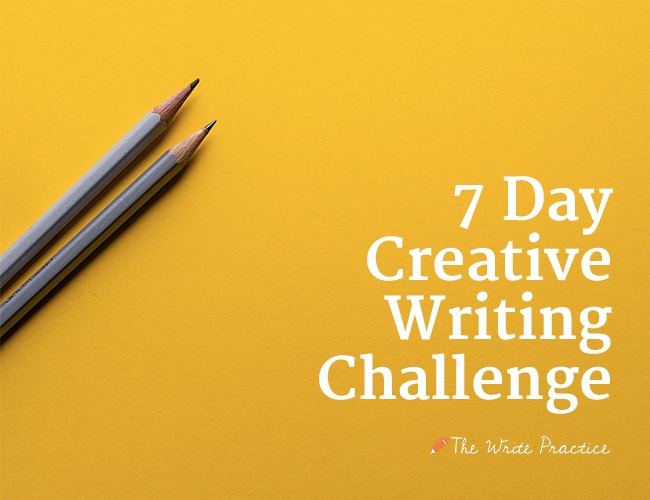 But before I tell more about the challenge, let me tell you why we're doing this:
A Writing Habit Is Better Than Discipline
Every day, I get emails from people saying, "I want to be a writer, but I don't have the discipline to finish anything."
And I get that because that's where I was. Strike that. That's where I AM all the time. Even after finishing fourteen books, I still struggle daily with discipline.
That's why I like habit so much more than discipline. A habit is something you do without thinking. You don't have to be disciplined to have a habit. You just do it.
We've all experienced a lot of upheaval in the last few weeks. Our regular schedules have been entirely disrupted. If you're like me, the habits you're used to are all gone, at least for now.
I believe that this is the perfect time to start a creative writing habit. Setting aside a time to write creates a tiny bit of structure in your day. It's a way to tap into your creativity in the midst of stress. Best of all, you'll join a community of writers all cheering you on toward the same goal.
How do you kickstart a habit, though? Well, one way is to focus on it for a short period of time, like seven days; get a group together, like this community; and make building the habit a fun challenge! So that's what we're going to do!
Announcing Our 7 Day Creative Writing Challenge
I'm really excited to announce our 7 Day Creative Writing Challenge, which we're beginning next week!
This challenge will help you kickstart a daily habit of writing. If you want to write a book, start a blog, or even just spend more time writing creatively, this writing challenge is for you.
What makes this even more fun is that we're going to do the challenge together as a community.
Are you in? Here's how this will work:
WRITING CHALLENGE RULES
The challenge will begin the day after you sign up.
If you join, each day you will write 1,000 words or more.
You can write about whatever you want: a new story, a chapter in your book, or even just 1,000 words of free writing.
At the end of each day, you'll let us know how many words you wrote that day.
We'll send you daily emails to encourage you.
We'll invite you to a Facebook group where you can talk about the writing process and get encouraged by other writers.
At the end of the 7 days, you'll have written 7,000 words, enough for a few chapters in a book or a short story or two! More importantly, you'll have begun your daily writing habit!
Join the challenge and write 1,000 words a day for your chances to win!
How does it sound? Ready to get started?
SIGN UP FOR THE FREE WRITING CHALLENGE
If you're ready to kickstart your creative writing, you can sign up for the 7 Day Creative Writing Challenge here. Let's make 2020 the year you become a writer!
PRACTICE
Your practice today comes in two parts:
First, sign up for the challenge!
Then, create an intention for how you'll write every day. Where will you write? When will you write? How long will you write? Be specific!
Share your intention in the comments section, and be sure to leave feedback for your fellow writers!
Join the Challenge!
Enrollment for the 7 Day Creative Writing challenge is now open. What are you waiting for? Get writing!
Joe Bunting is an author and the leader of The Write Practice community. He is also the author of the new book Crowdsourcing Paris, a real life adventure story set in France. It was a #1 New Release on Amazon. Follow him on Instagram (@jhbunting).
Want best-seller coaching? Book Joe here.