It feels something like this.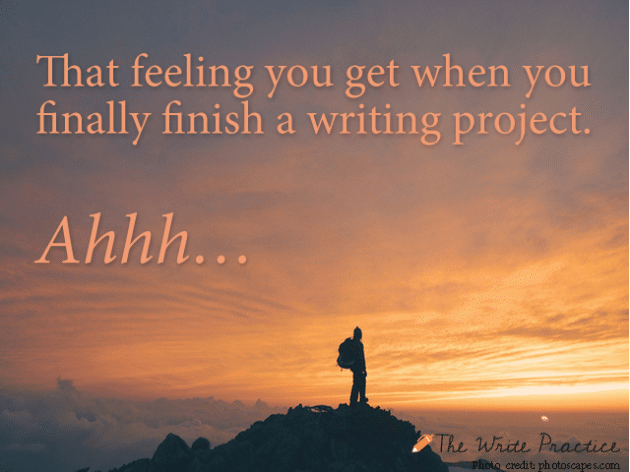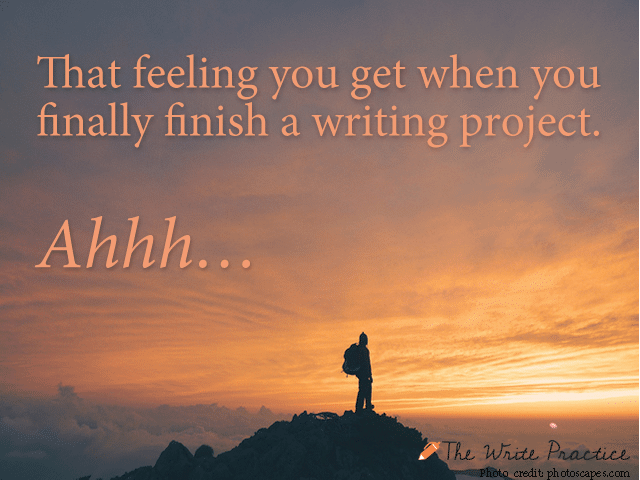 I just finished a very important writing project, a proposal for a new book I'm ghostwriting. It was a tough project, one that took a month longer than expected, and included a journey around the world, dozens of hours of research, a few exhausting back-and-forths with my client, not to mention many long days huddling over the keyboard, trying to make the words come out right.
Yesterday, I read through my finished proposal and then sent it off to my agent.
Man, it feels so good.
Remember This Feeling During the Writing Process
How do you feel when you finish a writing project? Spend a moment thinking about that feeling:
the sense of accomplishment
the feeling of relief
the realization that you've put something valuable out into the world
the anticipation to hear what your readers think
Every time the writing gets tough, think of how good it will feel to finish.
When you're hit with writer's block, think of that sense of accomplishment you'll feel when you finally write, "The End."
When you just want to sleep in and can't motivate yourself to get up and write, try to remember how good you'll feel at the end of the process.
Celebrate Your Writing Victories
Writing is hard work. As you probably already know, there will be times when you want to quit and give up. There will also be times when you share your writing with the world and people don't like it, or worse, ignore you altogether.
However, the fact that writing is such hard work is the very reason we need to celebrate our writing victories. If you have seen your writing project through to the end, you've accomplished something important, something many people wish they could do but haven't.
Take it in. Revel in it. Breathe in deep and celebrate the fact that you've finished.
And Then Start Your Next Writing Project
One of the most vulnerable times for writers is just after they've finished their last writing project. It's so easy to rest on your laurels, to let laziness creep into your habit.
Instead, get started writing your next project today. Don't let yourself get stagnate. Start working on the next story, blog post, or book.
As good as it feels to finish, the best feeling of all is to be writing something new.
How about you? How do you feel when you finish a writing project?
PRACTICE
Write a scene about a writer who has just finished his or her latest book. How does he or she celebrate?
Write for fifteen minutes. When you're finished, post your practice in the comments section. And if you post, please be sure to give feedback to your fellow writers and leave them a comment in the comments section.
Happy writing!
Joe Bunting is an author and the leader of The Write Practice community. He is also the author of the new book Crowdsourcing Paris, a real life adventure story set in France. It was a #1 New Release on Amazon. Follow him on Instagram (@jhbunting).
Want best-seller coaching? Book Joe here.