Have you ever thought about becoming a full-time writer? If you're reading this, I'm guessing that you have. Or maybe you're already writing professionally, but would like to 1) find writing work you're more passionate about or 2) earn more.
The question is, why haven't you done it yet?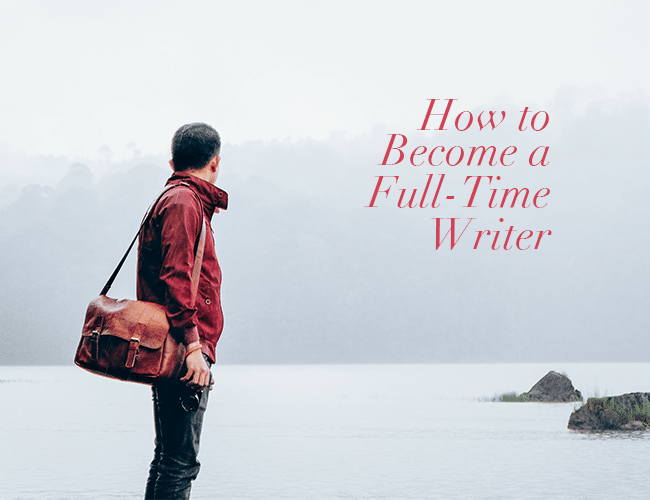 I've been there. I used to want to make writing my career but had no idea how to actually do it.
When I was 17, I remember reading a novel (A Tale of Two Cities) and waking up to the idea of becoming a writer. I thought, "How amazing would it be to get to do this all day, to sit and hang out with your characters, write stories about their lives."
I studied writing in college and got my Bachelors degree in English Literature with an emphasis in writing.
After college, though, I found it almost impossible to find a job as a writer. Newspapers were laying off people with many more years of experience than I had, and I didn't know a single person who was a professional writer to guide me in my options. To pay the bills, I got a job at a bank. On the side, though, I wrote on a blog and dreamed about that day when I would finally write books for a living.
It seemed like a long way off.
Honestly, back then I wasn't sure it would actually happen. I certainly didn't know how to make it happen.
How I Finally Became a Full-Time Writer
I fell into my first full-time writing job randomly. I had been helping a friend edit his book, and one day he asked if I wanted to help him write it.
"Sure, I'd be willing to do that," I told him, but inside I was screaming, "YES! YES! YES!"
That first writing job lead to a second, this one on the coast of Southern Spain. That job turned into a third, this time writing for a magazine in Washington. Now, more than five years later, my writing supports my wife, our two sons, and me.
I think back to that moment at 17 when I first wanted to become a writer and think, "I did it. I didn't know how it would happen, but I did it. I became a writer."
Can You Become a Full-Time Writer?
I don't talk much about my professional writing on The Write Practice, but for the first time, I want to open up and talk about how I became a writer.
More importantly, I want to talk about how you can become a full-time, well paid writer.
Writing is a secretive, competitive business. It's not easy to learn the trade, and even when you do, it's hard to break in and make it your career. It's even harder to earn the big projects, the $20,000 to $30,000 or more ones.
When I was younger, I didn't know anyone who could explain the business to me, but if you're reading this, you do. You know me.
Tomorrow, I'm teaching a free training about how to become a full-time writer. It starts at 3 pm Eastern/12 pm Pacific, and I'd love for you to join me.
Click here to register for the free live training.
Be sure to register now because space is limited (we only have 500 spots), and arrive to the training on time if you're able because there will be some time-sensitive material.
I'm really excited to get a chance to talk to you about writing professionally.
Please register for the training and learn how to make a good living getting paid to write. The training is tomorrow (Thursday, March 31) at 3 pm Eastern/12 pm Pacific. You can sign up for your spot here.
When did you realize that you wanted to become a writer? Tell me your story in the comments section.
PRACTICE
A little different practice today: what are three things you could do in the next twenty-four hours to get closer to becoming a full-time writer (or if you already are full-time, to earn more doing it)?
Write your three things down, share them in the comments, then go do them and report back here with your progress.
Joe Bunting is an author and the leader of The Write Practice community. He is also the author of the new book Crowdsourcing Paris, a real life adventure story set in France. It was a #1 New Release on Amazon. Follow him on Instagram (@jhbunting).
Want best-seller coaching? Book Joe here.