This post is by author Laura Dennis.
Author John Irving is notorious for writing the last line of every novel first. What we can glean from this daunting factoid is that Irving has a clear picture of where he wants the story to end up. The work is "simply" writing the book.
Would that we all be so lucky!
[wp_ad_camp_2]
Ending my memoir, Adopted Reality,* was tricky. I wrote several possible conclusions, settled on one that I knew wasn't perfect, and then published. Once I got over my writer's fatigue and was willing to listen to feedback, I accepted that the first edition ending lacked cohesiveness and emotional impact.
Whether you're figuring out how to write a memoir or a novel, creating an ending that is satisfying for the reader is a must (that is, if we actually want readers to buy our future books)!
Uncover the Elusive Satisfying Ending
The thing about endings in a life story is that, unless it's published posthumously, or written cryptically (and possibly from mental institution à la the fictional Holden Caulfield), we pretty much know the outcome of a memoir: the author survives.
The struggle in my situation is that the story is of the "slice of life" variety. I didn't want to go into another ten years of my life, lose focus and end up writing a boring autobiography.
After publishing the first edition, I did some belated beta-reading. The feedback I received from beta readers was that there was plenty of adoption-reunion and "descent into madness," but there wasn't enough coming-of-age or actual recovery. Readers wondered whether I was able to lead a normal life.
Good call, readers, good call.
Deepening Readers' Emotional Connection
In crafting the culmination to your work-in-progress, you need to be aware that there's more to it than allowing the main character to live to see another day (or not). Readers expect thematic conclusions and lessons learned, even if not in so many words.
As for memoir readers, they expect something to happen (hopefully something interesting) and want to see how the author gets herself through that "something." The personal strength/inner peace/positive-outlook-discovered are a big part of that conclusion.
Caveat time: In fiction, endings are often genre-specific. A mystery, "who-dun-it," has to reveal the perpetrator or turn into a series. If not, you likely have literary fiction on your hands, and you'd better adjust the prose accordingly.
That doesn't mean readers have to like the ending. However, they do need to be emotionally connected to it.
The audience doesn't even have to be attached to the hero/heroine; a minor character will do. Or, write a rainbow-and-unicorns ending to a subplot, while the main plot goes to the hot place.
How I Fixed the Ending to My Book
What did I do to "fix" the ending of my memoir when I'm still alive and kicking?
First, I fleshed out the recovery aspect. Looking back at the first edition, I realized that I'd glossed over some of the arduous, embarrassing aspects of my recovery. In the second edition I went into detail, describing the excruciating meltdowns, the paralyzing anxiety, and continued paranoid ideations that characterized my early months of recovery. In the book, as I emerge from that phase, it becomes clear that I'm maturing and taking responsibility.
Next, I had to figure out how to reassure readers that not only did I make it out of that particular bipolar episode, but I remained (relatively) sane in the long run. I chose to use an epilogue for this purpose, relating the moment I felt I became a mother. Through that story, it's clear that I have a marriage, a stable home life, and I can give birth and not relapse.
I've had the second edition out there for a few weeks. Thanks to Story Cartel, I already have several Amazon reviews*, and it's clear that not every reader likes the new ending. But so be it. I believe this improved, emotionally connected version is my best work for this work.
I can't claim to have written the last line of my memoir first, but maybe I'll get there one day.
What about you? How do you write the best endings possible?
PRACTICE
Write four different "ending lines" for your current work-in-progress. Play with tone: witty and sarcastic, utter melodrama, Zen dude, or any of your own machinating.
Share your four lines in the comments section of this post. And if you share, be sure to give feedback on a few practices by other writers.
Good luck!
[wp_ad_camp_3]
This guest post is written by Laura Dennis. Laura is the author 
Adopted Reality
,* a 9/11 memoir that reads like a psychological thriller. She now lives in Belgrade, Serbia with her family. Laura writes at
Expat (Adoptee) Mommy
. You can also follow her on
Twitter
(@LauraDennisCA).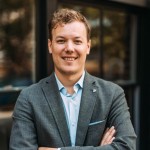 This article is by a guest blogger. Would you like to write for The Write Practice? Check out our guest post guidelines.