This guest post is by Lisa Agosti. Lisa is a writer who lives in Vancouver. You can follow Lisa on her blog,
All You Can Write
, and on
Google+
.
Tabitha King is her husband's Ideal Reader. In the past decades she has been the first person in Stephen King's mind while he sat at his desk transforming his ideas into black on white stories.
To my romantic heart of an inspiring writer this sounds the most amazing connection between two people. I find it passionate and committed, powerful and tender, a role that goes past being a friend, a wife, a lover.
King wants to tell her all the lurid details of the most secret side of his brain, and considering that we are speaking of Stephen King, there sure are some crazy shadows hidden there.
Spouses Make Interesting Ideal Readers
In his On Writing Stephen King mentions how Alfred Hitchcock told his wife he wanted to fly, and how she replied, "Eat your eggs first."
When Psycho was about to be released some thirty guests were invited for dinner to congratulate the famous director on his masterpiece. Alma Reville, Hitchcock's wife, was quiet all through the evening. When questioned on her thoughts, she revealed that an important scene included an already-dead victim.
In one moment, Alfred Hitchcock's critique saved her husband from being publicly humiliated for many years to come.
Searching For Your Soulmate
This leads me to the difficult task of finding an Ideal Reader myself, and I naturally lift my chin to find my beloved soul mate, wearing pyjamas covered in yellow cheesy powder, maniacally torturing his joystick, burping silently so not to disturb the stream of the football podcast whilst dutifully answering his Call of Duty III.
Maybe I will have better luck closing my eyes and daydreaming of a hot backpacker in his late thirties, travelling the world with no fear and no plans, full of amazing memories and improbable friends. I can see him, walking up the beach in a sweaty day, and now I can see me, casually lying in a hammock, lost in the reading of some obscure novel to the point of oblivion.
Now he's asking me to join me and paying me drinks (as if).
And suddenly we realize that we've been talking for hours and the sun is long gone and the sand is getting cold under our feet. We might go partying that night, and the next one, and we might end up going travelling happily together ever after.
Hold on a second, that's not a fantasy, that's already happened! And the hot traveller is sitting in front of me, trying to scratch his back with the remote while sipping a warm beer! (too lazy to go get a cold one from the fridge, knows me well enough not to ask).
Who Is YOUR Ideal Reader?
So then WHO is my Ideal Reader going to be? Who am I thinking of while I write this?
I am thinking of a young, smart, sassy, woman. She's wearing big round sunglasses and carrying an oversized handbag. She walks with a confident step, lost in too big a world of opportunities and ready to grasp them all. She's not too skinny, she likes pizza and has a sense of humour. She loves drinking coffee with her girlfriends and gossip a bit, just for a laugh.
She's the woman I wish one day to be, when I will grow up and settle down and write something deep, entertaining and unforgettable.
I might even start right now, it's easier when you know who's on the other hand of your thoughts.
And you? Who is your Ideal Reader going to be?
PRACTICE
Write for fifteen minutes about who your Ideal Reader is, if you have one. Or create the perfect one you can refer to from now on. Start now!
Post your practice in the comments section. And if you post, be sure to give feedback on a few practices by other writers.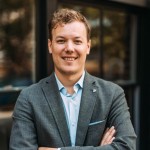 This article is by a guest blogger. Would you like to write for The Write Practice? Check out our guest post guidelines.