Note from Joe: Today, I'm thrilled to introduce our newest contributor, The Magic Violinist. When she first asked me if she could contribute, I was a little skeptical. She's twelve, after all. However, after I read her post, I knew that she would be perfect for The Write Practice. She's a good writer, but more importantly, she has passion and discipline.
The Magic Violinist will be posting a monthly column on every third Thursday of the month. I hope you'll join me in giving her a very warm, Write Practice welcome. Take it away, MV.
Many budding writers often can't find the time to write. Their excuses range from "I'm too busy with work," to "I have five kids to care for," or "I have to get caught up from this past week's vacation."
The truth is, there's always time to write. You just have to make the commitment and challenge yourself to write every day, even if you only write for a little bit. The people who really truly want to write will find the time.
Here are five ways to add writing to your busy schedule:
1. Whenever you have five minutes . . .
Whenever you have five minutes and there is a computer or some paper and a pencil nearby, sit down and write. It doesn't matter what you write, just write.
2. Blog
If you are a writer, you probably already have a blog. If you don't have one, make one and blog consistently about your life, your most recent writing project, your pet, anything. It doesn't matter what you write, just write.
3. Wake up early.
Even on weekends. Set your alarm clock and wake up before anyone else to give yourself some time alone so you can just write.
4. Free write.
If you're stuck in your novel and don't know what to write next, grab a clean piece of paper and a pencil and write down whatever comes to mind for ten minutes. Most likely you'll realize what you have to write next. If you still don't know what to write next, you haven't written for long enough. Write for another ten minutes and keep on writing until you've overcome your writer's block.
5. Block out distractions
Take your laptop to a quiet coffee shop and turn off your internet. Use a program that will turn off your email, Facebook, Twitter, and anything else that will be a distraction for you. After you've done that, just write.
PRACTICE
Turn off any distractions and write whatever comes to mind.
Write for fifteen minutes. When you're finished, post your practice in the comments. Be sure to comment on a few other practices as well.
Have fun!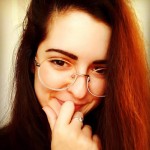 The Magic Violinist is a young author who writes mostly fantasy stories. She loves to play with her dog and spend time with her family. Oh, and she's homeschooled. You can visit her blog at themagicviolinist.blogspot.com. You can also follow The Magic Violinist on Twitter (@Magic_Violinist).