I've been teaching and coaching writers for four years through the Write Practice. I did the math recently and realized that in the last twelve months, we've helped over 2.5 million people become better writers.
As a writer and ghostwriter of four books myself, I've learned that there are a few common lies that writers tell themselves.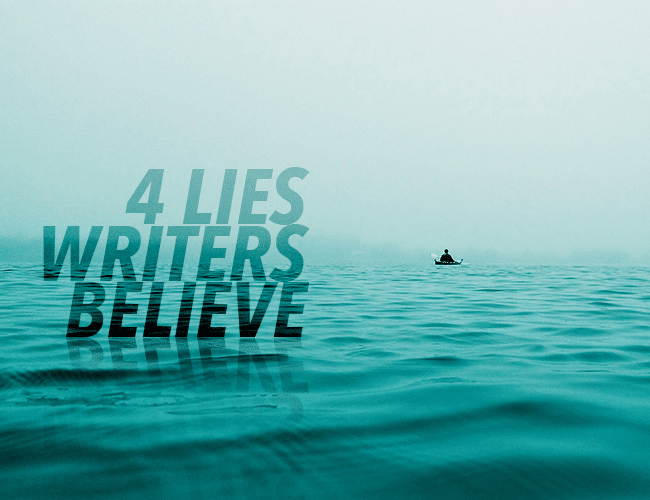 Here are the four lies too many writers believe:
1. "I'll write a book some day."
If not now, when?
Most people say things like, "I want to write a book," or even, "I'm working on a book." I've said the same things. But how many people actually write one?
What if you never finish your books? What if you die with your books still trapped inside of you? And here's a terrifying thought: Most people do die with their books unwritten. This happens all the time. Will you be one of them?
You have a chance to write your book. Isn't it time you do it?
Writing a book is hard, but if you create a plan and stick with it, you will finish.
(Of course, sticking with it is really the hardest part. But that's where a community comes in. More on that in a moment, though.)
2. "You can't make any money as a writer."
Yes, historically there were writers who were very poor, like Edgar Allen Poe and Herman Melville.
But some writers were also very rich, like J.K. Rowling, Ernest Hemingway, and Dr. Seuss.
Writers are just people, and people come in all shapes, sizes, and net worths.
I know many people who have made successful careers off their writing. Carlos Cooper, a friend and former contributor to The Write Practice, started writing regularly just a few years ago, and now makes his full-time living off his writing.
When I started writing professionally a few years ago, I made less than $10,000 the first year. Now, I'm able to support myself and my family with my words.
Making writing a career, not just a hobby, is possible, and in some ways it's easier than ever. Don't believe the lie that you can't make money as a writer.
3. "It's just too hard."
Yes, writing is hard, but plenty of people do it every day. People who are less intelligent than you have done it. People who aren't as talented as you have done it.  You can do it, too.
Is writing really too hard? Or is this a lie you tell yourself out of self-sabotage?
If you've ever felt like writing was just too hard, that you just lack the willpower or the talent or the discipline, then you're not alone. Even writers who have been writing for years feel like this sometimes.
Earlier this week, I was talking to a successful, best-selling author who was questioning his entire career. Your job is to not figure out what you're legacy is going to be. Your job is to do the work.
4. "I can do this on my own."
The truth is most writers never finish their books.
We're in the first week of NaNoWriMo, when hundreds of thousands of people attempt to write a book in just a month. However, less than eleven percent of people who start NaNoWriMo complete their projects.
What's the difference between those who finish and those who don't?
Perseverance, of course, but there's an often-overlooked secret that successful writers have been using for centuries. Hemingway used it. Tolkien used it. Mary Shelley, the author of Frankenstein, used it.
It's community.
"It takes a village to raise a child," said Toni Morrison. In the same way, it takes a community to birth a book.
That's why I created Becoming Writer. When I started writing, it took a community of people to help me finish my work.
For seven years, I aspired to be a writer but never finished anything. Then something changed, and in the past four years, I've published more than a thirty articles literary journals, national magazines, and newspapers, started one of the most popular writing sites in the world, and written or ghost-written four books.
What was the difference?
Community.
You might be thinking, No. That might be true for some people. But I can handle this on my own. I don't need encouragement or help. I just need a great idea, a blank page, and some extra time.
To that, I say, "Ok. Good luck with that."
Because you've probably tried to do that before already. You've probably had that great idea before and never finished writing the book.
Why do you think this time is going to be different?
Last Day to Join the Becoming Writer Community
We created Becoming Writer specifically to help you find the community you need to write a book. I really believe in this community. It could be the difference between finishing your book and joining the majority of people who never finish.
Yes, writing is hard, but with a community on your side to encourage you and keep you accountable, a space where you can vent when things get tough and celebrate when you finish, you'll be more successful than you've ever been before.
If not now, then when? Isn't it time to stop talking about writing your book, stop saying, "I'll write my book someday," and finally start writing it? And even better, writing it with the resources you need to actually finish.
However, today is the last day to sign up for Becoming Writer. Don't miss this.
You can try Becoming Writer for 30 days. If you sign up and don't feel like it helped you, just email me at the end of the month showing you did the work but didn't get the results. I'll give you a full refund.
I've tried to make this as easy as possible. We have payment plans starting at just $14.99 /month.
Is now not a good time? That's okay. You can sign up and go through the course later. But this will be the last time in 2015 to join Becoming Writer. And next time we reopen the community it will almost certainly be more expensive.
But more importantly, when is there every a good time to become a writer? The truth is you've waited long enough. Now is time to start. Now is time to become a writer.
Becoming Writer closes tonight at midnight, pacific time
. We'd love to have you join us, kickstart your writing habit, and finally finish your book.
Sign up here »
How about you? Have you believed any of these lies? Let us know in the comments section.
Joe Bunting is an author and the leader of The Write Practice community. He is also the author of the new book Crowdsourcing Paris, a real life adventure story set in France. It was a #1 New Release on Amazon. Follow him on Instagram (@jhbunting).
Want best-seller coaching? Book Joe here.