This guest post is by Jacqueline Richardson. Jacqueline is currently finishing her first novella and book of short stories. Check out
Jacqueline's blog
, where she shares her short stories, and follow her on
Twitter
(@JackieLiLei).
You can milk the extraordinary out of the ordinary— the details of everyday life are a gold mine waiting to be harvested for your writing. All you need to do is pay attention and put your life under a microscope and express it.
Here are just a few ways to get started.
1. Pay Attention
Anyone can say that someone sighed. Or that they groaned. When you talk to people, really pay attention. What she doing while she complains about her mother? What does his face look like? How many extra words is he using? It's these tiny, specific details that will spice up your writing.
2. Experience It
Do you think Fitzgerald wrote about parties by sitting around and reading about them? No, he experienced it. Now, that's not saying that if you're writing about a deserted island go to one! But just spend some time in the hot summer sun, or buy a coconut from the grocery store. Describe all the sensations you feel, the sweetness and the sweatiness.
3. Bottle Up Your Emotions
When you're shocked, sad, happy, scared, or resentful, write down exactly what you feel. Not just that one word; but also all the physical sensations that come along with it. What's your natural reaction? Do you cry? Laugh? Smile? Write it all down and put it into a metaphorical bottle on your shelf.
How do you capture your everyday life in your writing?
PRACTICE
Go out and experience something, writing down all the different sensations and emotions you felt, using specific details. Then, try to incorporate those into a passage of a story you're working on. Share it in the comments section.
Good Luck!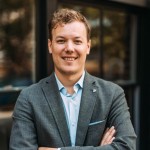 This article is by a guest blogger. Would you like to write for The Write Practice? Check out our guest post guidelines.