Almost everyone seeking traditional publication would love to get a well-known literary agent. Someone big, who can get you a huge advance on your book(s) and negotiate an iron-clad contract in your best interest.
However, I learned a valuable lesson from my own experience. When trying to get a literary agents, keep in mind…
A newer, smaller literary agent will have more time and attention for your career.
Here's what I mean:
Bigger Literary Agents Aren't Always Better
I've had friends who had literary rock stars for literary agents. Some authors had great experiences with them, while others never heard from their literary agents because they were too busy with other high-selling authors.
A few years ago, a well-respected agent with his own boutique agency offered me representation for my novel. I emailed all the other literary agents with my full manuscript under consideration about my news (hoping to spur people to fight! over! me!).
Four days later, I received another offer of representation from an agent I'd never even heard of and never contacted.
Huh?
What happened is I'd queried her boss, Ms. Big-Time Literary Agent at Big-Deal Agency. Ms. Big Time already had a full book of business and couldn't take on anymore clients, so she passed my manuscript on to her assistant and junior literary agent. This woman stayed up half the night reading my full manuscript, fell in love with it, then emailed me to say she wanted to be my agent.
She used her newness as a selling point: "I've been working with AGENT at the LITERARY AGENCY family for the past six months. We work closely together on all my projects, including submission lists for editors and contract negotiations. Before that, I worked as a women fiction's editor at New American Library/Penguin for several years. Since I'm a new agent with a small list, I am able to offer high level personal attention—and energy! to my clients."
She did just that. The other man had so much more experience, more sales, more everything, but this woman was perfect for me. We had the same vision for my career. Plus, she was an editor and literary agent all in one.
Even though she left the biz before we got the chance to try and sell my novel, my time with her was priceless. I learned so much. My author friends said they'd never seen such helpful editorial letters from their publishers.
Her boss couldn't have done that for me. She was too busy working with the big-name clients.
Before You Get a Literary Agent, You Need a Book You're Proud Of
Now, do NOT think, "Great idea, Marcy. I don't know what else to do with my story, so I'm just going to get me one of them there new agents to whip my plot into shape."
No. This isn't an excuse to be careless with your writing. Go through your entire manuscript multiple times, then give it to trusted beta readers for constructive feedback.
Keep working until your book is as good as it can get before entering the literary agent querying process.
Be Careful About Which Literary Agent You Choose
On the flip side, just because someone is a newbie literary agent, does NOT mean they're right for you. Sadly, anyone can put out a sign that says Literary Agent.
Make sure you aren't signing on with some ne'er-do-well, sitting in his underwear down in his parent's basement trying to make a buck off of you.
Do your online research before querying any agents because it's better to have no agent, than the wrong agent.
Lastly, never, ever give an agent money up front: not for a reading fee, not for administrative expenses, not as a retainer. Beware of scammers.
How To Get a Literary Agent Truly Growing His or Her List
Ready to find your agent? Here are six resources:
1. QueryTracker. This free gem is by far my favorite and how I found my literary agent's boss, who led me to my agent. People leave comments (positive and negative) under each literary agent and agency. Join the community and participate. You can also pay $25 for more advance tools that I felt was well worth it (special reports like which agents like to read women's fiction), but this has so much valuable information for free.
2. Literary Agency Websites. Almost every literary agent's bio says, "actively seeking new clients", but you learn who's new, what and who they already represent, as well as what they're seeking to see if they're a good fit for you.
3. Writer's Digest's New Agency Alerts. WD highlights a new literary agent every week, telling all about them. I sat at my laptop one afternoon and went through 50+ brand new agents, hungry for new clients.
4. Publisher's Weekly. Another free option that tells all the latest in the publishing world.
5. Jeff Herman's Guide to Publishers, Editors and Literary Agents. Back in the day, this gigantic book was the best way to find an agent (updated annually for $23+). All this information ins now online and free, but felt I should mention it since it used to be the only game in town.
I think options 1–3 are the best, but see which you like.
As Far as Literary Agents Go, Bigger Is Not Always Better
If you're looking for an agent, remember;
New literary agents can still land you that big advance with the iron-clad contract because everyone has to start somewhere. The bonus here is they'll always be grateful to you for kicking off their career and you'll always be their favorite client (unless you're a jerk; don't be a jerk).
Whether you get a new agent, or someone with an established record, I hope you find the right representation for you. Good luck!
How about you? Do you have a literary agent? want a literary agent? What piece of advice do you have for someone querying literary agents? Let me know in the comments section.
PRACTICE
Today, spend fifteen minutes writing about the big, fat advance your newbie literary agent gets for you.
Merchandise, a movie deal, a Pulitzer… whatever your heart's desire, tell me what your agent does for you.
When your time is up, post your practice in the comments section.
Think BIG and have fun!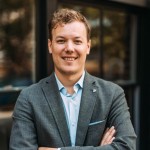 This article is by a guest blogger. Would you like to write for The Write Practice? Check out our guest post guidelines.