Joe here:
This guest post is by Allison Vesterfelt. This week, Allison launched her wonderful new book, 
Packing Light
, a memoir about her life-changing journey to all fifty states in the U.S. I've read it. It's really good. You should grab your copy
here
. You can also follow Allison on her blog and on
Twitter
(@allyvest).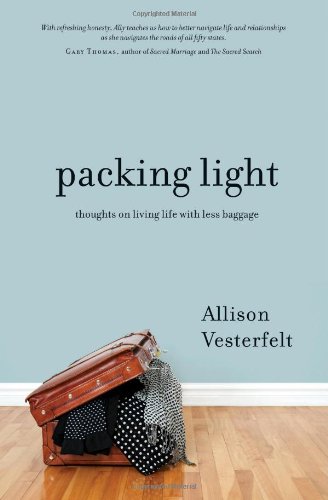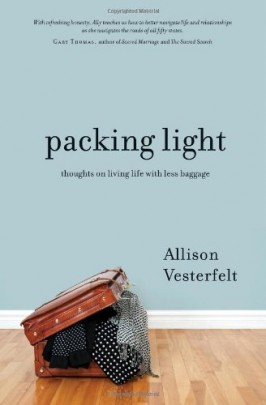 I just released my very first book, called Packing Light: Thoughts on Living Life with Less Baggage, and the whole experience has been a huge learning curve for me. Writing the book was of course difficult in itself, but one of the most shocking parts of the process for me has been how much writing there still is to be done, even after the book is finished.
There are guest posts and articles and content for the book's website and content for my own website — all of which (honestly) seem to be saying the same thing.
Sometimes it feels like the subject is getting tired, and my writing is falling flat.
Sometimes I feel more "blocked" now than I did when I was writing the manuscript.
And when it comes to dealing with writer's block in this part of the process, the things that worked when I was writing the book itself don't seem to be working anymore. I used to follow my muse, go on an adventure, find an inspiring environment, go for a walk, or listen to a great album.
But now the deadlines are tight and I'm exhausted and my muse is gone and doesn't seem to be coming back anytime soon.
I can't wait on her anymore.
So, in the midst of book promotion and this very different season of writing, I'm discovering new techniques for overcoming my writer's block. They're less creative, and more practical, but they're actually working for me really well.
1. Know what you want to say.
My book is creative non-fiction, so when I was writing, I often sat down to my computer without really knowing what I was going to say. I would just type away, allowing the characters and memories to take me where they were going to take me. This worked really well for writing my book but, in this season of writing, it isn't working at all.
In fact, it's keeping me stuck.
I could sit down and stare at the blank page for hours.
So I've had to start coming up with a really clear picture of what I want to say, and how I want to say it, before I sit down to write. It's a deviation from my "normal" writing routine, but maybe that's part of why it's helping.
2. Think about your audience.
To be honest, when I was writing my book, I didn't think too hard about my audience. That might be bad, or wrong, but it's true. If I was writing to anyone, I think I was writing to a younger version of myself.
But now that I'm writing promotional material for the book, that strategy is derailing me. I have to think about how to connect what I learned in my story to an audience wider than myself (shocking, I know). So when I sit down to write an article, I try to think really carefully about who is going to be reading.
What information do they need?
How does the message of my book connect with them?
What would I say to that person if I were sitting across from them at a dinner table?
Usually, when I think about that, it helps me know how to communicate the same message, in a new and unique way. And as a happy benefit, the message is becoming richer and more mature and even more meaningful to me in the process.
3. Don't try to write something awesome.
Nothing stops up my creativity faster than sitting down to write something amazing. Do you know what I mean? It's like all of a sudden I'm a deer in headlights. I couldn't write something good to save my life.
During this season, I'm reminding myself that not everything I write (or publish) will be the best thing I've ever written. Especially on the Internet.
And that's okay.
I want to write awesome things. But if everything I wrote was awesome, it would take the struggle and beauty and sweetness and magic out of the process.
4. Read something old you've written.
Do you ever feel like you've lost your touch as a writer? It's the weirdest thing, but I swear all writers must feel this way. Sometimes when I can't write something worth reading I think to myself: Well, I must have lost my touch. 
Or, worse — What if I never had it?
One of the things that helps me overcome this sensation is to read something old I've written. Usually, I like to look at something that was never published — something from my journal — because it reminds me of how naturally the writing process comes to me. It takes the pressure off and gives me the confidence I need to move forward.
5. Focus on the task at hand.
If you're anything like me, you get distracted by anything and everything that comes across your path. You could sit down to write an article about elephants, and within 30 seconds you could have moved from elephants trunks to trunks of car to the trunk of your car where there's a book you forgot about that you've been wanting to read.
Before you know it you're reading when you should be writing.
This is what makes you a great artist. But it can also kill your productivity.
During this season, I try not to allow myself to be distracted — or overwhelmed — by all the tasks that need to be accomplished. I just take one task at a time. I focus on the task at hand. Because this is the only way the tasks get accomplished. It's the only way I'll ever meet my deadlines.
How do you overcome writer's block and meet your deadlines?
PRACTICE
It's time for you to overcome that writer's block. What is a writing assignment (self-imposed or otherwise) that can't seem to finish, or you've been putting off for too long?
What are you trying to say? 
Who is your audience?
What distractions do you need to remove?
You've got this. Now go focus on the task at hand.
Write for fifteen minutes. When you're time is up
This article is by a guest blogger. Would you like to write for The Write Practice? Check out our guest post guidelines.