Good books, good stories, are about problems not solutions.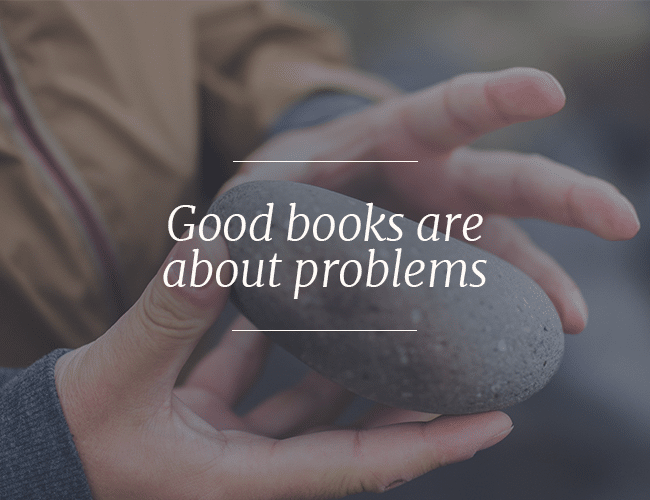 This is something I tell my students, my ghostwriting clients, my contributors on The Write Practice. I say this again and again because people rarely realize it.
You think stories are about solutions, about things going right for your character, but the reality is great stories are filled with things going wrong: a parent dies, a crush delivers a rejection, a friend picks a fight, an enemy returns.
If you really look at the stories you love most, you'll probably find that eighty to ninety out of each hundred pages are filled with problems. Only ten or twenty of every hundred pages is filled with solutions.
Problems Create Focus
The same is true for nonfiction, especially nonfiction of the self-help variety. You think nonfiction is supposed to be about solutions to life's problems. But great nonfiction writers—and especially great copywriters—know the best way to get people to pay attention to the solution is by describing the problem in excruciating detail.
So writers, stop being so easy on your characters. Instead, follow the century old advice,
In the first act get your principal character up a tree; in the second act, throw stones at him; in the third, get him down gracefully.
Good books are about problems, not solutions. Solutions don't come until the end. The rest is filled with one problem after another.
Problems Are Your Job
This is your discipline as a writer. Be a collector of stones. Learn how to aim them well.
When you're feeling like you want to rescue your character, to keep him or her comfortable, instead, do the opposite. Make whatever discomfort your character had feel like a blessing compared to the pain he or she is about to experience.
Now, go get throwing.
Have you ever focused more on the problems rather than the solutions? How did it go? Let me know in the comments.
PRACTICE
Write a scene in which a character has stones thrown at him or her, figurative or otherwise.
Write for fifteen minutes. When your time is up, post your practice in the comments section. And if you post, please be sure to give feedback to your fellow writers.
Happy writing stone throwing.
Joe Bunting is an author and the leader of The Write Practice community. He is also the author of the new book Crowdsourcing Paris, a real life adventure story set in France. It was a #1 New Release on Amazon. Follow him on Instagram (@jhbunting).
Want best-seller coaching? Book Joe here.