This guest post is by Lizzie Davey. Lizzie is a tea-loving freelance travel writer who spends her time between the UK and Barcelona. You can read more on her blog,
Wanderful World
, which combines the wonder of travel and the craft of writing (check out the long list of
writing resources
she's collected). You can also subscribe to her
YouTube channel
for weekly videos about freelancing and writing.
As writers and storytellers our heads are often filled with a number of plotlines, characters, and conversations. But there are still times when we struggle to think of story ideas that get us excited; ideas that sees us racing to grab a pen and paper and jot it down before it slips away.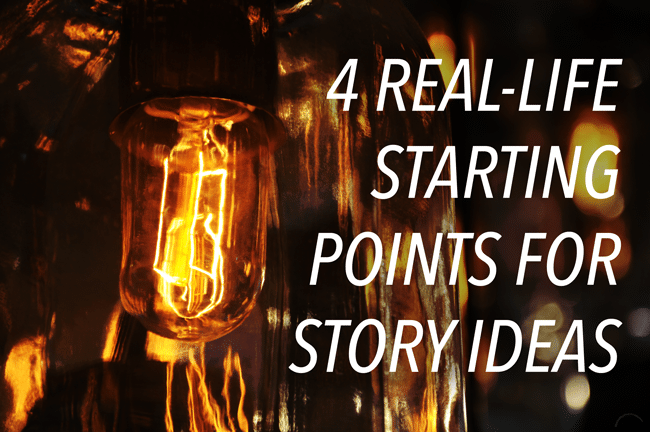 In these moments it feels like you'll never have a good story idea ever again, right?
I'll gladly tell you you're wrong.
How To Come Up With Story Ideas On Your Own
While there's nothing wrong with getting story ideas from other sources, it's fun to come up with your own. Here are four starting points to get new story ideas:
1. Real-Life Stories
The news has a never-ending supply of great story ideas just waiting to be tapped into. Interesting characters pop up in print all the time with fascinating stories that already feel like they have novel potential.
Whilst having your morning cuppa, spend some time thumbing through the pages of your local newspaper and pick out a few stories that pique your interest, then go from there.
You could even combine two or three stories to create an entirely new and unique scenario, or you could just pick a character and run with them in whichever direction they take you.
2. A Question
Questions are great because they really make our brains work. Even the simplest of questions can have us disappearing down a creative rabbit hole in no time.
You might want to use a standalone question, like, "What kind of person goes to the market on a Sunday?" or it might be a question that sparks on from something else, like a conversation you had with a stranger or something you saw on TV.
Maybe you know an interesting person in real life and you ask yourself "what would they do if they were in a certain situation?"
"What if?" questions are often the best, because they encourage you to look at things from a number of different perspectives.
3. Your Personal Experiences
People always say you should write what you know. This isn't just because you have first-hand experience of it, but because you can describe the emotions you felt and the thoughts you had to offer a two-dimensional story that places the reader right in the centre of it all.
Think back to a moment in your life. It doesn't have to be a pivotal moment, but something you can remember clearly. Try and build it out into an idea, even if you have to elaborate on some parts.
Imagine the emotions you felt, maybe there was a particular song playing.
Who was there? What were you doing? And, more importantly, why were you doing it?
4. People Watch
Have you ever played that game where you try to imagine the lives of strangers? It might just seem like a fun way to pass the time, but it's also a great way to spark story ideas. Think about it: you already have the main character (and, even better, you've seen them in action in real life) so you are free to let your mind wander.
Take some time out in your local café and watch the goings-on around you. Watch the flat-capped gentlemen in the corner closely and see how the waitress interacts with the customers.
Never Say You Don't Have Any Story Ideas Again
Hopefully these real life starting points will have your mind bubbling over with ideas in no time at all.
And if not?
Well, keep your eyes peeled when you're out and about and don't forget to ask yourself "what if?" at every available opportunity.
How about you? How do you come up with story ideas? Let me know in the comments!
PRACTICE
Pick one of these methods and spend fifteen minutes outlining a story that stems from it, whether it's a story you read on the news this morning or an idea sparked by someone you bumped into in the shop yesterday.
When your time is up, post your fleshed out story idea in the comments section. And if you post, be sure to leave feedback for your fellow writers.
This article is by a guest blogger. Would you like to write for The Write Practice? Check out our guest post guidelines.