Today is Thanksgiving in the U.S. If you're like me, every time you go on Facebook, someone is posting what they're thankful for. In the spirit of the season, today, I want to talk about one thing I'm very thankful for: writing.
This has been a good year for my writing. This year, the little blog that I started in 2011 (this very one you're reading right now) went from 30,000 or so readers per month to over 200,000 readers. Pretty cool, right? Earlier this year, I got to live and write in Paris for several months, an amazing experience for any writer. Then, just this week, a writer who took my course thanked me for my role in helping her finish NaNoWriMo this month—several days early, no less—something she had never done before.
It has been a good year, but even if it wasn't, I would be thankful for writing. Even when it's hard, even when I want to quit, I know that some of my best and proudest moments have come out of my writing. Writing has been a gift.
Top 3 Reasons I'm Thankful for Writing
In no particular order, here are the top reasons I'm thankful for writing. I'd love to hear yours in the comments section.
1. I Love Making Things
In a consumer society, there's something counter-cultural about making something on your own, even if that thing is just an article, a book, or a blog post. Sometimes, I open up The Write Practice and I think, "Wow. I helped make this. I created something."
2. I Love Simplicity and Beauty
I'm most satisfied when I can take complex ideas and thoughts and turn them into something simple, clean, and beautiful. I don't always achieve that, but I'm grateful I get to strive for it.
3. I Love Giving
The world is overrun with words. We have more books, more articles, more writing than ever in the history of the world. So perhaps I'm not offering the world much by adding my own voice to the noise.
Still, however small an impact my writing is making in the world, I love using my talents to serve others. I love hearing when my words have improved someone's day. I hope, at some point, they've made an impact on yours.
Yes, Writing Is Difficult. Be Thankful Anyway.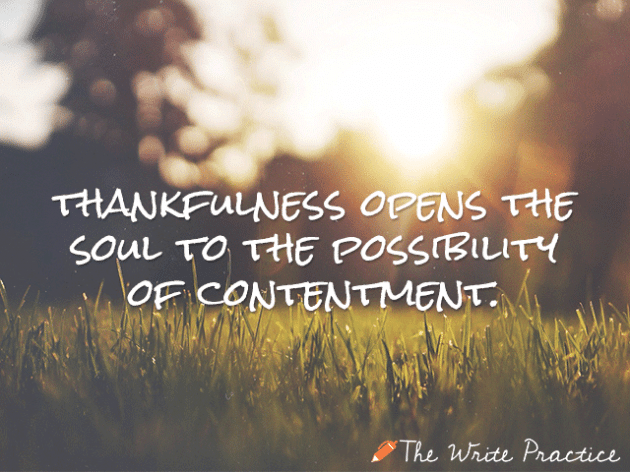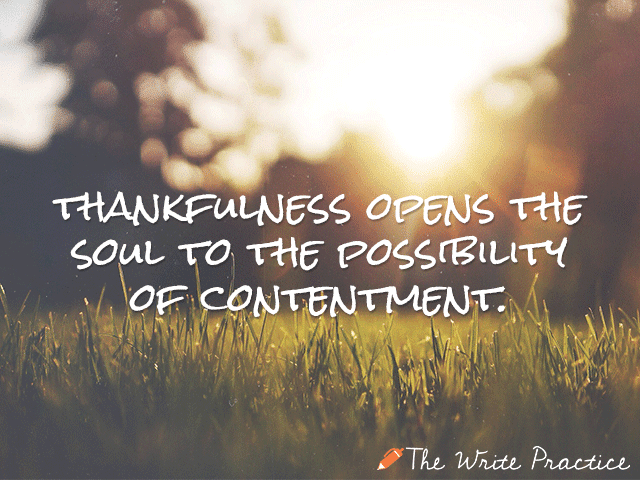 There's something powerful about thankfulness. It refreshes us. Thankfulness gives us new eyes to see things that have become commonplace and rote. With so much marketing around us, with so many people telling us what we have is not enough, thankfulness opens the soul to the possibility of contentment.
I could use some contentment today. Could you?
Why are you thankful for writing? Share in the comments section.
PRACTICE
Spend some time free writing today, writing about whatever you want. And as you write, think about how thankful you are that you get to do this.
When you're finished, post a two to three paragraphs of your writing in the comments section. And if you post, be sure to give feedback on a few practices by other writers.
Enjoy your writing today!
Joe Bunting is an author and the leader of The Write Practice community. He is also the author of the new book Crowdsourcing Paris, a real life adventure story set in France. It was a #1 New Release on Amazon. Follow him on Instagram (@jhbunting).
Want best-seller coaching? Book Joe here.