I'm often asked,"How did you become a writer? Did you always dream about being a writer as a kid? How did you actually make it happen?"
If you've ever wanted to become a writer, today I want to share my personal experience of becoming a writer. I especially want to explore the writing habits I had to develop to become a professional writer. The most important habit required of a writer might surprise you.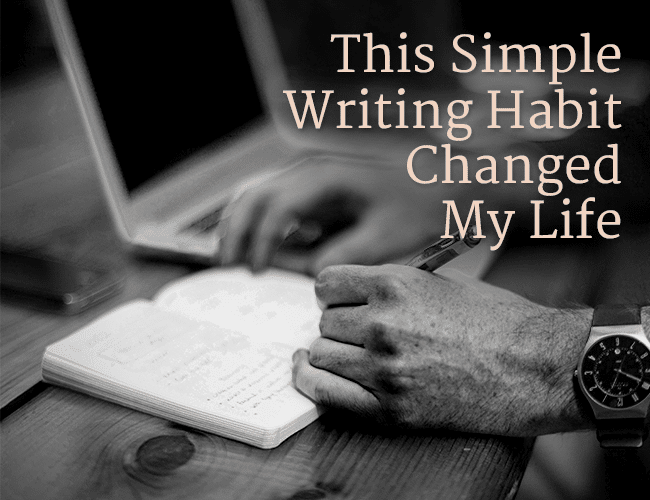 Pin
I first decided I wanted to become a writer in high school. I was reading a novel, A Tale of Two Cities, and thought, Wouldn't it be great to do this all the time? To just hang out with your imaginary friends and visit exotic places in your mind all day? It would be like getting to read books for a career… except you'd be making them!
If only it were that easy.
How You Actually Become a Writer
I wanted to be a writer. I even studied writing in college. But I wasn't doing the anything that would make me a writer. I was learning about writing. I was reading about writers. But I wasn't writing.
After interacting with thousands of aspiring writers over the last five years, here's what I've learned:
The Habits of Successful Writers
As important as writing is, it was the habit of publishing that changed my life.
As I mentioned, I wanted to be a writer, but I wasn't writing. What changed was that I started publishing one article on my blog every day.
Publishing became my motivation to write. I found that I loved it. I loved sharing my work with the world. I loved the rush of being known.
To keep up with my publishing schedule, I of course had to write more. Soon, I was making steps toward writing more professionally.
I began freelancing for a local magazine, writing concert reviews and news features. I began becoming known as "the writer," by my friends and family. Not long afterward, I got my first full-time, professional writing job.
It wasn't until I got into the habit of publishing that I started to take writing seriously and make steps toward becoming a writer.
What Can You Publish?
When you breathe in you must breathe out. If you write you must publish. These two go together.
If you don't write, you will suffocate. If you don't publish, you will lose your drive.
What can you publish today?
Publishing doesn't have to look like writing a book proposal, getting an agent, signing with a publishing company, and selling your book in bookstores.
Publishing can look like:
Reading your story to a friend or family member
Emailing a poem to a loved one
Posting an article on your blog
Publishing your story as a Facebook note
It doesn't have to be "official" or groundbreaking. You don't need permission from a publisher or a literary magazine. Publishing can simply be sharing your writing with others.
Do you have someone you could share your writing with today? 
Take Back Your Writing Time
Do you ever feel like you're just too busy to make writing a habit? Are you ever afraid you will never be able to make writing a priority?
On Thursday, I'm going to be hosting a webinar with my friend Dan Blank sharing three simple actions you can do to take back your creative time.
If you want to spend more time creating but just don't feel like you have time, this webinar is for you.
Sign up for the webinar, Take Back Your Creative Time, here »
Dan and I have an important message to share about your writing habits (or lack thereof). This is especially necessary as our lives become increasingly chaotic and distracted.
This webinar could change your writing life. I hope you'll sign up now.
In the webinar, we'll also be talking about a new class Dan is teaching called Fearless Work, which will walk you through a process to increase the creative output of even the busiest among us. It's a powerful class, and I'm excited to tell you more about it.
See you soon!
Do you struggle creating and maintaining a writing habit? Let me know in the comments section.
PRACTICE
Today, publish a writing piece that's important to you. You may choose to publish it on your blog, share it with a friend, or even print it out and read it to someone you care about. If you have to write something first, even better. However, don't let this day go by without publishing something important to you.
Once you publish, let us know how you published it in the comments section (and if you published on your blog, include the URL).
And don't forget: have fun!
Joe Bunting is an author and the leader of The Write Practice community. He is also the author of the new book Crowdsourcing Paris, a real life adventure story set in France. It was a #1 New Release on Amazon. Follow him on Instagram (@jhbunting).
Want best-seller coaching? Book Joe here.