There's no doubt that NaNoWriMo rocks. Just thirty days of work in trade for a complete first draft? Awesome.
But that doesn't mean NaNoWriMo is for everyone. To succeed requires the perfect storm of story, determination, temperament, and an open schedule. Cranking out 1,666 words a day (yes, I did the math) is not for everyone.
But don't worry, NaNoWriMo isn't the only way to join a community and work toward a writing goal. Here are three excellent alternatives.
1. A Round of Words in 80 Days
This challenge may be over twice as long as NaNoWriMo, but it has the advantage of letting you set your own goal. And since this challenge refreshes with a new crew every 80 days, there's plenty of opportunities to give it a try. Tagline: "The Writing Challenge that Knows You Have a Life."
2. 52 Week Short Story Challenge
This challenge requires a year-long commitment, and follows Ray Bradbury's philosophy of writing a story a week to hone and sharpen your skills. "It's not possible to write 52 bad stories in a row," he famously stated. And hey, Bradbury did alright for himself. Why not give it a try?
3. Continuous Creation Challenge
Organized by the Value of Simple, the Continuous Creation Challenge is the most personalized and the shortest challenge I've come across. Intended not just for writers but creative projects of any kind, the idea is to shift all your energy usually spent consuming (news, TV, books, Internet randomness) into creation. You simply identify your goal, determine your time period, and tackle it.
NaNoWriMo Is Great, But There Are Alternatives
NaNoWriMo is a fun way to draft a book and engage the writing community, and it holds its own special place within the modern writing tradition. But it's hardly the only option. If NaNoWriMo isn't a great fit for your style or goals, there's still plenty of choices.
What's your favorite writing challenge? Share in the comments.
PRACTICE
Take some time and consider: How and when do you get your best writing done? What structures help you reach your goals the best? Share your tricks and lessons learned in the comments!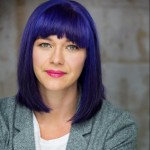 By day, Emily Wenstrom, is the editor of short story website wordhaus, author social media coach, and freelance content marketing specialist. By early-early morning, she is E. J. Wenstrom, a sci-fi and fantasy author whose first novel Mud will release in March 2016.