Ahhhh the holidays. A wonderful time when we burn the rest of our vacation time and, suddenly, our schedules are wide open. Oh the writing we will do!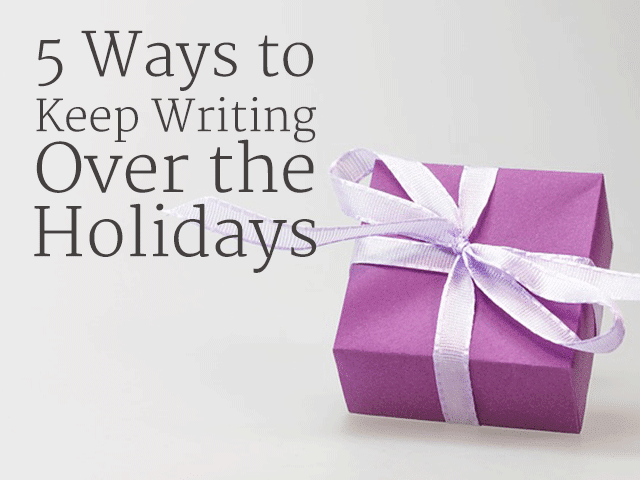 Except, oh yeah—the inevitable family visits, holiday parties, and travel time. Not to mention all those holiday TV specials you can't seem to peel yourself away from (hey, no judgment here, I'm the queen of TV holiday specials).
Next thing you know, you're shaking the New Year's confetti off your dazed head and wondering where the heck all that "writing time" went.
How to Make Time for Writing During the Holidays
But it doesn't have to be like this! Here are five tips to help you keep writing through the holidays this year.
1. Set doable goals.
Any time I'm out of my regular routine, it's harder for me to achieve at my normal level. I imagine I'm not alone in this. So when I'm visiting family over the holidays, I may not have the ability do my normal full hour of writing each day.
But fifteen minutes? Or fifty words? That's doable. Setting a reasonable goal lets me take advantage of small pockets of time that otherwise might be wasted. And I get to relax and enjoy the holidays without the writing guilt.
2. Get up early.
I get it. Vacation is hardly a time you want to set an alarm. But if you're an early bird like me, those morning hours are precious creative thinking time. Sneak into the kitchen before the rest of your holiday crew is awake, brew that first pot of coffee, and get typing. You may even find you enjoy a little down time before everyone else is bustling around.
3. "Sleep in."
The counter to the above suggestion is to pretend to sleep in—but instead, work quietly in your guest room for a little while before making your morning appearance.
Tip: Keep your laptop or notebook close to the bed to avoid any telltale bumps or floor creaks as you set up.
4. Disappear for a little bit.
If mornings just don't cut it for you, why not simply slip away for a little bit in the afternoon? Figure out where the closest coffee shop is, close the door to your room, or hey, just find a good closet settle in.
If you've got a really big group together this holiday season, maybe they won't even notice you're gone.
5. Stay up late.
For you night owls and procrastinators! Once you snuggle into the bed for the night (or the couch, or sleeping bag, or whatever), take just a little time to cram in fifty words or so. Maybe those holiday nightcaps will unleash a little extra creativity.
Even the best of intentions can be quickly detailed by holiday chaos. But with reasonable goals and a few tricks, you can keep your manuscript moving forward no matter what parties and visits your holiday season has in store. I can't think of a better gift to yourself this year than that.
How do you get writing done during the holidays? Share in the comments section.
PRACTICE
The best way to keep to a routine is to have a plan. What's your writing goal this holiday season? How will you make sure it happens? Think through the challenges and opportunities for your situation this holiday season, and create a plan that fits it.
Then, commit to this plan by declaring it in the comments! Be sure to support other writers by responding to their goals, too!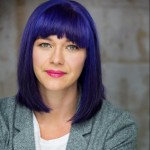 By day, Emily Wenstrom, is the editor of short story website wordhaus, author social media coach, and freelance content marketing specialist. By early-early morning, she is E. J. Wenstrom, a sci-fi and fantasy author whose first novel Mud will release in March 2016.