Many aspiring writers believe that once they finish and publish the book, the money will just roll in without any further action or plan! In fact, every time I visit a school to share my books, I can count on one bright-eyed first grader raising their hand to ask, "Are you rich?" This question makes me smile in an "if you only knew" kind of way, because this is the truth: Most financially best-selling and successful authors have multiple income streams across their author platform.
You are in a business—the book business. Let's look at some of these income streams and how you might make money writing books as a full-time author.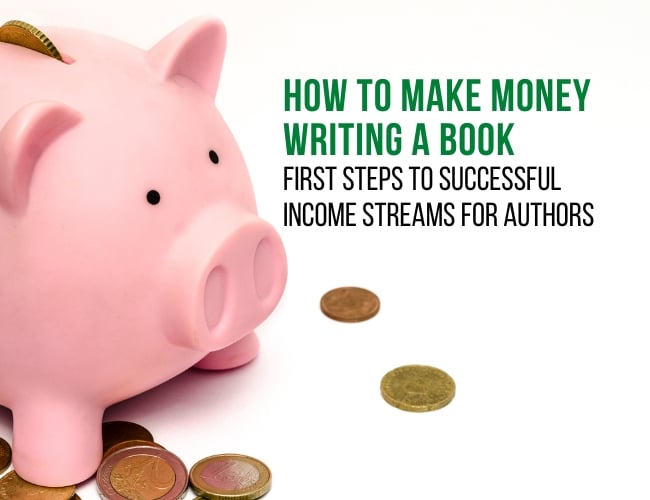 This article is part of our series about How to Write a Children's Book. Check out the entire series here!
Make Money Writing a Book: Build an Author Platform
First, let's define platform. Many people think of author platform as having hundreds of thousands of followers on Twitter or Instagram. This is a great platform, no doubt, but platform is more broad: Platform is the ability to sell your books because of who you are or who you can reach.
So, yes, perhaps you can reach a bunch of people on social media, but let's take a holistic look at what else platform might include. In other words, how and where are you visible? Hint: This would be a great time to revisit the branding article here in our series as your brand will also inform your platform!
How to Grow Your Author Platform
1. Writing
Yes, you are interested in writing and selling books but where else might your writing show up to grow and attract more of your target market? Your own blog, perhaps? Substack? Can you begin writing for an online magazine that speaks to your target reader? Submit essays for publication?
2. Speaking/Teaching
This is another great way to build a platform of potential readers! Ideas might include designing a community workshop around your expertise and/or speaking at conferences. I have done many presentations to early childhood teachers, for example, "Creative project ideas inspired by picture books!" If you're a cookbook author, you might offer a baking workshop for families. The ideas are endless!
3. Website + E-mail List
Your website is your online home. Is it an inviting place? How are you drawing people to your website? Is there free downloadable content there, for example? Full step-by-step guide to build an author website here.
Your website is the most natural place through which to build an e-mail list — a most necessary tool! I've spoken before about having an email list here. Part of why you don't want to depend solely on social media to communicate with readers is that you don't own the platform or algorithm. If Facebook or Instagram or any platform changes the way it prioritizes posts, you may find your content becomes hard to find.
Start and grow an email list by sending a quarterly or monthly newsletter out to fans. That way, when you have a new book or course or live speaking event, you can let your readers know directly. If you aren't sure what to include in a newsletter, keep it simple and think about the emails you enjoy most, in addition to your branding (we discussed that here in depth!). An easy way to start is to give writing updates, quick excerpts, book reviews, or fun activities you've tried with kids.
4. Other media visibility
This would be the bucket into which social media falls. Which tool feels like the most "aligned" place for you to connect with your target audience, i.e., Instagram, Facebook, YouTube, Tik Tok, etc. Think, too, TV and podcasts here.
Where can you pitch a timely story and/or angle that would increase your awareness? A friend of mine, Mary O'Donohue, is a media coach for non-fiction authors. "Most authors have no idea how to harness that power to expand their audience, boost their credibility, and actually move the needle on book sales," says Mary who worked for the Oprah show for more than a decade and knows first-hand how to craft a media pitch that gets you noticed AND invited!
5. Partnerships
Look for collaborators who are working to reach a similar audience as you are—and brainstorm how you can combine your efforts! Successful partnerships of mine have included the NICU book club and Miracle Flights, for example. Both are organizations that have used my books to come alongside their families in heartfelt and meaningful ways!
Make Money Writing a Book With Income Streams
Now that we've talked about the how of building your platform, let's discuss how you can generate revenue from that growing platform! As always, there is no one-size-fits-all plan, so carefully consider what fits your brand and needs as you make money writing.
Each of the following possible income streams will also cost you in some way: whether in time, energy, or money. Evaluate how you measure the return on your investment, especially if it is an investment of time.
1. Book(s)
I imagine this is a big goal of yours — selling lots of your books! After all, your books are the heart of your business, even if the book sales don't make up the majority of your income. How much you make per books will depend on how you choose to publish your work, i.e., traditional versus self-published! There are many articles written about royalty structures (there is no standard!), but to give you a broad strokes view:
Traditional publishing: With this arrangement, you will receive an advance against future book royalties. For an easy example, let's say $10,000. Going forward, you will begin to accumulate royalties per book sold that are based on either cover sale price or net sales (the amount the publisher receives).
Some quick math: An 8% royalty rate on a cover price of $9.99 would give you $.80 per book. A 15% royalty off of net sales (assuming a 50% discount to the reseller) would be $.75 per book. The lesson here is to know exactly how your royalties are being calculated! You will need to make back the $10,000 in royalties before seeing additional income.
Self-publishing/indie authors: This includes your hybrid option which we have discussed in prior articles. In both self-published via Amazon or Ingram Spark or hybrid published through the many companies offering such a service, self-published authors will make a higher royalty per book depending on your cost per copy. Remember, however, with the self-publishing/hybrid option, you are investing in your work up front and responsible for all the marketing.
One idea here — consider how creating additional formats of your content and different types of books may increase your sales potential. Can you create a journal, activity or e-book from your content to increase your exposure and revenue streams?
2. Speaking engagements
This can be a great way to make additional money as a professional author. Pitch yourself to conferences and/or exhibit at trade shows to make connections. A corporate audience is likely to have a bigger budget for speakers, but even a non-paid speaking gig can be worth it if you can sell your books afterward!
3. Courses or training
Can you turn the content of your book into an e-course or training course. A copy of your book can be included in the price of course!
4. Subscription communities
Increasing in popularity are Patreon accounts. According to the Patreon website, Patreon is the best place for creators to build memberships by providing exclusive access to their work and a deeper connection with their communities. Another example of this is Substrack where one can create a blog that people can read free or pay a monthly fee. What to write about or offer? Yep, go back to the branding article about who you are and what you can promise.
5. Author visits
School visits are still a way for an author to make additional revenue if you can find the districts with a budget for them! Often if a traditional publisher puts an author on a tour, they will offer the author's presentation for free with an expectation that the school will send home book order forms.
Think this through, however. If you did a day's worthy of speaking as a traditionally-published author and sold 50 books to a school, you would see just $300.00 in royalties for those sold books. If, however, you could make $1200 for your time plus book sales—this becomes more enticing! It truly depends on your motivation.
Some authors love school visits, paid or non-paid, as a way to connect with their readers, grow their awareness and share the love of reading and literacy!
6. Create a side book-biz hustle
Depending on your talents and what you know perhaps you can consult with other authors, design book covers, offer editing services, design author websites, etc. One of the most useful metaphors I think of is how our talents and skills are the water that fills a glass that is our "offering." What other glasses can you fill with what you know and do?
The life of an author can be very solo and isolating at times when it's just you and your laptop or notepad. That's why creating ways to connect with your community and grow your reach and income are more important than ever! Find a few co-travelers on the book journey you can trust and brainstorm with. There are endless ideas just waiting to be explored about how you can grow your platform and resources. Maybe it can become your full-time income if that's your dream!
Which part of your platform needs attention? Which income stream feels like a natural place to start for you? Let us know in the comments.
PRACTICE
Today, take fifteen minutes to imagine your ideal author life. Think beyond financial concerns, and consider what is most important to you as an author and person. Write a short vision statement or description of your ideal author life—what you write and publish, who you connect with, how you fill your work days, what value you give and receive.
If you are already a Write Practice Pro member, post your practice here in the Practice Workshop for feedback. Be sure to give feedback to a few other writers and encourage each other.
Not a Pro member yet? You can join us here as a Write Practice Pro monthly subscriber.
I'm Marianne Richmond—writer, artist and inspirationalist. My words have touched millions over the past two decades through my children's books and gift products.
Basically I put love into words and help you connect with the people + moments that matter. You can find me on my website, Facebook, and Twitter (@M_Richmond21).