Last night, I came to the realization that I don't want to do what I'm doing anymore. I don't want to be a writer anymore. I don't want to write books. I don't want to write this blog.
I want to quit writing.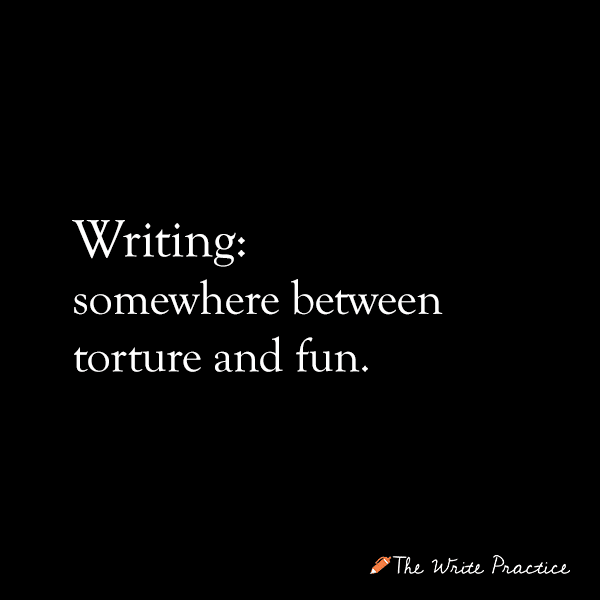 Have You Ever Wanted to Quit Writing?
Can you relate? If you've been writing for very long, I bet that you can.
Writing: somewhere between torture and fun. (tweet this)
Blake, one of my writing students is writing a book, and as he finished the first chapter he told me that writing, to him, was somewhere between torture and fun.
"Just wait until you're halfway through your book," I said. "It will start to feel more like torture and less like fun."
We laughed at the time, but just now, I'm about halfway through writing my next book and each word is torture.
I'm listening to Bracket, WI over and over again because it makes me feel sad and sorry for myself.
I click over to Facebook and check my blog stats to pep myself up, but they only put off the growing frustration.
It was a noble goal, to create something from nothing. Creatio ex nihilo. But now, I feel humiliated by the process.
I quit. I don't want to be a writer anymore. Not if it makes me feel this stupid every day. I'm done. That's it.
Wanting to Quit Writing is Inevitable
The last time I felt this way, I was two weeks in and halfway through writing a short story. I got up from the computer frustrated and walked around my neighborhood half a dozen times. Then, I went back to my desk, sat down, and did my best to write again.
In two days, the story was finished.
The first time I remember feeling this way was when I was ghostwriting my first book. I remember sitting on the floor of my crappy apartment and putting my head in my hands. It's embarrassing to admit, but I think I even cried a little.
"I don't want to write this book anymore," I thought. "In fact, I don't want to be a writer anymore. I don't want to ever feel this stupid again."
A month later the book was finished.
Don't Quit Writing in the Ugly Middle
I learned that this frustrated, hopeless, confused feeling of wanting to quit is a sign. When things are hardest, when you most want to quit, you know that you're about to have a breakthrough.
In other words, wanting to quit is a good thing.
Wanting to quit tells you that you're almost there, that if you keep pressing all that confusion and frustration and pain will be resolved.
Don't quit now. You're almost there.
I'm Not Going to Quit Writing
I want to quit but I won't. Instead, I have more hope now than I did yesterday when I was only mildly frustrated. Now that I'm truly miserable I take it as a good sign.
How about you? 
Are you going to quit when it's tough, when the words won't come and you're sure that everything you're writing is crap?
Or are you going to acknowledge the pain and choose to see it as a good sign?
How about you? Have you ever felt so frustrated with your writing that you've wanted to quit? Share in the comments section.
PRACTICE
Open up your work in progress or create a new, blank document. Acknowledge your pain as you bring something new into the world. For a few minutes, sit in the pain. Don't try to escape it or avoid it.
Then, set your timer and start writing. Write for fifteen minutes. When you're finished, share your practice in the comments section. And if you share, please be sure to leave some feedback for your fellow writers.
Have fun!
Joe Bunting is an author and the leader of The Write Practice community. He is also the author of the new book Crowdsourcing Paris, a real life adventure story set in France. It was a #1 New Release on Amazon. Follow him on Instagram (@jhbunting).
Want best-seller coaching? Book Joe here.