Are you participating in NaNoWriMo this year? I am! I've participated in NaNoWriMo for five years now (I started when I was nine). For me, NaNoWriMo is on par with Christmas, and my brother has been known to say that it's better than Thanksgiving (I completely agree). NaNoWriMo is fun, challenging, and hectic.
NaNoWriMo can also be extremely difficult. "Fifty-thousand words in a month?" I've heard people say. "Ha! I barely have time to do my laundry!" But if you plan ahead now, come November, it will be a cinch! NaNoWriMo has produced some of my best work, but I didn't do that by just sitting down in my desk chair on November first. I did it by planning.
Nothing huge, but having just three things in mind helped. A lot.
1.     Have some word count boosters handy
If you're going to write 50,000 words in a month, you're most likely going to get stuck at some point. Writer's block is something writers handle all the time, but when you're on a deadline, you can't really afford to lose any time staring at a screen.
Having some word count boosters handy can be a really great way to add a few hundred words and/or get your creative juices flowing. This can be as simple as adding a new character or having your main character realizing that it was all a dream. Or it can be as complicated as adding a plot twist or a new point of view (maybe from your antagonist or your supporting character's point of view—the choice is up to you!).
Remember you can always go back and edit or cut these things out once NaNoWriMo's over. You don't have to keep everything you write!
2.     Get a group of friends to participate with you 
Facing NaNoWriMo is tough enough, but trying to attempt it alone is flat-out scary. Find some friends—a cartel, if you will—to participate with you so you can brainstorm about ideas, get together and write, or just so you can call each other up and vent about flat characters or a clichéd plot.
These friends don't necessarily have to be people you know in real life, either (though that's always nice). If none of your real life friends will brave the unknown with you, start poking around on the NaNoWriMo forums for someone who has interests similar to yours, or type up a quick blog post asking if anyone is participating this year.
I've met some of my best blogging friends through NaNoWriMo. One of my favorite bloggers is now my critique partner and a regular e-mail friend. Go dig around and see what you can find!
3.     Plot your novel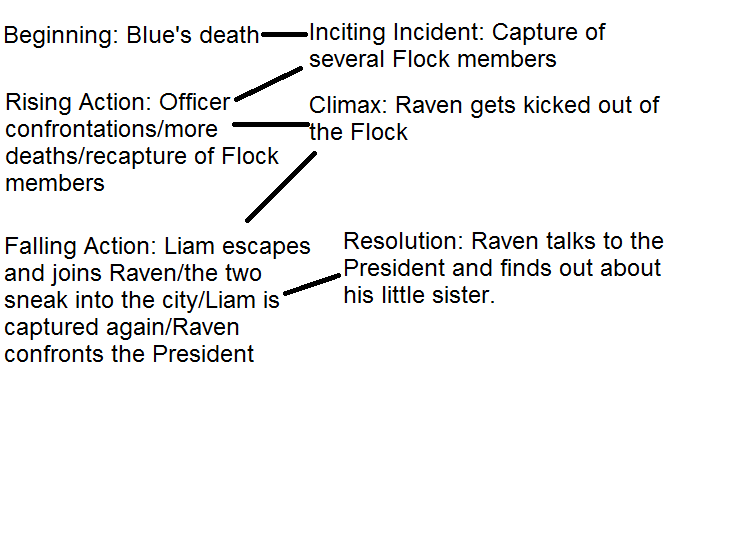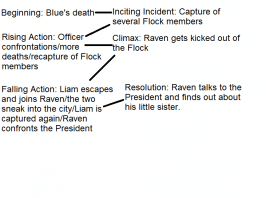 Yeah, yeah, I know that plotting might not be everyone's thing (hey, it's not my thing), but trust me, having a general idea of what's going to happen in your story can be a complete lifesaver. This is something I've learned in the past year or so, and now there's no going back.
None of my plotting maps are very complicated; in fact, they're all very general. But they work. Here's a picture of mine for my NaNoWriMo dystopian book.
How do you gear up for NaNoWriMo? 
PRACTICE
Make a plot map for your NaNoWriMo novel. Then, if you'd like to, post your map in the comments. It doesn't have to be a picture, but if you'd like to, go ahead.
Be sure to leave your fellow writers a comment!
The Magic Violinist is a young author who writes mostly fantasy stories. She loves to play with her dog and spend time with her family. Oh, and she's homeschooled. You can visit her blog at themagicviolinist.blogspot.com. You can also follow The Magic Violinist on Twitter (@Magic_Violinist).