What do JK Rowling, Christopher Paolini, David Eddings, and Terry Goodkind have in common? They all wrote bestselling novels starring orphans. And this isn't unique to fantasy. Orphans in literature is a big theme!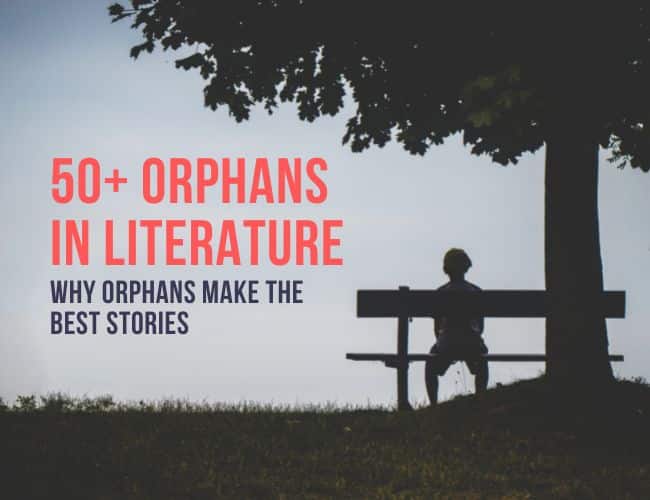 Victor Hugo, Charles Dickens, and Mark Twain all used orphans as some of their most memorable characters.
And don't forget Superman.
In this post, we're looking at more than fifty fictional orphans, why authors love writing about them, and whether or not you should include them in your story.
Why Are Books Always About Orphans?
Writers love writing about orphans.
Why? Because good stories have wide story arcs. The protagonist starts out low and rises high (comedy). Or the protagonist starts high and drops low (tragedy).
Storytellers have the ability to change the world. They use their redemptive imagination to do what storytellers have always done, take the lowest of us to new heights.
50+ Fictional Orphans in Literature List
Here is a list of some of our favorite orphans in literature:
19th Century Orphans in Literature
Cosette in Les Miserables by Victor Hugo
Tom Sawyer and Huckleberry Finn by Mark Twain had Tom Sawyer
David Copperfield, Pip (Great Expectations), and Oliver Twist by Charles Dickens
Peter Pan in the story of the same name by J.M. Barrie
Mowgli from The Jungle Book and Kim from Kim by Rudyard Kipling
Jane Eyre by Charolotte Bronte
20th Century Fiction Orphans
Harry Potter in the novel series (and films) by J.K. Rowling
Ram Mohammed Thomas in Q & A (Slumdog Millionaire) by Vikas Sawrup
Ann of Green Gables by Lucy Maud Montgomery
Pippi Longstocking
Sophie from The BFG, James from James and the Giant Peach, and Matilda from Matilda by Roald Dahl
Luke and Princess Leia from Star Wars
Uhtred of Bebbanburg in The Saxon Stories / The Last Kingdom series by Bernard Cornwall
21st Century Fiction Orphans
Alexander Hamilton from Hamilton by Lin Manuel Miranda
Theodore Decker in The Goldfinch by Donna Tartt
Werner Pfennig in All the Light We Cannot See by Anthony Doerr
Pi Patel from The Life of Pi
Liesel Meminger in The Book Thief by Markus Zusak
Don Draper from Mad Men
Fantasy Novel Orphans
Orphans are a character trope in fantasy adventure novels. It's almost a challenge to find a fantasy novel that doesn't include an orphan!
Frodo from The Lord of the Rings series by J.R.R. Tolkien
Richard Cypher in the Terry Goodkind's The Sword of Truth series
Lyra Belacqua from the His Dark Materias series (The Golden Compass) by Philip Pullman
Eragon in the series by Christopher Paolini
Garion from The Belgariad and The Mallorean series by David Eddings
Kvothe from The Kingkiller Chronical by Patrick Rothfuss
Superhero Orphans (i.e. pretty much all of them)
Superman in the comics and novels by Jerry Siegel and artist Joe Shuste
Batman in the comics by artist Bob Kane and writer Bill Finger (pretty much all superheroes)
Spiderman
The Flash
Black Widow
Iron Man
Thor
Star-Lord
Scarlett Witch
Captain America
Killmonger
Professor X
Magneto
Daredevil
Disney Orphans
Cinderella
Snow White
Simba from The Lion King
Princess Anna and Princess Elsa from Frozen
Mowgli from the Jungle Book
Aladdin 
Peter Pan
Lilo from Lilo and Stitch
Rapunzel
Anastasia
Tarzan
Annie
Arthur from The Sword in the Stone
Can you think of other orphans in books? Leave a comment and we'll add them to the list!
Should YOU Have Characters Who Are Orphans?
As you can see, there are a lot of orphans in fiction. Maybe that inspires you to include them in your story, or maybe that encourages you to avoid the character trope.
The benefit of including orphans is that you have a an instantly sympathetic character with strong character arc.
However, there are other ways to create good characters arcs without forcing your protagonist to be an orphan. For more, check out our guide on character arcs here.
Whether you choose to write a story about an orphan or not, make sure to enjoy the writing process (and enjoy reading all the amazing stories about the characters above)!
Would you write a story about an orphan character? Why or why not? Let us know in the comments.
PRACTICE
Write a story about an orphan. What is their life like? How will they improve their life? Who will come to their aid?
Write for fifteen minutes, and when you're finished, post your exercise in the practice box below and give feedback to a few other writers.
Joe Bunting is an author and the leader of The Write Practice community. He is also the author of the new book Crowdsourcing Paris, a real life adventure story set in France. It was a #1 New Release on Amazon. Follow him on Instagram (@jhbunting).
Want best-seller coaching? Book Joe here.