When you have to write about yourself, do you hit a roadblock? If so, you're not alone. There are a number of situations when you have to write about yourself for school, work, or publication. Let's break down a few ways to make it easier and then use some prompts to get you started.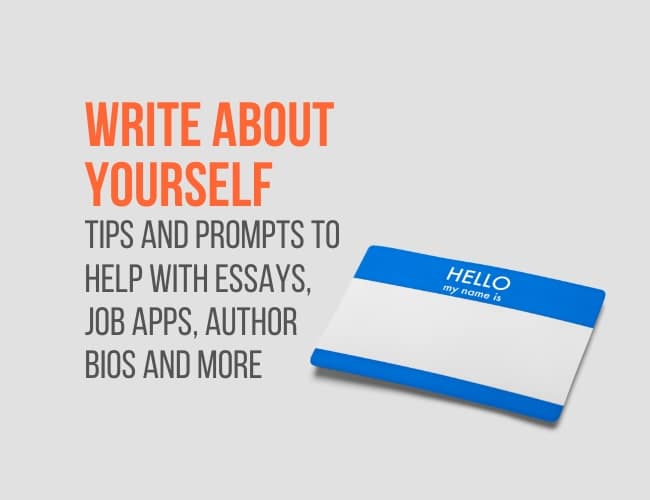 When Do You Have to Write About Yourself?
Several scenarios might require you to write about yourself from personal essays to job applications and biography blurbs.
The key for each is to think about the purpose and the target audience. Then shape your personal history or life experience into a well-crafted piece of writing that meets those needs of purpose and audience.
Let's look at a few of the most common scenarios where you have to write about yourself.
Personal Essays
Personal essays aren't just for high school. A personal essay typically reflects some aspect of your life that you are sharing for a specific purpose. Many college applications or scholarship applications ask for a college essay or personal statement to help them get to know you as a student or applicant.
If it's for a university or school application, you might write about:
academic achievements
personal accomplishments
difficult experiences that helped you grow
personal stories that relate to your desired field of study
Personal essays will have a friendly tone regardless of the essay topic. The personal examples you include or the personal stories you tell will need to be focused tightly on the audience and purpose. If you're trying to get into a university engineering program, you don't want to write about a pet's passing.
Your story of losing a pet is likely moving and will tell committee members about you and your personality traits, but it won't communicate why you might be a good fit for their school or program.
If you're writing a personal essay for a course in narrative or memoir, then of course, your story of your pet's passing would likely be a solid choice.
Personal Essay Prompts
1. Tell about a time you overcame a significant hardship.
2. Describe an interest that makes you lose track of time.
3. Tell the story of an experience or person who changed the way you thought or lived.
4. Describe a time you overcame rejection or fear.
5. How has your community shaped you as a person?
Job Applications
More and more job applications include personal statement sections or questions that ask you to describe your professional experience in more detail. Job seekers are often used to listing out bullet points on a resume, so writing about yourself can feel uncomfortable, even in a letter of introduction.
In professional settings and applications, you want to focus on four elements as you write about yourself:
relevant experience
recent professional accomplishments
personal details that enhance your qualifications
specializations
Again, keep your purpose and audience in mind. If you're having trouble narrowing down your relevant experience, consider looking at the job listing to see what they require of applicants. That way, you tailor your experience to what the position requires.
Some common job application prompts
1. Tell us about yourself. (They aren't asking about your favorite food or vacation last year! Focus on professional experiences.)
2. What are your strengths and weaknesses?
3. How have you managed conflict in former roles?
4. Describe your strongest professional accomplishments.
5. Why do you want to work here?
Remember, each of these questions is designed to help a company get to know you as a professional—share only relevant stories and details that align with that purpose.
Author or Speaker Biographies
As a writer (or speaker!), you need an author biography to include on any publications. These can be short 100 word statements that give the audience a sense of who you are as a person.
Again, the purpose and audience matters. If you are a scholar writing and speaking on a topic in your academic field, it's appropriate to list your relevant degrees and major publications to build a sense of credibility and authority.
If you're a fiction author, your biography will likely reflect a few personal details that are meant to connect with readers in a positive light.
The best way to know what will connect with your intended audience, is to look at the biographies and About the Author pages in books like your own.
A few things you might include in an author or speaker biography:
where you live (generally speaking—not your personal address)
themes you explore
awards, recognition, or other publications
relevant personal background info
You can see our full guide here on writing an author biography here.
Prompts for author or speaker biographies
1. What are the two most important things for your audience to know about you?
2. Find two authors writing in the same genre you are. Write your biography using their bios as models.
3. What themes do you explore in your work and why are they important to you? Write them out, and then condense.
4. What experience or awards are relevant to your work? List them out and pick the top two.
5. Make a list of all the things that you likely have in common with your target audience. Choose two to include in your biography.
How to Write About Yourself
Whenever you're asked to write about yourself, take it as a challenge to share relevant personal experiences with vivid details and your unique point of view. Remember that you're not sharing your entire life story. Stick to short personal anecdotes and pay attention to your purpose and audience.
How do you feel about writing about yourself? What tips have made it easier? Share in the comments.
PRACTICE
Choose one of the prompts above. Set the timer for 15 minutes and write about yourself without stopping. If you don't have an essay, job app, or bio to write, then simply try to capture something true about yourself and your experience in the world today.
When time is up, share your practice in the Pro Practice Workshop here and leave feedback to encourage a few other writers too.