Let's write stories today.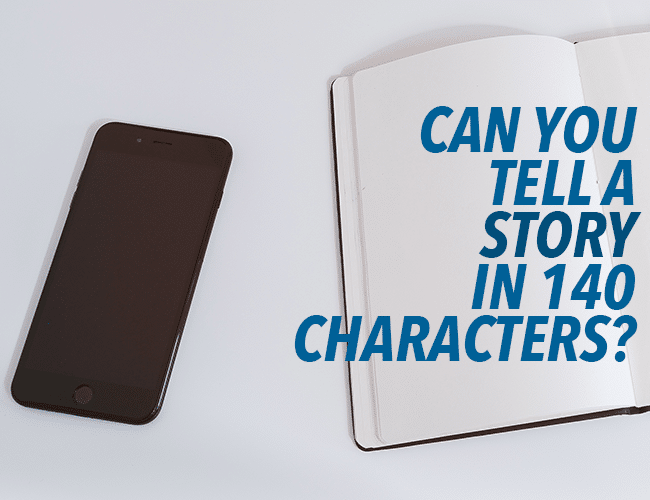 140 character stories. For Twitter.
140 Character Stories
I've been thinking about this, and I don't know why we can't do it.
If you don't already know, all Twitter posts must consist of 140 characters or less. And a "story" is defined as "an account of imaginary or real people and events told for entertainment" or "an account of past events in someone's life or in the evolution of something."
You see? No minimum word requirement for something to qualify as a story! So let's do it. Let's write 140 character stories.
Stories to Inspire You
To be fair, I even took fifteen minutes to write a few myself:
They were friends. Until one of them married Norm. Since then, they've gone their separate ways.
They dated. He cheated. She stayed. He lied. She moved to Philadelphia for school. She could finally end it.
His one regret was not studying abroad—on another planet. At 28, he's finally gets a job on Jupiter. It's everything he imagined and more.
What story will you tell with just 140 characters?
Do you have any tips for writing a story in just 140 characters? As a writer, what do you share on Twitter? Let us know in the comments.
PRACTICE
Take fifteen minutes to write a story in 140 characters or less (real words only pls). Share in the comments section and even Twitter, if you want. And of course, don't forget to leave feedback for your fellow writers!