The other day I met a woman who wanted to be a writer. We were at a birthday dinner, where our mutual friend mentioned that I was working on getting a novel published. The woman immediately peppered me with writing questions (and fears), and I actually had some answers (and words of encouragement).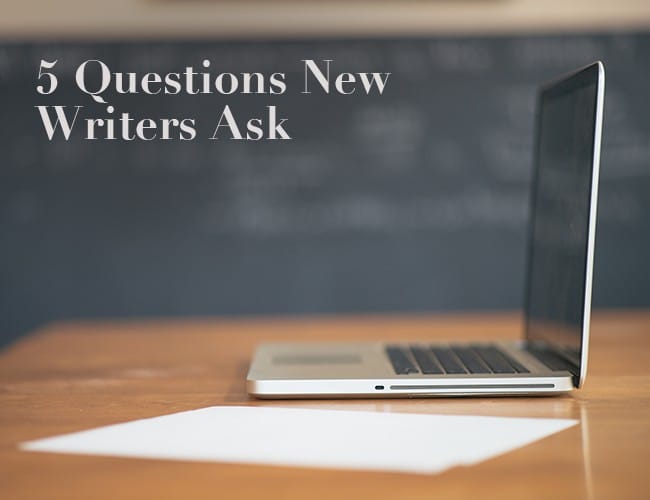 Common Writing Questions
I thought, why not share what I said with all of you?
1. How do you find time to write?
I don't always find time to write. However, I was able to accomplish the task of completing a draft of a novel by writing every day for about six months. Many people write in the morning, but I chose to write at night because a) I hate waking up early b) I tend to feel more inspired at night, and c) I don't have to stop writing if I don't want to.
Of course there were days that I missed, but that was after daily writing had become a habit. I also didn't chastise myself for it when it happened—I just tried to write twice as many pages the next day, and then let it go.
After the six months, I took a break and then started revising regularly. It was hard work, but I didn't feel the need to place the same daily requirements on myself during this phase. I was excited to make my novel better!
2. How did you even start writing a novel?
One day I decided it was time to write my novel. I had a story inside of me and knew I was ready, but some important things were missing—like a plot.
Still, I didn't want that inspiration and motivation to write to go away, so I started a blog, www.illegalwriting.com. I told the whole world that I was embarking on a journey of writing a novel while maintaining a full-time job, which was both terrifying and amazing. I blogged consistently for a while (at least once a week) about the writing process and the publishing industry. Writing that blog taught me more about writing and publishing than I could have ever imagined.
After blogging for a few months, I planned my novel using the Snowflake Method, which I've discussed in the past and highly recommend. I returned to those original notes throughout the process. I found them grounding because they helped me keep the big picture in mind. It was definitely worth putting in extra effort up front before I sat down to write.
3. I'm scared to workshop my writing—what if people hate it?
Ha! This question made me laugh because I remembered the first time I ever had my writing workshopped. The series Girls depicted the experience perfectly—everyone sits around a table and discusses what you wrote like it is an assignment in your college Lit class.  Meanwhile,  you just stay silent. It is terrifying, and each week of my writing class I would ask whoever was in the hot seat if they were OK. After all, we were basically criticizing their soul.
Please tell me a book that has never been criticized. It doesn't exist. I don't think criticism is something you can avoid, so instead, I recommend embracing it. Seek feedback on your work and
listen
to it (good and bad). As hard as it was to share my work, I never regretted it. The more intense the feedback, the better my story got.
4. How did you go about finding a publisher?
I think you have three options for publishing your novel:
You can self-publish, which requires you to be a writer and a marketer, publisher, etc. That said, you have complete freedom and make much more money off each book sold.
You can send query letters to a hundred agents who represent authors in your genre. Should you find an agent to represent you, he or she will work to find a publisher (possibly one of the top ones) to publish your book. The publisher takes care of marketing, etc. You'll probably receive an advance.  The agent gets a cut of everything.
You can find a niche publisher or small press who is willing to take on authors without representation. You won't get an advance, but they will handle marketing, finding an editor, etc. You'll see higher percentage of book sales than with a traditional publisher, but less than if you self-publish.
I tried the query-sending route. It took forever to get responses, but I did get responses and useful feedback. A number of agents asked to read 50-100 pages, or the entire manuscript, but I haven't signed with an agent. In the middle of it all I met a niche publisher at a conference, who is interested in working with me on my novel. I will most likely sign with them, but I haven't yet.
5. I want to a write a Romance novel with minority characters because the only ones I've come across are trashy.
That's a great goal, but don't be so quick to judge what's already out there! Novels written by women are often given covers and/or marketed in a way that don't match the depth of the story. The same book written by a man and woman may be pitched and marketed in completely different ways. Are you sure you aren't just judging books by their covers?
As for publishing a Romance story with minority characters, specifically, I have lots of thoughts about that, many of which I have discussed on my personal blog.  Let's get coffee to discuss. (Write Practice readers—I think that'll have to wait until another post.)
What advice do you have for novice writers? Let us know in the comments.
PRACTICE
Take fifteen minutes to write about whatever you want—but share it in the comments section! Don't be afraid. Alternatively, share something in the comments that you've already written but have been scared to have others read.