If you want to get published, wouldn't it be nice to sit down with a NY Times bestselling author, a veteran literary agent, or a legendary children's book editor to ask them for their best tips?
Today, we're sharing the top tips for writers from 12 publishing industry insiders including bestselling authors, agents, editors, and publishers.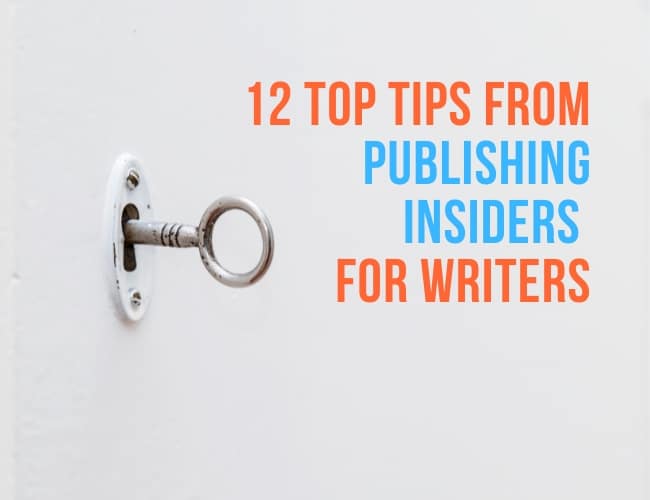 Well, friends, we've come to end of our How to Write a Children's Book series! Over the course of many posts, we've talked about defining your target market, creating a brand, the realities of making money, and whether self-publishing or traditional publishing is the better path for you. 
My hope is that this series has helped you learn a bit more about what to expect as a writer in this business, as well as clarify some of the more confusing aspects of the industry. 
For my final post, I reached out to several of my friends and colleagues in the publishing world to ask them what insider advice they'd give to our aspiring children's book authors. Consider these gems wrapped in my biggest wish for your success!
Advice about Your Readers
Laura Duksta, Ambassador of Love and author of NYT bestseller I Love You More:
Have a vision for your book that lights up both you and your buyers (first they are buyers, then they are readers). 
Heather Moore, Senior Director of Marketing, Sourcebooks Kids:
Know the marketplace and your audience. What's working right now on shelves? How is your book unique? Who is your reader? What problem are you solving, or solution are you providing?
Katie Clemons, author of Between Mom and Me and many journals for parents and kids:
Listen. What are kids drawn to? What are they curious about? What are they talking about and asking about? I gather these ideas from my own kids. But over the years I've also volunteered at Scouting events, my church, and the local library. I've taught projects at local schools. I've browsed toy aisles at the store, explored Amazon, read blogs, and talked with moms. Ideas can find you. You just have to listen for them. I believe in you.
Shana Drehs, Senior Editorial Director, Sourcebooks Landmark:
Ask yourself, "What about your story will readers find so compelling that they won't be able to stop talking about it?"
Advice on Community
Kelly Barrales-Saylor: Editorial Director, Sourcebooks Xplore:
Network and build a writing community for yourself! Join SCBWI and/or join critique groups or writers' groups. The best, most publishable books come from authors who are not afraid to workshop with others or get critiques from other writers as well as supporting other writers' work. There is so much strength in community!
Sandra Magsamen, author of Welcome Little One and others:
Write the book! Once the book is written, share it with children. Read it at a school or summer program and ask for thoughts and feedback from the children. Bring your own unique self to the project. Invent, create and share what only you can bring to the project. Be YOU! 
Jamie Gagnon, author of Imagine my Love:
Don't ever let doubt deter you, find a mentor and make meaningful connections! Above all, trust your heart, and never lose sight of that for the sake of how society views success.
Advice on Your Unique Journey
Matthew Paul Turner, NYT bestselling author of When God Made You and others:
Write the book that you wish you'd been able to read when you were little. We are writing for children. But we are also writing for the child in us.
Dorena Williamson, author of ColorFull, Crowned with Glory, and others:
Don't try to do it (write and publish) like anyone else. Every writer has a journey for their story and book. Be inspired by other authors but don't seek to replicate their path. The world needs your unique voice and work!
Kate Fischer, author of Your Angel Army:
Instead of focusing on industry trends, write what is true and important to you. It makes it easier to relate to your target audience and make genuine connections with your readers. 
Elizabeth Lyons, author of Write the Damn Book Already:
Decide. Then decide again. Know that you can always UNdecide! Writing a book is going on two journeys at once: the journey of the book, and that of the author. We don't HAVE to do it. There's no "should." You thoughtfully decide every day to keep telling your story or sharing your message, because you simply can't NOT do it!
Now is Your Time!
I hope this series has been as helpful for you as it has been a joy to write for me. If you've always wanted to write a book for the children in your life, what's stopping you? Now is your time! Check out the entire series here. I can't wait to see your book come to life!
Which industry insider advice did you need to hear today to help you keep going? Share in the comments.
PRACTICE
Set your timer for 15 minutes. Start writing that idea you have for a book! Who is the character? What do they want? How can they pursue it? Send them on an adventure today.
When you finish, Pro members can share in the Practice Workshop here. If you aren't a member yet, jump into a great community of writers here.
I'm Marianne Richmond—writer, artist and inspirationalist. My words have touched millions over the past two decades through my children's books and gift products.
Basically I put love into words and help you connect with the people + moments that matter. You can find me on my website, Facebook, and Twitter (@M_Richmond21).