As writers, no matter what our goals are, there is something we should all strive to do: make our readers feel. Whether that feeling be hope, happiness, fear, or any number of other emotions, it can be achieved through masterful writing. That's how to write with emotion and make readers feel.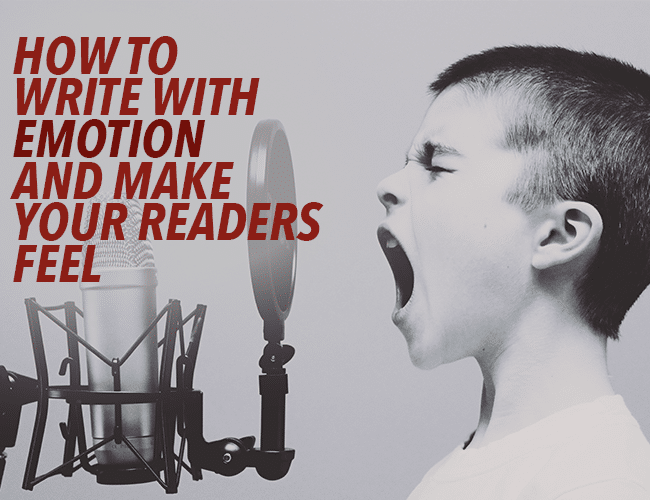 How to Write With Emotion
That is easier said than done, though, right? How can we turn our words into something so real, it gives the reader a punch to the gut or brings a smile to their face?
There are endless possibilities, but the seven easiest and most effective ways are:
Write about what scares you.
Write about what excites you.
Write about what disgusts you.
Write about what saddens you.
Write about what fuels you.
Write about what angers you.
Write about what fills you with love.
Simple as that. When we write about something honest and real, our readers will feel what we've felt, so long as we conveyed that emotion in the most truthful way we know how. You don't even have to be a non-fiction writer to use these techniques. Your fictional character can experience the same emotions in different ways.
Actors pull from their realities all the time to portray their characters accurately. Do the same thing in your writing.
3 Keys to Capture Emotion in Writing
There are a few additional tips you can keep in mind to help you with this.
1. Intense emotions come through the most.
In other words, the stronger the better. A little disappointment will not be felt as much as rage or grief. Amusement is not the same as glee or absolute joy. The most important things make us feel the most.
2. Don't pour it on too thick.
While it's true that deep emotions are felt the most by readers, you don't want to go overboard. If your character constantly swings from despair to falling madly in love to shock, it will get old really fast. A little goes a long way. Give your characters a break to just be normal for a while so when a bombshell does hit, it hits hard.
3. Write a journal.
On the spot, it might be difficult to come up with memories or feelings to write about. Every emotion is most powerful in the moment. If you're able to, anytime something intense happens that causes you to feel an extreme emotion, write it down as soon as possible. What triggered the sensation and how did it affect you? You can draw on those journal entries later.
One Final Thought: Keep It Real
Readers will be able to tell when you're forcing something onto them. Don't try to make a character's reaction to an event bigger than it has to be. Nine times out of ten, the simplest way is the best way.
All in all, if you want readers to respond to your writing, remember to be simple, be honest, and be emotional.
What causes you to be moved by writing? Do you have other tips for how to write with emotion? Let us know in the comments.
PRACTICE
Write for fifteen minutes about someone who feels intensely. It can be in the form of a journal entry or it can be a character going through these emotions. Draw on memories to help you along the way.
When you're finished, share your work in the comments, if you'd like. Don't forget to give your fellow writers some love, too.
The Magic Violinist is a young author who writes mostly fantasy stories. She loves to play with her dog and spend time with her family. Oh, and she's homeschooled. You can visit her blog at themagicviolinist.blogspot.com. You can also follow The Magic Violinist on Twitter (@Magic_Violinist).