A couple of months ago I attended a reading and book signing with Terry McMillan, the best selling author of Waiting to Exhale.  She discussed her upcoming book, Who Asked You?, which contains fifteen different points of view, including one of an eight-year-old boy. With that many POVs, there was no way ALL the characters could be autobiographical, so during the question and answer period I asked her—how did she get in the minds of characters so unlike herself?
Her answer can be boiled down to the following: you must (1) empathize, (2) listen to those around you, and (3) fill out a job application on behalf of your character.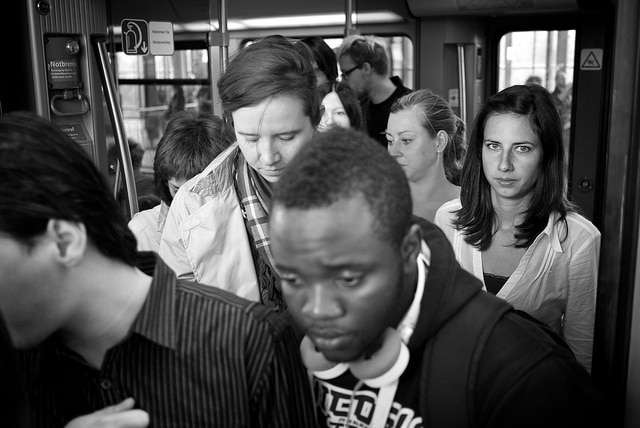 Photo by Thomas Leuthard
Empathize
To write in the mind of a rich nine-year-old boy when you are a working-class thirty-year-old woman, you need a certain degree of empathy.
What would a young boy spend his days thinking about?  What would cause him to worry? How much knowledge would he have about the people and things with which he interacts?
You don't need to know what his experience is like if you allow yourself to literally imagine how it feels to walk in his shoes (and sleep in his bed and eat his breakfast and watch his TV shows).
Listen
How can a twenty-something white man write dialogue for an elderly Chinese woman? Simple. By listening.
Pay close attention to the people around you at your job, on the train or in the supermarket.  When you find someone in your character's demographic, listen to how he or she speaks.  Notice to whom that person is talking (does the speech change when she speaks to someone else?).
Then use what you have heard in your writing.
Fill Out a Job Application on Behalf of Your Character
Terry McMillan said she knows everything about her characters before she starts writing.  It began when she grabbed a job application from a local establishment and then filled out on behalf of her characters—full name, date of birth, work experience, strengths and weakness.
Over time she added more and more questions to the list—does the character pay her taxes on time?  Does she believe in abortion?
Only a small portion of these details ever made into her novels, but she knew everything she possibly could about the characters she created.
By answering these basic questions on behalf of your characters, you will develop a clearer idea about who they are as people before you start writing.  They may be nothing like you, but after engaging in this practice you will at least know who they are.
Ask yourself, what is your character's worst childhood memory?  What is her favorite movie?  Did she ever have a bad break up?
Are any of your characters completely unlike you?
PRACTICE
Find a job application online or elsewhere. Complete it for one of your characters.
Or, go to a public place and identify a person with whom you think you have little or nothing in common. If you want, listen to how they are speaking and what they are speaking about. Spend fifteen minutes writing about that person's day from his or her point of view.