About every six months or so, I check out the writing classes being offered at the Writer's Center in Bethesda, Maryland.  While I don't always sign up, I almost always find one that addresses my writing needs at the moment.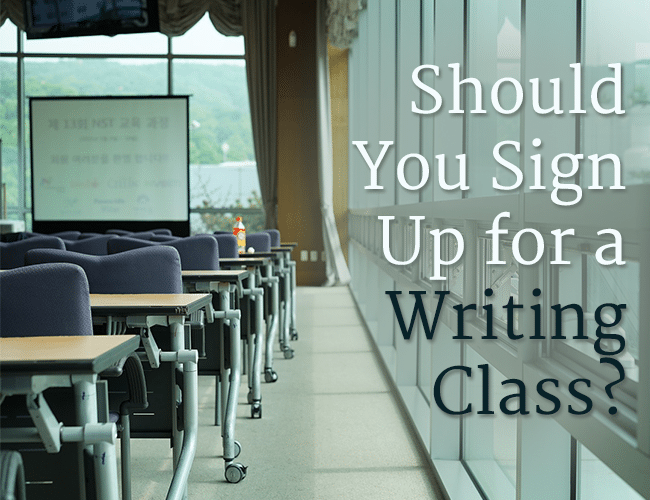 For example, when I decided to write a novel three years ago, I realized I never actually took a creative writing class.  So I signed up for a short story course.
Then, when I finished a draft, I took a novel-writing class, where I was able to get detailed feedback from twelve people.
Eventually I started pitching agents and consequently obsessing over my first chapters and low and behold! There was a one-day course on mastering "the hook" waiting for me.
Five Reasons Why You Should or Should NOT Take a Writing Class
So, should you sign up for a writing class?  Here are three reasons you should (and two reasons you should NOT).
1. Writing Classes Introduce You to Other Writers in Your Area
The first time I ever took a writing class was a crazy experience.  I had just broken up with my boyfriend and was basically traumatized.  Writing a novel seemed like something I HAD to do, and I couldn't think of anyone in my life who could understand that particular desire.
Imagine my surprise when, in my short story course, I met a group of people just like me!  They were teachers, consultants, lawyers, recent grads (i.e., not professional fiction writers)—but they all had stories to tell.  They just got it.
And, more importantly, they were local.  After the class ended, we formed a writing group and continued meeting for a while.
I have said this before and will probably say it again—the value of finding a community of other writers cannot be overstated.  Of course, The Write Practice is a writing community, but it is nice to meet fellow writers in your area.   Writing classes are great for that.
2. Writing Classes Force You to Write
I have found four- to six-week courses great for getting back into the groove of writing after a slump.  This is primarily  because writing classes give you homework.  They literally force you to write because at the very least you want to get your money's worth.
3. Writing Classes (Often) Allow You to Critique Others' Work
Often you are asked to provide comments on other people's work in writing classes, which is a really useful exercise.
First, it can boost your confidence because, while providing comments, you'll probably discover you know more about writing than you thought.
Second, you learn from actively reading someone's work.  You identify and articulate things they have done well (and not so well).  I believe this practice makes you consider these issues in your own work.
But… Why You Should NOT Take a Writing Class
As helpful as they can be, writing classes aren't for everyone. Here are two reasons to avoid them:
1. Writing Classes Can Be Expensive
Most of the multi-week courses I signed up for were at least a couple of hundred dollars, which is why I usually don't attend more than one a year.
Personally, I only think writing classes are worth it if you are going to workshop (i.e., discuss and receive feedback on) something you have written.  The course I took on "mastering the hook," for example, was fine, but because it was only one day, I didn't get a chance to workshop anything.  I wouldn't recommend it to others because I think I could have found the same information online for free.
2. Not All Classes are Created Equal
In my first short story class, everyone just vibed really well.  I don't know if it was because we were all in similar places in our writing journeys or if the teacher did a deft job guiding us, but we all just clicked.
While I met great people in my novel class as well, the vibe wasn't quite the same.  That said, the instructor in that course gave much more written feedback than my short-story teacher, which I appreciated.
Basically, different courses have different benefits and drawbacks.
Have you taken a writing classes? Are there writing classes available in your area? Let me know in the comments.