It's almost time for that annual, month-long festival for writers: NaNoWriMo. Are you going to subject yourself to the excitement and stress of writing a book at least 50,000 words long in a single month?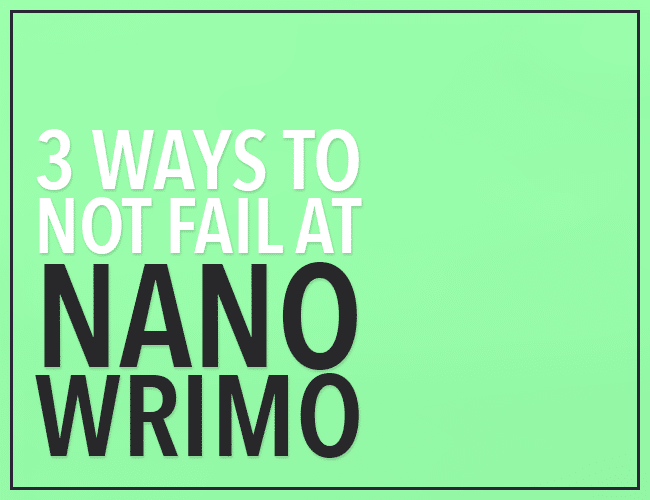 If you're participating in NaNoWriMo this year, you may feel a bit nervous about whether you're going to be able to finish. Honestly, you should be nervous.
Here's the truth: almost ninety percent of people who start NaNoWriMo don't finish.
How do you make sure that you don't fail? How do you win NaNoWriMo? In this post I'm going to share the three things you need if you want to finish NaNoWriMo. (HINT: Almost all of them can be done before NaNoWriMo officially begins on November 1.)
What Is NaNoWriMo?
NaNoWriMo (pronounced nano-rye-moe) is a not-quite-abbreviation for National Novel Writing Month, a tradition going back to 1999 where people write a book of 50,000 words or more during the month of November.
Why Join In On The NaNoWriMo Fun
At The Write Practice, we've always supported writers participating in NaNoWriMo. We're big fans for one reason: we believe it's a great chance to practice your writing.
Sure, you may not write a publishable novel in just a month—although several bestselling novels have come out of NaNoWriMo, including Water for Elephants, Wool, The Night Circus, and Cinder. However, all the writing lessons you gain after focusing on your writing so closely for a whole month will almost certainly make you a better writer.
That's why this year, we want to invite you to write a book in a month with us. I don't care if you write fiction or non-fiction. You're still invited.
Is November 2015 going to be the month you finally finish the book you've been planning to write for years?
And if you commit to joining us, we will go all out to help you be part of the eleven percent of people who finish their books during NaNoWriMo.
So what do you think? Are you going to write a book in a month with us?
3 Reasons to Participate In NaNoWriMo
Why is it that every year people distill the torture of writing a book into one of the busiest holiday months of the year? And more importantly, why should you join in the fun/torture?
There are three main reasons to participate in NaNoWriMo:
1. Become an author in a month. The lure of NaNoWriMo is the idea that in just one month you could go from being a non-author to achieving something most people only dream about: finally writing a book.
2. Focus deeply on writing. Writing a book in a month is actually smart, because the best way to complete a challenge is to put your entire focus on it, and NaNoWriMo allows you to focus entirely on one thing for a short, intense period.
3. Escape (some of) the pain of writing a book. Finally, since it's a community event with hundreds of thousands of people participating at the same time, the encouragement and support of other writers takes away some of the pain associated with writing a book.
However, despite all the great reasons, only about eleven percent of people finish their NaNoWriMo books. While those who begin NaNoWriMo may have great motivations, the reality of writing a book in a month is still really, really hard.
How do you NOT fail at NaNoWriMo? How do you finally finish your book?
How To NOT Fail at NaNoWriMo
If you want to win NaNoWriMo, you need to do three things:
1. Get a plan.
In preparing for battle I have always found that plans are useless, but planning is indispensable. —Dwight D. Eisenhower
Over the last year, I've been coaching a small group of writers to write a book. Out of twelve participants, 100 percent of those people have finished their book. That's right, all of them.
When I tell my friends in publishing this, they're all surprised. They know how hard it is to write a book, and the idea of a writing program with a 100 percent success rate is almost unbelievable.
The most important part of our process is the first two weeks, when we create a book proposal. A book proposal is basically a holistic attack plan for a book, with sections focused on the writing process and the book's content, but also the marketing of the book as well.
How then do you create a book plan?
Essential components in a book plan for NaNoWriMo. What does your book plan need? Whether you're writing fiction or non-fiction, there are three main components (with some bonus components if you're feeling ambitious):
Premise. The premise is the main idea of the book, and in many ways it acts as the foundation for your book. Since it's the foundation, it's important to get it right. I've spent three weeks working every day on the premise for a book before. In fiction—and especially screenwriting—the premise is also called a logline (or whatline), a one-sentence summary of the protagonist, main conflict, and setting. In non-fiction, the premise is the central argument you're making in the book. Want to know more about how to write a great premise? Check out our definitive premise guide.
USP. The USP, or unique selling proposition, is kind of a weird marketing term, but it's purpose is to define what will make your book unique and worth reading. While thinking about the marketplace feels uncomfortable for some writers, it's essential to consider what will make your book special.
Outline. An annotated outline of your main plot points or ideas is your first chance to think through what your book is going to be about. For novelists, here's a cheatsheet to the main plot points.
Bonus components to your book plan. You can get by without these, but they're so helpful I would highly recommend them.
Overview. The overview breaks up your book into sections, describing each in a short paragraph. In a novel, you will likely break your book up into three acts: Act I, setup; Act II, confrontation; and Act III, resolution. In a non-fiction book, the overview will likely break your book into three sections describing the problem, the solution, and the application of that solution.
Demographics. Who is your audience? Figuring out who will be interested in your book is obviously important for marketing, but I find that having a clear picture of my audience is an effective motivator. As I imagine how my writing will affect people, it helps me stay focused on getting my book to them as soon as I can.
Competition. The competition section usually lists three other books, preferably ones that are successful in the marketplace, that are similar to yours. It explains both what is similar about your book and what is different. While you might think, "My book is completely unique," this is actually a bad attitude to have. If your book is totally different from any other book, then people probably aren't going to know why they should read it.
You can easily have this book plan done by November 1, and while your plan may not last long past day one of NaNoWriMo, the hours you spend planning your book will be some of the most valuable hours.
For more on how to create a writing plan for NaNoWriMo, sign up for the free series on How To Write a Book in a Month. It starts on October 13!
NOTE FOR PEOPLE WHO DON'T LIKE OUTLINING: For those who don't like the idea of plotting out your story, you don't create a book plan so you can slavishly follow your outline and remove all the space for serendipity. A book plan isn't a leash. It's a resource.
You create a plan to be your map for when you get lost (which is inevitable when you're writing a book).
"No plan survives contact with the enemy," said one Prussian general.
On November 1, your book plan will go to pieces. And that's completely okay. However, there's no better way to spend October than working on your book plan.
2. Get a team.
Great writers have always written in community. Ernest Hemingway had the Paris of the 1920s. Jack Kerouac, Allen Ginsberg, and the rest of The Beats had New York in the post-war 1950s. C.S. Lewis and J.R.R. Tolkien had the Inklings.
If you want to do something as hard as write a book in a month, you need a team.
It goes without saying that you need the buy in from the people closest to you, your spouse, especially if you have kids, family members, and friends. But you also need other writers who have gone or are going through the same thing.
The other writers in "your team" give you four things:
Inspiration. I have a lot of friends who are writers, and when they tell me they just completed another book, it inspires me to work harder on my own projects. When you hear one of your fellow NaNoWriMo participants just had a 5,000 word day, it will inspire you to write more on your own book.
Encouragement. There's no getting around it: writing a book is hard. When you hit a snag in your plot or have no idea what to write about next, you'll need your team to encourage you and say, "You can do it. You'll figure it out. Just keep writing."
Advice. When you get into a problem you can't figure out, you can ask your best friend or your spouse for advice, but a fellow writer will often have better ideas and advice than someone who has never attempted writing a book in their life.
Accountability. At some point in November, you'll want to quit. Having a few people to hold you accountable to finish what you started could be the difference between winning and complete failure.
Not only will having a team help you finish NaNoWriMo, it's just fun! Who knows? The relationships you build with the other writers you meet during NaNoWriMo could last you for the rest of your life.
3. Get in rhythm.
Writing is all about flow, and this is especially true during NaNoWriMo, where writing quickly is essential to success.
How do you find your rhythm and write quickly during NaNoWriMo?
The biggest thing that will slow your writing down and break your rhythm in November is perfectionism.
Perfectionism is the lie that everything you write needs to be brilliant, grammatically correct, unparalleled, fascinating, and free of typos—ALL RIGHT NOW.
Perfectionism looks like this: Oh no! I just misspelled that background character's name. I need to go back and fix it NOW! If I die in the middle of writing this and someone reads it I'll be SO embarrassed! 
It's great to want to be a better writer, but if you want to finish NaNoWriMo, perfection will have to wait at least until December.
Still feeling perfectionistic? Here's why one editor says you shouldn't edit during NaNoWriMo.
While perfection is the great destroyer of rhythm, how do you get into a healthy writing rhythm? Here are a few tricks:
Never miss two days in a row. It's inevitable that you will miss your word count one day in November. Sooner or later, something important will come up or you'll get writer's block and won't be able to write a thing. While it's fine to miss one day, never miss two days in a row. It's just too hard to recover and you'll likely end up quitting.
Focus on the feeling of your writing. Meditate on the feeling of your fingers as they hit the keys, the feel of your hands moving quickly over the keyboard. Be mindful of your breathing. Focus on the feelings of your writing as it happens.
Change your font color to light grey, making your writing difficult to see. If you can't see your writing, you won't have the temptation to break your rhythm to edit.
Change your font to 4 pt. If you make the font too small to read,  you can't self-edit.
Turn off your computer monitor. For those with excellent typing skills.
Set the brightness on your computer screen so low you can't see the words. Same affect as above.
Remove your delete key. Here's a video on how to remove a key from your keyboard.
Win NaNoWriMo With The Write Practice
Participating in NaNoWriMo could be one of the most exciting things you've ever done with your writing.
This November, we will be doing a lot of cool, new things to help you finish writing a book in a month. If you've ever wanted to write a book or participate in NaNoWriMo, you won't want to miss this.
And if you need some extra accountability, sign up for our free series, How to Write a Book in a Month. You'll learn everything you need to know about how to outline and write a book in a month.
Sign me up for the series, How to Write a Book in a Month here »
Hope you'll join us for this series! It will only be sent to people who sign up for it, so make sure you sign up today.
Have you thought about participating in NaNoWriMo? What is your biggest fear about writing a book in a month? Let me know in the comments section.
PRACTICE
Today, get started on the premise of your NaNoWriMo book (you can get more help on writing a premise here). In one to three sentences, describe the story or main argument of your book.
After you write your initial draft of your premise, post it in the comments section for feedback. And if you post, be sure to give feedback on the premises of your fellow writers.
Have fun!
Joe Bunting is an author and the leader of The Write Practice community. He is also the author of the new book Crowdsourcing Paris, a real life adventure story set in France. It was a #1 New Release on Amazon. Follow him on Instagram (@jhbunting).
Want best-seller coaching? Book Joe here.