There is one question every writer has to answer. Yes, only one. It doesn't matter if you are writing memoir, fiction, non-fiction, or a screenplay, you have to answer this question.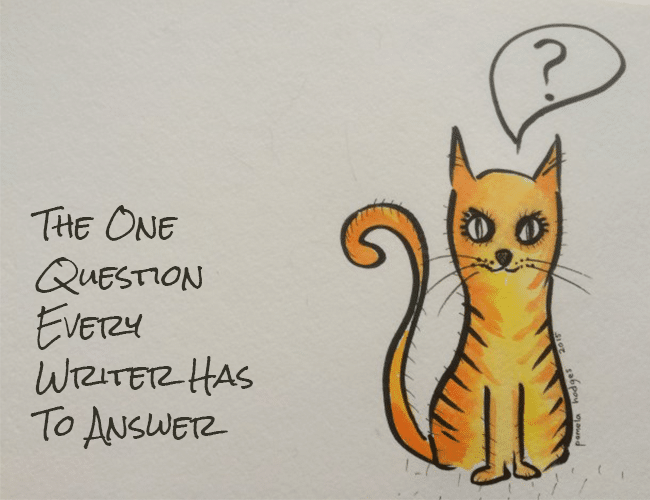 And, no, the one question every writer has to answer is not, "What do you want to eat for supper." That question would apply to non-writers too. As, we all have to  eat.
The one question every writer has to answer is: What's it about?
Or, as Blake Snyder said in his book Save The Cat, "What is it?"
What are you trying to say? What is your memoir, speech, essay, story, screenplay, poem, or novel about? Every genre of writing has to answer this question.
A genre is a distinctive class or category of literary composition and comes from the Latin word genus.
William Morris— Editor, The American Heritage Dictionary of the English Language, page 550, falling between genotype and genro
How to Answer the One Question
In Blake Synder's  book, Save The Cat,  the one question is called a logline or a one-line. His book focuses on screenwriting. But his wisdom applies to all genres of writing. A logline is a one sentence summary of your script.
And since the term logline is reserved for scripts, let's call our one sentence summary a whatline. 
A "what is your writing about sentence." The old whatline.
It is important to know what your story is about.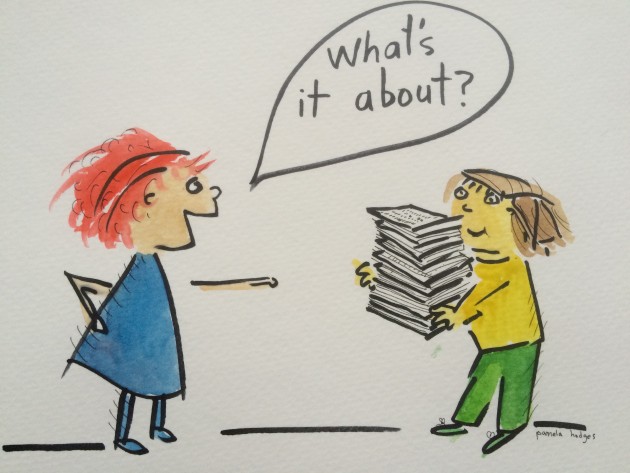 Three Advantages to Writing A Logline or a Whatline
Writing a one sentence summary of your writing piece will help you figure out what your story is about. Yes, you have to think about what you are trying to say.
If you know what your story is about before you start writing it, you hopefully won't get lost in the telling of the story.
Your reader will appreciate the focused intent of your writing. And, I assume you want the reader to finish reading your story.
Can you describe in one sentence what you are writing?
You get one sentence to tell what you are writing about. Not forty-two sentences, or sixty-nine. Or even six hundred and twelve sentences.
Have you ever tried to write what your writing piece is about in one sentence? Let me know in the comments section.
PRACTICE
Write a one sentence description of one of your work's in progress. The writing of your sentence might take just a few minutes, or it could take you two hours. After you wrote the one sentence, did it help clarify your story?
Or try thinking of writing a whatline for a new writing piece. Think for fifteen minutes, and then write your one sentence. Or write as many one sentence whatlines as you can in fifteen minutes. Then share your whatline in the comments section.
Please encourage another writer today and comment on their practice.
xo
Pamela
Pamela writes stories about art and creativity to help you become the artist you were meant to be. She would love to meet you at pamelahodges.com.