Over the years I've written about my journey trying to get my first novel published.
There's an emotional aspect to it all, of course (The struggle! The triumphs!), but documenting the steps I've taken has also had a practical outcome. I've been able to see the benefit of each step I've taken to become a better writer.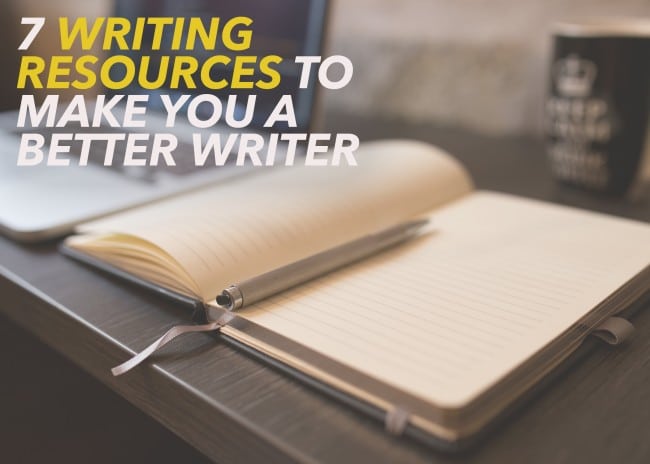 7 Writing Resources to Make You a Better Writer
I've recorded my experiences with each writing resource I've turned to along the way. And there were a lot, seven to be exact.
I started with…
1. Writing Classes
My writing journey literally began with signing up for a class at The Writer's Center in Bethesda, Md. In addition to giving me the 411 on fiction writing, the class showed me that there existed a writing community.
I found The Writer's Center with a simple Google search, and I'm sure you can find courses in your area the same way. If not, there are definitely classes available online if this is something you want to try.
When the class ended, the other students and I decided to form a…
2. Writing Group
It didn't last very long, but it was an awesome experience. Ultimately, the greatest benefit (in my opinion) of a writing class is getting feedback on your work, and you can get that for free with an informal writing group.
Forming a writing group is easy—you only need three of four people to meet regularly and discuss each other's work. Everyone can submit each month, or you can rotate. There are no rules, but I do suggest trying to stick to a regular schedule so the group doesn't fade away.
As I worked on my draft, I followed a lot of…
3. Blogs
I found the list of Top Ten Blogs for Writers and followed them all—including The Write Practice!
Over time, my favorites became The Write Practice, Writer Unboxed, Wordplay: Helping Writers Become Authors, Writer's Digest, and The Creative Penn. I learned a LOT from these blogs– about writing, about publishing, about people doing the same thing I was doing.  I both discovered useful little tips and had huge revelations.
Those blogs really gave me an education about the brand new field I was trying to enter.
Following writing blogs is also how I got this gig at The Write Practice! In one post, The Write Practice called for applications for regular contributors. I applied, and the rest was history.
After I finished my first draft, I entered a…
4. Writing Contest
I honestly don't remember what initially compelled me to submit my work to a writing contest. It may have been that criteria was just right. Or that it seemed affordable (about $30). Or perhaps I was motivated by the exposure the winner would get from potential agents.
Either way, I did it, and became a finalist. It was crazy. The winner would be announced at the Washington Romance Writers annual retreat.
And so I attended my first…
5. Retreat
The retreat experience was like a maturing for me. I was no longer a complete novice to this thing called fiction writing because by then I had written a full draft and was much more informed about the industry. That said, I was still relatively new to the game.
At the retreat I attended panels, pitched my novel to agents, and socialized with writers and agents alike. Once again, I felt an amazing sense of community surrounding an experience that can be really solitary.
Since then I've attended retreats near and far, including one taught by Cheryl Strayed. You can sign up to attend a pre-organized retreat, or you can simply take a few days off to travel somewhere beautiful and quite, dedicating the time to your writing.
I had a great experience with the Washington Romance Writers, but I'm not quite a romance writer.
So I decided to find my own…
6. Writers Association
That's where I found the Women's Fiction Writers Association. It also has contests, retreats, classes, and other resources—all designed to help writers of women's fiction. This was great for finding agents looking for work in my genre.
If you're a Romance writer, the Romance Writers of America and its affiliates are definitely worth looking into. From my understanding, the associations available to writers in other genres vary widely in quality and activeness.
After unsuccessfully pitching a few agents, I decided I needed a professional to read through my work.
So I paid for…
7. Editing Services
There are a lot of editing services out there. I used a developmental editor I found through Writer's Digest University because I wanted high-level and structural feedback, rather than line editing. It's not cheap, but I thought it was worth it. After putting my soul on the page, I thought I needed to give those pages the care they deserved.
What writing resources have you tried? Let us know in the comments.