If you know what you're looking for, there's something magical about the first days of the New Year. Everyone is settling back to work from the holidays so time moves a little bit slower. You have room to breathe in deep, to reflect on your year, to set goals for the future.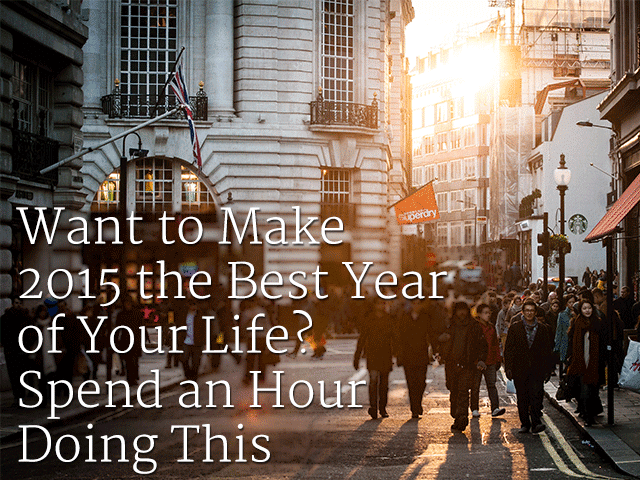 How to Have the Best Year of Your Life
Every year during this time, I carve out five or six hours over two or three days where I don't do any work. Instead, I spend the first few days of the new year by myself with a pad of paper reflecting on the year and dreaming about the year to come.
This is the best part of my year. More than Christmas candy and New Years' champagne, it helps me relax and refocus. And with just a few hours over a two or three days, it sustains my work for the rest of the year. 
So today, the day after the first day of 2015, I want to invite you to reflect and dream with me on how we can make this year the best year of our lives.
Reflect First
What did you love about your 2014? Where did you struggle?
We reflect for two reasons: It helps us learn how to make our future better. But reflection is also an end in itself. As a storyteller, your memory is one of your greatest assets, and delving into the best and worst parts of your year is an important exercise.
Take time to reflect on 2014. Evaluate on any goals you set the year before, and write a few sentences about any event you can think of.
Then, Reconnect With Your Desire
I don't know about you, but I don't really believe in New Year's resolutions. Why would you want to create goals around things you don't want to do?
Instead, I like spending this time reconnecting with my desire. What do I really want to do in the next year? What do I really want to accomplish? How do I want to grow, and who do I want to become?
This isn't a time for half-hearted dreams. I only focus on my deepest desires.
As I reconnect, I set two to four goals for the next year. Why so few? Because resolve is a limited resource, and if you really want to accomplish your goals, it's important to put all your desire behind just a few dreams that are really important to you.
What Are Your Dreams?
So how about you? Ask yourself the following questions to spur your dreaming:
What do you want, really want, in 2015?
What do you want to accomplish this year?
Who do you want to become?
This time next year, when you look back at what you did in 2015, what stories do you want to be able to tell?
And how will it feel once you accomplish these goals?
One final note, as you dream, make sure to focus on each area of your life: personal, professional, physical, emotional, and spiritual. Most people focus only one or two of these areas when they dream (I tend to focus on the professional aspects and especially neglect personal goals), but to be happy and healthy, it's important to plan for the whole of your person.
What are your dreams for the new year? Share in the comments section.
PRACTICE
Spend fifteen minutes (or several hours) reflecting on your year and dreaming about the next. Make a list of all your memories from 2014, and create two to four goals that represent your deepest desires for 2015.
When you're ready, share your goals and two or three of your memories in the comments section.
Happy New Year!