How do you write a blog post? And more importantly, how do you write a great blog post, one that gets clicks, is shared on social media, and grows your online audience?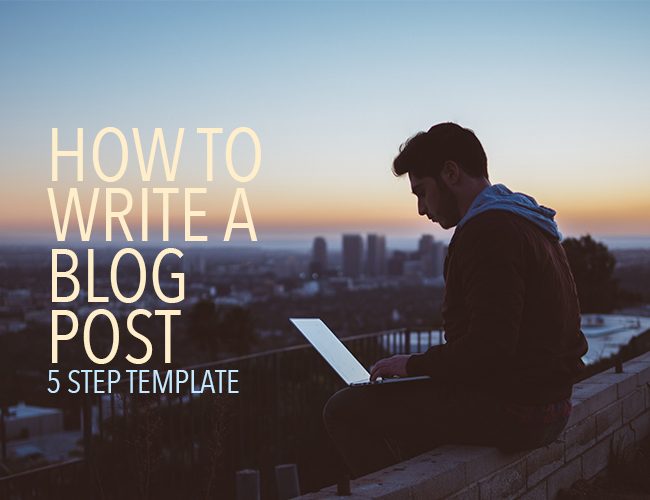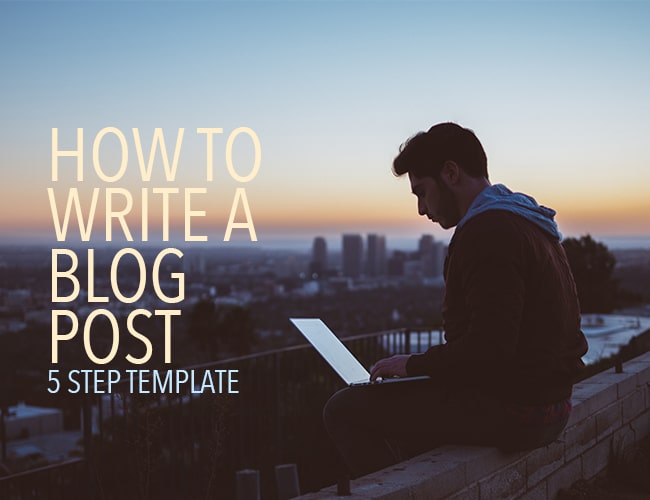 Because yes, there are marketing tips and tricks you can use to grow your blog and get more readers, but the reality is that unless you're writing great blog posts, no one is going to want to read your blog, no matter how many creative ways you market it.
Here's the hard truth: the single best way to accomplish your writing goals with a blog is to write better blog posts.
So how do you write better blog posts, especially if you aren't necessarily comfortable writing nonfiction "how-to style" articles?
Great Blog Posts Are About Problems
As a creative writer, it took me about seven years to find my own style of blogging. But now, every time I start writing a blog post, I already have a template, a structure, in mind before I start writing.
I developed this template from the three-act story structure:
In the first act, present a problem for your character.
In the second act, make that problem worse.
In the third act, solve the problem.
The main difference is when you write a blog post, your character is your reader, and the story you're telling is how to solve their own, unique problems.
How to Write a Blog Post in 5 Steps
Keeping that three-act structure in mind, here's how to write a blog post in five steps:
1. Identify the Problem
The first step to write a better blog post is to write your lead. Also known as lede for journalism geeks, this term describes the first paragraph, the hook of your story where your job is to grab the attention of the reader,
How do you hook your reader? Identify a problem that your reader desperately wants solved. (Another way to describe a lead is your premise.)
Length: one to three paragraphs.
2. Make the Problem Personal
Remember what "act two" was above? The next step is to make the problem personal, either by making the problem seem even worse or by telling your unique story in relationship to the problem.
How do you fit in to this problem? What is your personal connection to this problem?
Robert Frost said, "No tears in the writer, no tears in the reader. No surprise for the writer, no surprise for the reader."
Don't just give us information, but summon the emotion to tell your story in a way that makes your audience care, connect, and want to take action.
Here you want to create a sense of trust and identify with the reader, talking about what makes their problem so annoying.
Length: two or five paragraphs.
3. Tell a Solution Story
Now that you've talked about the problem and made the problem personal, talk about how the solution to that problem was discovered.
Note: You're not giving the solution to your problem yet, just talking about how one person, maybe you, discovered the solution.
This is a great place to use case studies, customer testimonials, or your own story about how you discovered the solution to the problem.
Length: three to five paragraphs.
4. Solve the Problem
This is where you finally explain the solution to your readers' problem.
Most people start their post here, with the solution. However, that's a huge mistake. Skipping to the solution before you've fully explained the problem is like skipping to the climax in a novel without all the plot points that came before it. If you do, you might find that your article comes out flat.
So make sure to remember, you don't get into the solution, the core points of your post, until you're halfway through the article.
Length: as long as you want, but minimum of three paragraphs, depending on your post length.
5. Call Your Readers to Action
It's not enough to tell people how to solve their problem. You have to tell them to go do it, showing them each of their next steps.
Another word for this is the "conclusion," and surprisingly, many people skip it. However, it's the single best place to connect the dots and show how your solution actually solves your readers' problem.
Length: one to three paragraphs.
But You're Not Quite Done
What makes blogging different than print newspapers or magazines? Blogging is interactive. That's why a blog post is never finished until you've added a question to stimulate discussion. Scan to the end of a few blog posts from top bloggers (like Michael Hyatt or Jeff Goins). You'll find that they always include a question to their readers. Give it a try!
Length: one or two sentences.
How Do You Learn to Write Great Blog Posts?
It took me a long time to discover a template that worked for me. Along the way I experimented with several different templates, many of which I still use (like my writing prompt template). I've found that this one, which I've explained here, works best for me in most situations, but that doesn't mean I'm trapped into using it all the time.
You need to find your perfect template, too, and the only way you can do that is through practice (we're fond of that around here).
So don't take my word for it. Go try out this template and others and figure out what works best for you. (And don't forget to have fun while you do it!)
How about you? What problem (or solution) you could write about today? Let us know in the comments.
PRACTICE
Write a blog post using these five steps. First, pick a problem that you know how to solve, and then write a blog post sharing the solution. If you post it on your blog, share the link in the comments section for the community to see how you did!
And as always, don't forget to have fun! Happy writing!