We've covered italicization in song titles and album titles already, but let's look at a complete guide of what, why, and how to use italics correctly.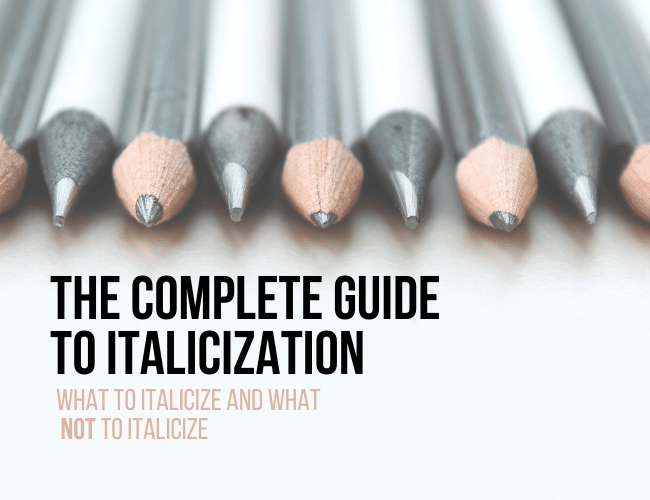 What is italicization?
Italicization is the use of italics, a typeface that mimics cursive and leans or slants to the right.
Why use italics?
Italics are used to distinguish certain text from the rest for emphasis or sometimes contrast. As with all grammar and formatting conventions, italics should be used to make a message clearer to the audience.
When to use italics
Italics are usually used to set apart titles and names of specific kinds of objects or works.
Use italics for book and play titles
Book titles are italicized, but you probably already knew that. Example: Gone Girl is still probably one of my favorite books that I read in 2014.
Other examples:
The Crucible by Arthur Miller
Sula by Toni Morrison
Use italics for magazine, newspaper, and periodical titles
All magazine, newspaper, periodicals, and academic journals are italicized. Examples:
Magazine: The Atlantic
Newspaper: The New York Times
Professional periodicals: Publishers Weekly; Library Journal
Academic Journal: Journal of the American Medical Association, Harvard Business Review
Note: magazines, newspapers, professional periodicals, and academic journals all contain individual articles by different writers. Those article titles are indicated by the use of quotation marks.
Use italics for website titles
Website titles are italicized, and individual posts on websites are put in quotation marks, like articles.
For example: The Write Practice ran a series on writing short stories and the master article is called "How to Write a Short Story" by Sarah Gribble.
Other examples:
Facebook
Wikipedia
Use italics for television show titles
The names of TV shows are italicized, while the titles of each individual episode of a show are put in quotations.
Example: While all of Unbreakable Kimmy Schmidt is amazing, my favorite episode is probably "Kimmy Goes to School!"
The Wire
Game of Thrones
Use italics for movie titles
Movie titles are always italicized.
Examples: I saw Top Gun: Maverick last month for nostalgia's sake.
Everything Everywhere All at Once, starring Michelle Yeoh
Use italics for album titles
Album titles are always italicized. For example, while I will openly admit to loving Journey's power ballad "Faithfully," I think pretty much every song on their Greatest Hits album should be sung at karaoke nights across the country.
Other examples:
Renaissance by Beyonce
Harry's House by Harry Styles
Note: individual song titles are noted by quotation marks.
Use italics for works of art
All artwork titles use italics, from paintings to sculpture. Examples:
Sugar Shack by Ernie Barnes
Black Iris by Georgia O'Keefe
David by Michelangelo
Use italics for radio or podcast program titles
Radio and podcast programs take italics, while their individual episodes take quotation marks. Examples:
This American Life
Fresh Air, National Public Radio
On Being with Krista Tippett
Use italics for named vessels: ships, spacecraft, aircraft
Any named craft used for transportation will take italics.
Examples: USS America, Challenger, Pequod
Use italics for technical terms (sometimes)
In some academic texts, technical or new terms are often marked by italics the first time they are used in the paper. Check your assigned style guide (MLA, APA, Chicago, etc) to see how to indicate new terms.
Use italics for foreign words (sometimes)
Some style manuals (notably APA and Chicago) suggest using italics the first time an unfamiliar non-English word is used in a paper. This practice can vary depending on the publisher and the audience, so pay attention to any requirements.
It's okay to need to look up the rules for italicization. That's why we've published this handy guide!
How do you feel about your italicization skills? Do you always remember what titles to italicize and which to leave alone? Let us know in the comments section.
PRACTICE
Put your italicization skills to the test. For fifteen minutes, write about one of the following:
A serial killer who calls himself "The Reviewer" who murders his favorite actors, writers, and musicians.
A detective hunting a serial killer who calls himself "The Reviewer."
When you're finished, share your work in the Pro Practice Workshop here.

Not a member yet? Join us here!